Hassan Kamel Speeds to Victory in Event #75: $10,000 Pot-Limit Omaha Hi-Lo 8 or Better Championship

Level 27 : Blinds 50,000/100,000, 100,000 ante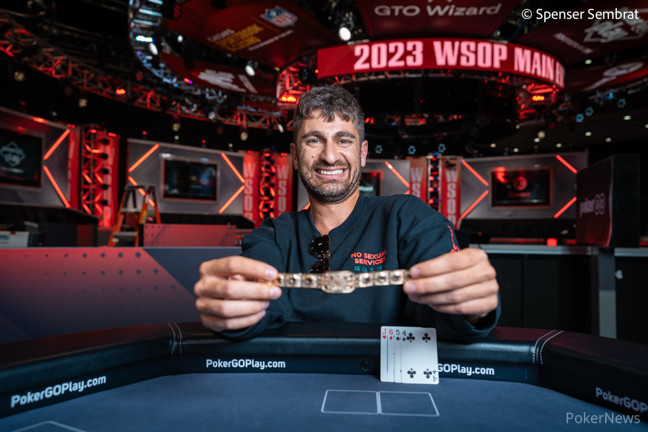 Initially scheduled to determine a winner throughout four tournament days, Event #75: $10,000 Pot-Limit Omaha Hi-Lo 8 or Better Championship has already crowned a winner at the 2023 World Series of Poker at the Horseshoe and Paris Las Vegas.
Out of a field of 277 entries, Hassan Kamel triumphed in dominant fashion after going wire-to-wire in seven hours of play to claim the biggest share of the $2,576,100 prize pool. The jovial Aussie started the day third in chips but once he jumped into the lead, he never surrendered it anymore and consistently built a massive tower on which he throned above all other contenders.
Kamel earned his first WSOP gold bracelet and a top prize of $598,613 while eventual runner-up Ryan Hoenig had to settle for $369,972. Nine bracelet winners were among the contenders but they stood no chance against the steam-rolling performance of Kamel. Notables on the eight-handed final table included Omaha specialist Dylan Weisman and Dzmitry Urbanovich, the latter of which was once again denied a maiden victory after several deep runs during the ongoing 2023 WSOP in Sin City.
Final Table Result Event #75: $10,000 Pot-Limit Omaha Hi-Lo 8 or Better Championship
| Place | Winner | Country | Prize (in USD) |
| --- | --- | --- | --- |
| 1 | Hassan Kamel | Australia | $598,613 |
| 2 | Ryan Hoenig | United States | $369,972 |
| 3 | John Holley | United States | $265,156 |
| 4 | Anton Smirnov | Russia | $192,562 |
| 5 | Dylan Weisman | United States | $141,727 |
| 6 | Stephen Deutsch | United States | $105,737 |
| 7 | Long Tran | United States | $79,979 |
| 8 | Dzmitry Urbanovich | Poland | $61,346 |
It was the second cash in a WSOP tournament for the Aussie who just arrived five days ago in Las Vegas while on a road trip throughout the United States. He found no fortune in the $1,500 edition of his favorite poker variant before striking gold in the $10,000 Pot-Limit Omaha Hi-Lo 8 or Better Championship.
The first live poker results of the Melbournian date back all the way to 2009 and 2010 before he then finished in 40th place in Event $3,000 Pot Limit Omaha Hi/Lo in 2014 for a mere $6,107. His total live cashes heading into this tournament according to The Hendon Mob were fewer than four buy-ins for this price tag, yet he dominated the action throughout the entire day with his aggressive playing style and typical Aussie way of life.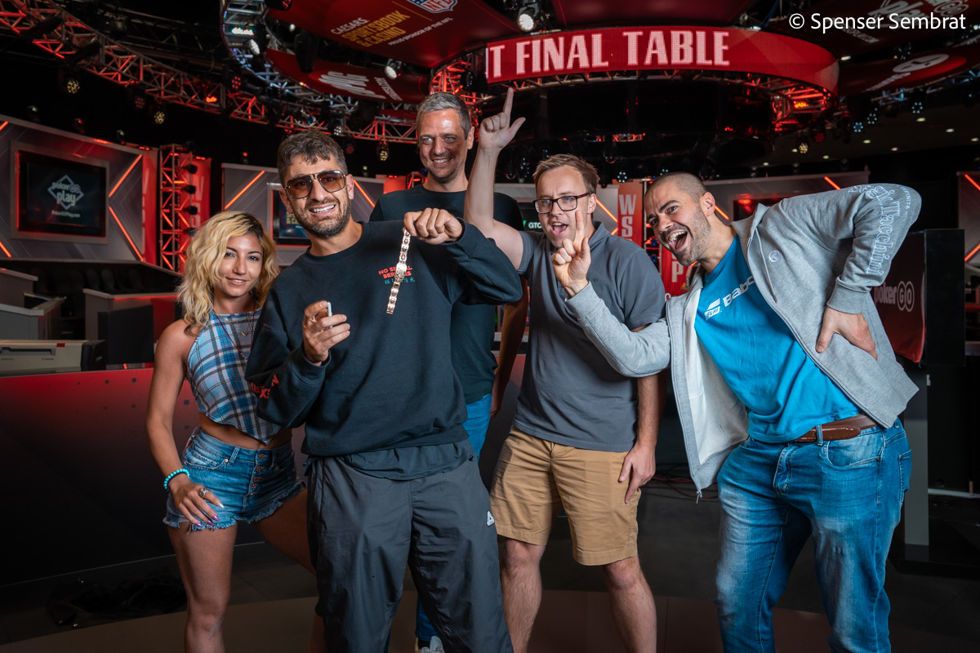 Railed by the Australian WSOP bracelet winners Robert Campbell and James Obst, he chatted up a storm en route to victory and admitted that he hasn't played much poker at all in the last few years. Competing in any further tournaments during the ongoing series are not planned either as he intends to "get the fuck outta here" and continue his road trip right away, with a massive six-figure payday and the WSOP gold bracelet in the bag.
"I don't really like playing tournaments. I found my favorite game, hang out, have been road tripping across America," Kamel admitted after he seemingly had a ton of fun during the winner photoshoot with the gold bracelet.
He has been "playing cash games back in the days but honestly don't play that much any more. I just happen to be here and sort of thought I come and check it out," Kamel grinned. He was always good for a joke at the own expense and very much enjoyed the rather relaxed atmosphere at the tables.
"I actually planned on coming second. I wasn't greedy and already said I was gonna bust the $1,500 three times and come second in the bracelet event ... but I only busted the $1,500 only twice and came first in the $10k."
No more tournaments are planned during this part of the road trip either, according to the latest WSOP gold bracelet winner.
"Just in town, get blind drunk tonight and back out the next day. I am still in the middle of my road trip and my car is in Minneapolis right now. I gonna fly back there and continue the trip."
Action of the Final Day
Only 19 hopefuls returned to their seats at 1 p.m. local time and the first casualty was a surprise, as Christopher Vitch had returned eighth in chips. However, several clashes first hurt his stack before he was then eliminated by Martin Zamani. The latter was near the top of the leaderboard but suffered the same fate and ran with kings into the aces of Anton Smirnov, bricking a low draw along the way.
Two minutes later, the final two tables were set with the elimination of Dylan Wilkerson and it then took more than an hour for the roller coaster ride of Joao Simao to end, reducing the field to the last 15 hopefuls. Within just 90 minutes from there on out, the all-in showdowns kept on coming and the eight-handed final table was barely set when the next two players were sent to the payout desk.
It was a period that can only be described as incredibly frantic with frequent changes in the middle of the pack. Maxx Coleman saw his hopes crushed after he lost most of the chips in a clash with Dylan Weisman and Ryan Rapaski bowed out half an hour later. Naoya Kihara kept his short stack afloat for an extended period and the same applied for Patrick Leonard as well as Ben Yu, but they all eventually ran out of chips in this order.
Canada's Calen McNeil was going for a second WSOP gold bracelet and doubled back into the middle of the pack only to lose most of his chips in a preflop contest with Smirnov. A flopped set spelled the end for the Canadian as the combo-draw of John Holley got there on the river with a straight and low. However, McNeil certainly had plenty of fun at the tables and confirmed that on social media as well.
https://twitter.com/BigwheelMcNeil/status/1676397582644580352
Moments after the departure of McNeil, with which the unofficial final table was set, Paul Volpe headed to the payout desk and eight contenders combined to one table. They had barely assumed their new seat assignments when Urbanovich and Long Tran were knocked out and the second break of the day kicked off with half a dozen players still in the mix.
Kamel was the runaway chip leader and kept adding more chips to his growing tower with relentless aggression, while most of his short-stacked opponents waited for an opportunity to get their chips in. It all boiled down to another half hour of violent action in which a trio of players crashed out. Day 2 chip leader Stephen Deutsch was the first to go followed by Weisman and Smirnov as only three contenders entered the dinner break.
Any potential plans to bag up for the evening and determine a winner the following day were thrown out of the window due to the massive lead for Kamel, who could have sealed the victory within the first 10 minutes after the action resumed.
Eventually, it was John Holley who ran out of fortune and chips first before Hoenig put up a short-lived fight with a huge chip deficit. When it was all over, Hoenig shook hands and congratulated Kamel with the words "you played great, man".
That concludes the PokerNews coverage for this event but several other gold bracelet events are currently underway including the iconic WSOP $10,000 Main Event at the Horseshoe and Paris Las Vegas.