Brian Brubaker Wins Event #28: $1,500 Limit 2-7 Lowball Triple Draw ($109,967)
Level 25 : 30,000-60,000, 0 ante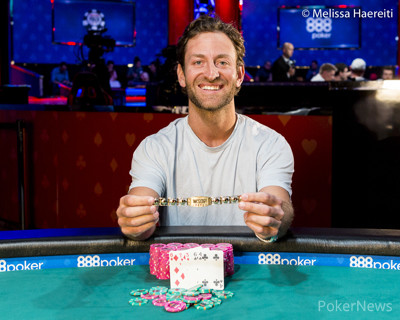 Los Angeles-based mixed-game pro Brian Brubaker overcame a field of 326 to win his first World Series of Poker bracelet, topping Event #28: $1,500 Limit 2-7 Lowball Triple Draw for $109,967 in first-place prize money.
Out of a final table that lasted roughly five hours, about two of those were devoted to heads-up play between Brubaker and start-of-day leader Brendan Taylor, who won a bracelet in a limit hold'em shootout event back in 2010 and was seeking his second piece of gold.
"It was a lot of fun. Pretty intense, there were a lot of swings throughout the final table," Brubaker said. "Luckily, I pretty much just won the majority of the [heads-up] pots and went straight up."
Just getting there took some work, as Brubaker had to overcome some tilt that was completely unrelated to poker. He came into the day on short sleep after an especially irritating night just looking for somewhere to sleep.
Brubaker had a room booked until the start of Day 2 of this event, when he checked out with the plan of simply finding a place to crash if he advanced to the final table. Turns out, that was easier said than done with Electric Daisy Carnival in town. The famed music-and-dance festival had hotels throughout Las Vegas packed to the brim.
"I finally found a room at Cosmo, but it was like the eighth place I called," Brubaker said. "It was 3:30 in the morning and I was tilted for not being able to go to sleep before the final table."
Nonetheless, Brubaker persevered through those first-world problems. Short stacks Rick Fuller and Dean Kerl fell early at the final table, and they were followed by one of the biggest stars in the event, though not one necessarily known to poker fans.
German soccer star Max Kruse, who often takes breaks from filling up nets in front of tens of thousands to fire a few events at the WSOP every year, made his way to the final table. He seems to be particularly adept at draw games, having finished third in a 2-7 single draw event in here in 2014.
Kruse had the loudest — and most heavily drinking — rail, but the Germans filtered out with him after he fizzled out in fourth. Jason Riesenberg followed in third, and the heads-up battle began.
Taylor's high level of aggression had induced some of his opponents to make mistakes that cost themselves bets. Brubaker said he definitely noticed how hard Taylor was pushing, but Brubaker didn't let it faze him or make too many adjustments to go outside of his normal game plan.
"He's a good player," Brubaker said. "With no antes and just blinds, and I had a comfortable stack today, I didn't need to get involved in every pot. I made some adjustments, but I didn't want to over-adjust and start battling him when I'm second in chips with really rough draws that are just gamble spots."
The lead changed hands several times, but with limits relatively large — just 40 bets total were in play by the end — one sustained swing could tilt things heavily in one direction. That sustained swing went Brubaker's way, and Taylor couldn't recover after being hammered down to just a few bets.
Brubaker's previous best cash was $70,743 for third place in $2,500 2-7 Triple Draw in 2013. He confirmed he plays a fair amount of draw in his usual haunts. The one-time big-bet player now calls the mixed-game tables in L.A. his office, and he knows what to do when switching to the tournament tables.
"I guess I'm pretty good at draw altogether, especially in a tournament," he said. "I make some adjustments in tournaments I think are successful. I don't know if they're necessarily what other people would say are good.
"But, I've been successful with it and now I have something to prove it."
Official Final Table Results
| Place | Player | Home Country | Prize |
| --- | --- | --- | --- |
| 1 | Brian Brubaker | USA | $109,967 |
| 2 | Brendan Taylor | USA | $67,952 |
| 3 | Jason Riesenberg | USA | $43,597 |
| 4 | Max Kruse | Germany | $28,740 |
| 5 | Dean Kerl | USA | $19,482 |
| 6 | Rick Fuller | USA | $13,591 |