Chris Frank Wins Event #33: $1,500 No-Limit Hold'em ($384,833)
Level 28 : 30,000/60,000, 10,000 ante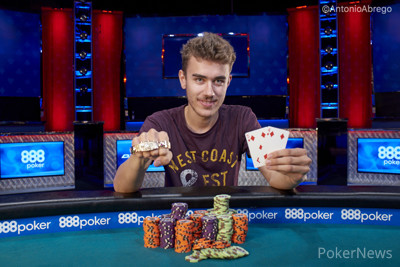 Another young German player joined the ranks of World Series of Poker bracelet winners, as 22-year-old Chris Frank conquered a field of 1,698 to win Event #33: $1,500 No-Limit Hold'em for $384,833.
Frank had already had quite a bit of success playing live tournaments, racking up north of $1 million in cashes before this win, but he was thrilled all the same, shouting with excitement as the last card peeled off the deck in his heads-up match with Ryan Leng.
"I don't think it really has sunk in yet," Frank said. "It's a very good feeling. I've been playing the live circuit for pretty long, and I've always dreamed of winning something big. Now, I've done it, so that's pretty cool."
Frank came in with one of the bigger stacks at the start of the day, but Leng was the one who dominated for most of Day 3. He had nearly double the chips of second-place Pratyush Buddiga when the unofficial final table got rolling. There was plenty of notable competition, as in addition to Buddiga, Georgios Sotiropoulos, Noah Vaillancourt, Max Pescatori and Michael Gagliano all made the final table.
Leng continued to crush, scoring the first four eliminations at the official final table — including the latter four notables listed above — and amassing nearly half of the chips in play.
"Ryan had good hands and played well and was busting people," Frank said of the early portions of the final table. "We were short-handed pretty quickly. Then, I just ran super good."
Indeed, Frank went on a heater at that point. His trademark move became the snappiest of snap-calls, wherein he'd be facing an all-in bet and splash in chips while turning over his cards in the blink of an eye.
First, it was ace-king against the threes of Grant Denison, hitting an ace on the river. Then, he three-bet aces against Buddiga, who four-bet shoved fours and went bust when neither he nor Frank improved. He made flush over flush and aces up over aces up against Leng to take a good chunk of his chips, as well.
Arkadiy Tsinis was the next victim of the snap-call, as he jammed jack-eight of diamonds and ran into Frank's ace-king of diamonds.
Frank had about a 3:1 lead heads-up against Leng, and it didn't take him long to finish the job, as it was over in about 20 hands, including a huge bluff catch by Frank with second pair.
"I think I played well, but I just had very good situations and spots, and it was pretty easy," Frank said.
The snap-calls, Frank said, are just a normal part of his game, and he characterized himself as an overall fast player.
"I had so many good hands!" he said. "I wanted to put my chips in."
While Leng had a decent-sized rail cheering him on, Frank noted about halfway through the final table that he had naught but ghosts on his side.
When some of the railbirds needled him gently about it, he fired back.
"I guess the reason the Germans have all the money is because they are grinding and not watching," he said.
"I guess these days, the Germans have won so much that an event like this isn't that exciting anymore," Frank said after he finished off Leng. "I have to win something bigger, then I'll get a bigger rail."
With just a hair under $1.5 million in cashes and a WSOP bracelet at age 22, it might not be long before that happens.
| Place | Player | Home Country | Prize |
| --- | --- | --- | --- |
| 1 | Chris Frank | Germany | $384,833 |
| 2 | Ryan Leng | USA | $237,776 |
| 3 | Arkadiy Tsinis | USA | $171,028 |
| 4 | Pratyush Buddiga | USA | $124,615 |
| 5 | Grant Denison | USA | $91,699 |
| 6 | Georgios Sotiropoulos | Greece | $68,226 |
| 7 | Noah Vaillancourt | Canada | $51,332 |
| 8 | Max Pescatori | Italy | $39,060 |
| 9 | Michael Gagliano | USA | $30,063 |