Manuel Labandeira (17th, $6,013) and Brian Nadell (16th, $7,126)

Level 20 : 12,000/24,000, 0 ante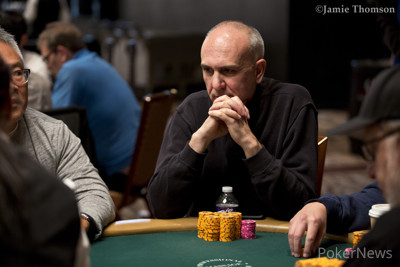 Stud Hi-Lo
At two different tables, a player was eliminated in a Stud Hi-Lo hand.
First Manuel Labandeira got all in against Jared Bleznick.
Jared Bleznick:
/
/

Manel Labandeira:
/
Bleznick raised Labandeira on fourth and the two got all in on fifth. Bleznick was focused on his hand and didn't reveal his cards until seventh.
"I'm dead," Bleznick said, "you got me. Oh wait, I gotta flush."
Bleznick tabled
, giving himself a flush. Labandeira missed his low draw and was eliminated. Labandeira wasn't upset as much as he was confused about what just happened. Not only did Bleznick delay showing his hole cards, but when he showed the flush, Labandeira had assumed he was winning the high.
At the next table, Naoya Kihara and Jameson Painter chopped up Brian Nadell. Kihara had a flush and Painter had a better low to eliminate Nadell. (pictured below).