Sulsky Doubles Through Ashton

Level 5 : 2,000/4,000, 0 ante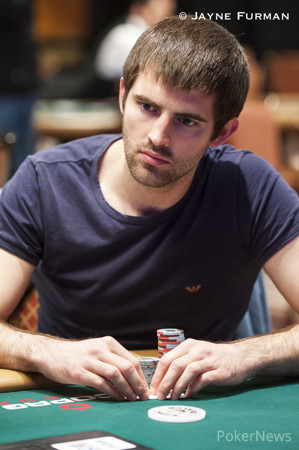 No-Limit Hold'em
Coming to the river of the
, there was already more than 80,000 in the pot. Ben Sulsky was on the button, but there was yet another button lying in front of him — the one indicating an all in. Sulsky had his remaining chips stacked in front of him, making the count easily accessible from a distance. It was 93,600.
Sulsky's head was leaning on the rail with his headphones in his ears. Ashton was stretching his arms, trying to figure out what to do. He took a good amount of time before calling, but Sulsky didn't know about that for a few seconds as he'd been trying to escape into another world.
He moved his head up, finally learning of Ashton's call. Sulsky rolled over
for the second nuts, ensured he was going to double up.
Ashton briefly showed his
for a lower flush and shipped the required amount of chips Sulsky's way.