The Biggest Day in Poker: Three Players Battle for the Main Event Bracelet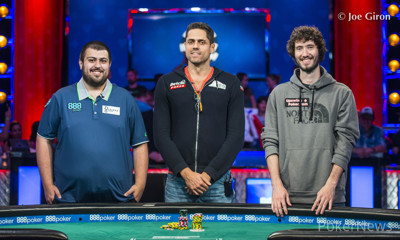 After a seven-day-long Main Event, the remaining nine players got two days off to prepare for the biggest final table of their lives. What the poker world called the November Niners before, was now dubbed the Summer Survivors, and just three of them remain right now. Just three players still in the running for poker's biggest prize.
On the first day of the three-day long final table, Ben Lamb and Jack Sinclair said their goodbyes. On Friday, the penultimate day of the 2017 World Series of Poker Main Event, another four players had to give up their hopes of becoming Main Event champion as Damian Salas, Bryan Piccioli, Antoine Saout, and John Hesp bit the dust.
Today, the remaining three players battle for eternal glory and the $8,150,000 first-place prize. Three players still have a shot at seeing their banner revealed next year as the 2017 WSOP Main Event champion.
Runaway chip leader is Scott Blumstein with 2226,450,000 in chips, 63% of the chips in play. Blumstein, an East Coast tournament grinder who entered the Main Event for the first time this year, had no trouble widdling through the field on Day 8 and 9 and was the one responsible for most of the bust outs.
His nearest competitor chips-wise is Dan Ott, another Main Event rookie who entered his first WSOP this year. Ott is bringing 88,375,000 in chips, roughly a quarter of what is in play. On Day 9, he emerged from the role of short stack to one of significance as he busted Bryan Piccioli in 6th place.
Last, but definitely not least, is Benjamin Pollak. While the Frenchman brings the shortest stack to the final day, you can bet that the 45,850,000 he unbags at the start is going to be put to good use. The well-experienced high stakes player from France impressed a lot of people watching the live stream as he made some on point laydowns and well-timed value bets throughout the final table.
| Seat | Player | Country | Chip Count | Big Blinds | % | Trend Since Start FT |
| --- | --- | --- | --- | --- | --- | --- |
| 1 | Scott Blumstein | United States | 226,450,000 | 113 | 62.8% | +129,200,000 |
| 2 | Benjamin Pollak | France | 45,850,000 | 23 | 12.7% | +10,675,000 |
| 3 | Dan Ott | United States | 88,375,000 | 44 | 24.5% | +61,900,000 |
Play gets back underway at 5:30 p.m. local time (2 hours from now) with 1 hour and 33 minutes left in Level 41 (1,000,000/2,000,000 with a 300,000-ante). PokerNews will be on the floor for the last day this summer, to once again bring you live coverage without delay of each and every hand played.
You can watch the final table on a half hour delay on ESPN or an ESPN affiliated network if you're in a country where ESPN broadcasts (United States, United Kingdom, Australia, Canada), or via PokerGO if the country you reside in doesn't have ESPN or an ESPN linked network. See 'How to Watch the WSOP Main Event Final Table on ESPN and PokerGO' for a full disclosure on where to watch the final table.
| Place | Player | Country | Prize |
| --- | --- | --- | --- |
| 1 | | | $8,150,000 |
| 2 | | | $4,700,000 |
| 3 | | | $3,500,000 |
| 4 | John Hesp | United Kingdom | $2,600,000 |
| 5 | Antoine Saout | France | $2,000,000 |
| 6 | Bryan Piccioli | United States | $1,675,000 |
| 7 | Damian Salas | Argentina | $1,425,000 |
| 8 | Jack Sinclair | United Kingdom | $1,200,000 |
| 9 | Ben Lamb | United States | $1,000,000 |