Scott Blumstein Brings Massive Stack to Final Day; Pollak and Ott Still In

Level 40 : 800,000/1,600,000, 200,000 ante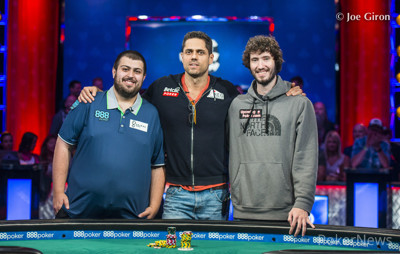 Scott Blumstein reigned supreme on Day 9 of the 2017 World Series of Poker Main Event. He put the pressure on all of his opponents and ran well on top of that. It was a lethal combination for Damian Salas, Bryan Piccioli, Antoine Saout, and John Hesp, all of whom fell on the penultimate day of this year's Main Event.
Blumstein brings a massive stack of more than 226 million to Day 10. His nearest opponent is Dan Ott with over 88 million. Frenchman Benjamin Pollak is the shortest stack coming in, bringing almost 46 million in chips.
The trio is guaranteed $3,500,000 and return to the Rio All-Suite Hotel and Casino on Saturday at 5:30 p.m. They'll fight the final battle for $8,150,000 and the gold bracelet.
| Seat | Player | Country | Chip Count | Big Blinds | % | Trend Since Start |
| --- | --- | --- | --- | --- | --- | --- |
| 1 | Scott Blumstein | United States | 226,450,000 | 113 | 62.8% | +48,150,000 |
| 2 | Benjamin Pollak | France | 45,850,000 | 23 | 12.7% | -31,675,000 |
| 3 | Dan Ott | United States | 88,375,000 | 44 | 24.5% | +72,025,000 |
| | | | | | | |
| Place | Player | Country | | | | Prize |
| 4 | John Hesp | United Kingdom | | | | $2,600,000 |
| 5 | Antoine Saout | France | | | | $2,000,000 |
| 6 | Bryan Piccioli | United States | | | | $1,675,000 |
| 7 | Damian Salas | Argentina | | | | $1,425,000 |
| 8 | Jack Sinclair | United Kingdom | | | | $1,200,000 |
| 9 | Ben Lamb | United States | | | | $1,000,000 |
Day 9 of the 2017 WSOP Main Event got underway at 5:30 p.m. with seven remaining hopefuls battling it out. They were all guaranteed $1,425,000 already but were looking for more.
John Hesp, who led for some time during Day 8 but lost a massive pot with top-two against top-set to be kicked back to the role of short stack, started off well, winning the first two hands.
While action was expected early on with a lot of short stacks still in, the contrary was true. Play was anything but slow, but there were no eliminations for quite some time. There were double-ups, however, as Saout won king-queen against eight-seven and Hesp won with aces against ace-king to survive.
One of the bigger hands of the day, and one that would have the poker world buzzing on Twitter, was a clash between Benjamin Pollak and Scott Blumstein. Like the big hand on Day 8, it were the 2 biggest stacks in the room that clashed. Pollak flopped trips and rivered a straight with jack-nine while Blumstein flopped inferior trips but turned a full house with ten-nine. Pollak needed some time to think about the sizable bet by Blumstein on the river, but eventually laid it down, to much acclaim from his peers online.
In the next hand, the first casualty of the day was Damian Salas. The Argentinian Day 4 chip leader nurtured the short stack for quite some time and initially survived, but would eventually go out in 7th place. He got it in with ace-ten to Dan Ott's pocket fours on an ace-three-deuce flop. The river gave Ott a wheel to see Salas hit the rail.
As Saout doubled once more, the stacks got closer together with just Blumstein pulling away from the pack. Bryan Piccioli got shorter and shorter and, down to fewer than 10 big blinds, pushed all in with ace-seven from the small blind. Big blind Dan Ott woke up with kings and his neighbor was unable to improve on the flop, turn or river.
While Hesp and Pollak were the short stacks when play became five-handed, it was Antoine Saout who would go out next. Saout rivered trip jacks with king-jack from the small blind but turned out to be beat by Blumstein who had turned a straight holding five-three. The 2009 November Niner (3rd place - $3,479,670) now finished in 5th place for $2,000,000.
Not much later, short stack John Hesp joined him on the rail. Down to fewer than six big blinds, Hesp shoved with nine-seven suited. Pollak called with ace-jack and saw his hand hold up as neither of them improved.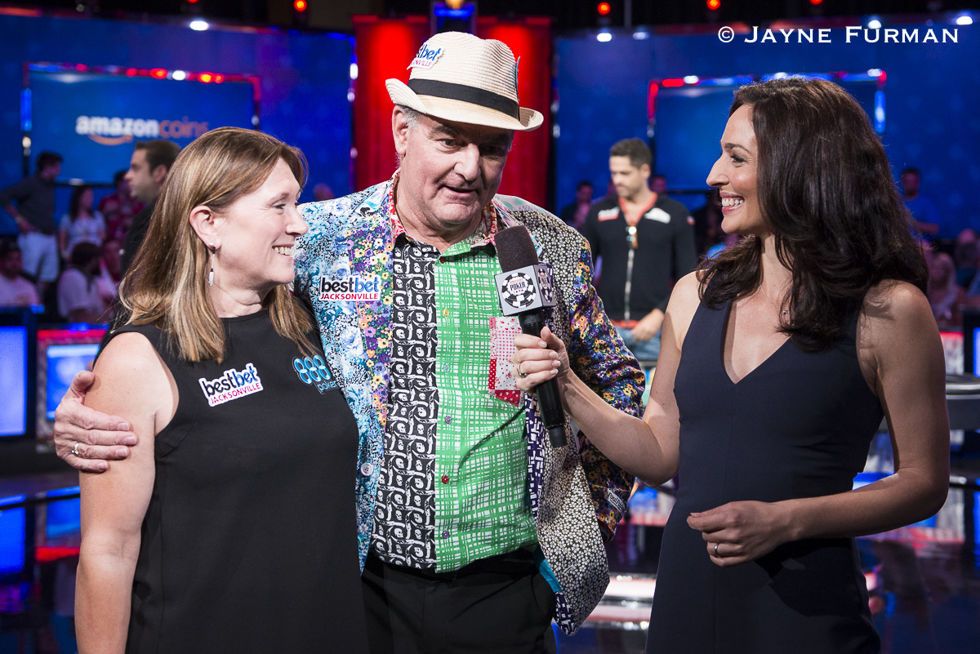 Just like that, the day was done and the bagging and tagging began.
Coming into the Main Event, Blumstein mentioned to a couple friends that he was going to win this tournament. He has shown signs of confidence the entire way and that's why he believes he is in the position he is in. "The cards are working out, I was hoping something good was going to happen soon. In poker, all you need is a breakthrough and everyone is chasing the same thing when they come out to play this tournament. I can't believe this is happening but I was hoping to have a good performance."
Blumstein had a tough start to the day with some of his chips being spread out among the table, but he was able to maintain his composure and ended the day with nearly two-thirds of the chips in play. "I lost a flip, I played a hand badly, I lost a few chips here and there. The beauty of this tournament is that the structure is so good. The majority of the time, when I had a misstep, I was able to keep a level head and keep playing poker. A lot of the game is mental and I'm in a good mental state."
When asked about the two opponents he will face tomorrow, Blumstein had nothing but respect for both of them. "Ben is a great player, he plays out in Europe. In order to play on the EPT, you have to be good at poker. I really respect his game a lot. Dan is playing amazing, too. We have similar stories being online grinders playing smaller tournaments. For both of us to be in this position, it's really amazing."
Blumstein has already secured himself $3.5 million but he's mostly focused on the title. "There's a lot on the line tomorrow. I'm thrilled with the amount of money I have already, how could you not be. That's why tomorrow is going to be easy, I'm going to play for the win. I'm not going to let the money bother me because when you're happy with what you have already, there's no reason to sweat it. It's already life-changing money. I'm Just going to come back and hopefully win because I want to win the tournament now. That's the goal."
Ott came into the day fifth in chips out of seven, so he knew full well he would have to fire it in early. "I came in with 14 big blinds and I just wanted to get a couple double ups. I thought if I was able to do that I'd have a shot at winning some big pots. I won some all ins. I won the fours hand which was big. I hit the river and then started chipping up. I didn't get unlucky all day. I got paid off in some spots and ended the day with almost 90 million."
Ott said that he doesn't plan on doing much research on his opponents tonight, saying he has a bigger priority at this moment. "I'm going to get some sleep first and then tomorrow I'm going to do some work on these players and see how they've been playing. I'll try to prepare for them specifically."
Lastly, we asked Ott how it feels to be just two players away from winning the most prestigious title in poker. "It's unreal. I didn't expect to make it this far. I didn't expect to make it this far on Day 7. Didn't expect to make it this far at the final table, and I just started running really good. It's just indescribable. I have everyone here I know supporting me and it just means everything."
Benjamin Pollak may have made the final day of the Main Event final table, but he definitely had a rough time getting there. "The hand against Scott when I had jack-nine and he had ten-nine. It was a sick hand. Every single hand goes wrong today - it was very hard to manage. It was big jumps for money of course."
The Frenchman had been playing alongside his fellow countryman Antoine Saout all day, but they managed to stay out of each other's way. "I mean, we didn't had a setup together all tournament so we didnt play a single hand." The two players had an extremely loud rail behind them, waving their country's flag and singing the national anthem with pride. When asked if the cheering helped him Pollak responded, "Of course. I mean, every time you win a pot, because I mean today I win a pot every four hours. It's good to hear something like, okay we're here we got some friends back there."
Another key hand involving Pollak was when he raised with two eights and Dan Ott moved all in against him. He was in the tank for a considerable amount of time but ended up folding. "It was at the beginning of the tournament. Damian was super short. I opened the hand on Scott's big blind, so I'm supposed to have a huge, huge hand. Dan knows that. I heard he had ace-queen suited but I think it's like the low, low, low (end) of his range, because okay he could have ace-queen, ace-king but all hands is like nines, tens, jacks, queens, kings and aces. And the way he did all in I had the feeling that he had a pair. It's like 2-to-1 for the money but I don't want to double this guy because he's very good. I wanted to keep him like, very short. I think I only have like forty, thirty-five percent equity against his range. I decide to fold, keep him short stack."
Pollak has proven that his decisions have been the right ones, as he is now one of three remaining players in contention for the 2017 WSOP Main Event title. He plans to get plenty of rest and come into the final day with a relaxed mindset, representing France with pride.
The final three players return to the final table stage in Brasilia on Saturday at 5:30 p.m. local time. When they return, there's 1 hour and 33 minutes left on the clock in level 41 (1,000,000/2,000,000 with a 300,000-ante).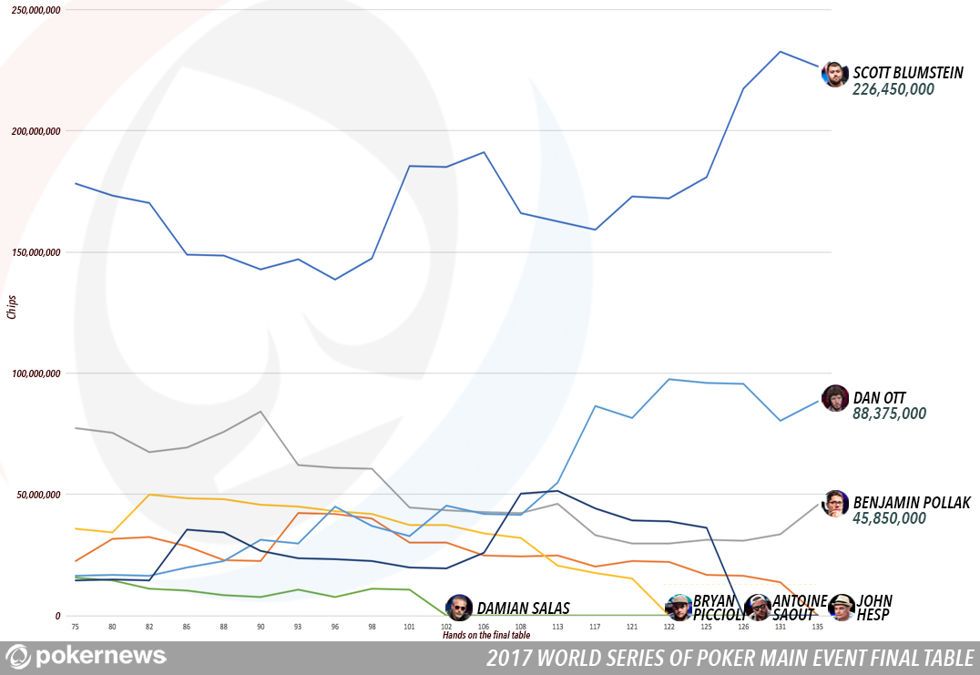 The Biggest Hands of Day 9 of the 2017 World Series of Poker Main Event
Damian Salas Eliminated in 7th Place ($1,425,000)
Hand #102: Dan Ott raised to 3.4 million from early position, and it folded around to the short stack Damian Salas in the big blind. He thought for about 45 seconds before calling, and the flop came down
.
Salas checked to Ott, and he put Salas all in. Salas snap called, and the cards were rolled over.
Salas:

Ott:
Salas was in great shape to double, needing to dodge just a four or a five.
The turn brought the
, and Ott needed a river suck out to take the hand.
The river was the
, giving Ott the straight, and the Brasilia room went nuts as Salas, the chip leader at the end of Day 4, became the first eliminated player of the day.
Salas takes home $1,425,000 for his 7th place finish. The remaining six players are guaranteed $1,675,000 from here on out.
| Player | Country | Chip Count |
| --- | --- | --- |
| Dan Ott | United States | 45,225,000 |
| Damian Salas | Argentina | Busted |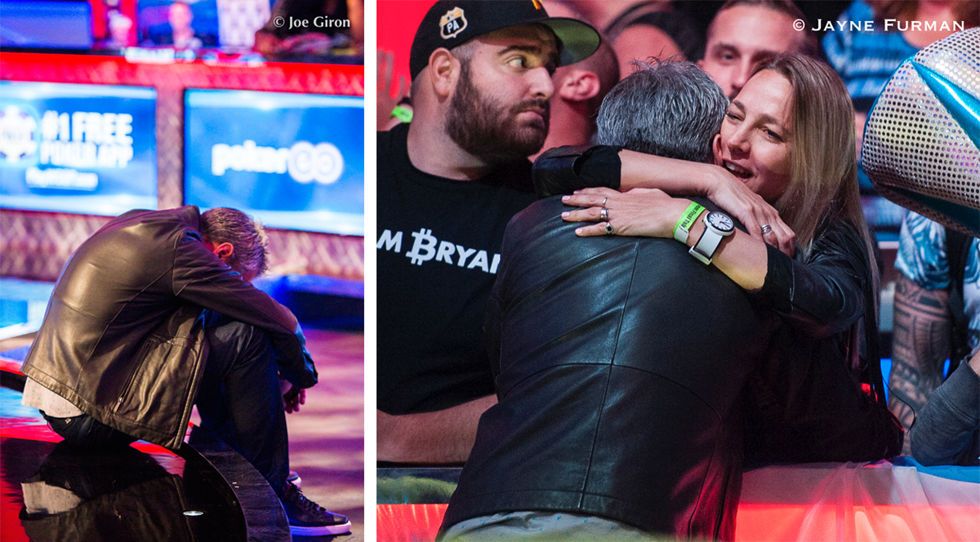 Pollak Tank-Folds to a Bet From Blumstein
Hand #101: Action folded to John Hesp in the cutoff and he raised it up to 3.5 million. Blumstein called on the button and Benjamin Pollak defended his big blind. The flop came
and Pollak checked. Hesp bet 5 million and Blumstein raised to 12 million. The decision was back on Pollak and he tanked for a minute before calling. Hesp folded. The turn was the
and both players checked to the
on the river. Pollak checked for the third time and Blumstein paused before reaching into his stack to put out a bet worth 8 million. Pollak was clearly in agony over the decision, but after about two minutes in the tank he decided to fold.
The audience later learned, as the delayed live stream caught up, that Pollak had jack-nine in the hand for flopped trips and a rivered straight. Blumstein was shown to have had nine-ten for flopped trips and a turned full house.
| Player | Country | Chip Count |
| --- | --- | --- |
| Scott Blumstein | United States | 185,450,000 |
| Benjamin Pollak | France | 44,500,000 |
Antoine Saout Eliminated in 5th Place ($2,000,000)
Hand #126: Scott Blumstein raised to 4.2 million on the button and Antoine Saout called from the small blind.
The flop came
and Saout checked. Blumstein checked also, and the dealer put out the
on the turn. Saout checked again and Blumstein bet 5.6 million. Saout called and the dealer completed the board with the
on the river.
Saout checked for a third time and Blumstein moved all in, putting Saout to the test for his last 26.1 million chips. Saout took his sunglasses off and stared at the board and then at Blumstein. Eventually, he called.
Saout tabled
for trip jacks, but Blumstein held
for a straight to the seven. Blumstein headed to the rail to celebrate and Saout was eliminated in fifth place, pocketing $2 million for his second Main Event final table performance.
The remaining four players are guaranteed $2,600,000 from here on out.
| Player | Country | Chip Count |
| --- | --- | --- |
| Scott Blumstein | United States | 217,450,000 |
| Antoine Saout | France | Busted |
John Hesp Eliminated in 4th Place ($2,600,000)
Hand #135: John Hesp raised all-in for 11,950,000 from the cutoff and Benjamin Pollak moved all-in over the top from the small blind. Ott folded his big blind and the cards were tabled for the remaining two players.
Hesp:

Pollak:
The flop came
giving Hesp a straight draw to go with his two live cards. The
on the turn was no help and the
on the river ended Hesp's tournament. Pollak won the hand with ace-high and Hesp was eliminated in fourth place.
The remaining 3 players are guaranteed $3,500,000 when they return on Saturday, July 22nd at 5:30 p.m. local time.
| Player | Country | Chip Count |
| --- | --- | --- |
| Benjamin Pollak | France | 45,850,000 |
| John Hesp | United Kingdom | Busted |