Phil Hellmuth Eliminated in 7th Place (€24,183)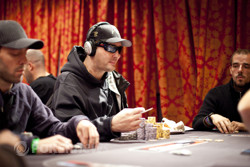 The great Phil Hellmuth is going to have to wait a little bit longer if he is going to don that 12th bracelet after being eliminated here in Cannes.
He came into this final day like a shark but ended it like a damp squib. In a series of hands Hellmuth managed to reduce his stack to two big blinds before being eliminated. Here are the final few hands.
Adrien Allain raised to 21,000 on the button and Phil Hellmuth called in the big blind with 80,000. The flop was
and Hellmuth checked to Allain who moved all-in and Hellmuth tank-folded. This left him with 60,000.
Hellmuth limped into the pot from the small blind and Azusa Maeda raised and Hellmuth folded.
Adrien Allain raised to 21,000 on the button and once again Hellmuth called in the big blind. Hellmuth had 20,000 behind and the flop came down
and he folded to another shove from Allain.
"Seth! I have 20k left! This is a fair match now boys," said Hellmuth.
With 5,000 invested in the small blind and 15,000 behind Hellmuth folded.
With Hellmuth in the big blind, Azusa Maeda limped into the pot before Marton Czuczor moved all-in from the small blind. Hellmuth flicked his last 5,000 into the pot and Maeda folded.
Board:
Hellmuth was eliminated in 8th place.