Billirakis Folds Third Best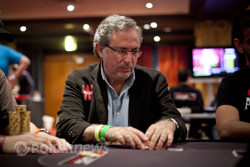 Steve Billirakis just made a huge fold that cost him a lot of chips, but possibly saved him even more. We caught the action on the turn when the board read
. Shawn Buchanan bet out 4,000 from the small blind after which Billirakis decided to raise to 13,500. Michel Abecassis was sitting in the cut-off and gave it some thought before smooth-calling the raise.
Buchanan flashed his cards to David Williams and threw them in the muck giving us heads-up river action. The river card was the
and Billirakis tanked for a bit before betting 13,500. Abecassis did some thinking as well and finally decided to shove for roughly 52,000 chips. The look on Billirakis face wasn't pretty and he tanked for minutes and finally said "Allright," as he open-folded his
. Only quad nines and a straight flush beat the once youngest WSOP bracelet winner and he's left behind with 91,000 chips. Abecassis is in very good shape now while Shawn Buchanan is also living large.