Azor Ran Over by Selbst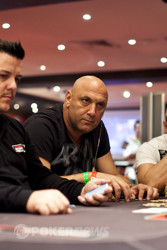 "Alright, I'm all in," said Vanessa Selbst.
Her proclamation echoed throughout the tournament room and caused heads to turn at the other table.
We found Selbst heads up in a pot with Ran Azor. The board read
and after a series of bets and raises, Selbst moved Azor all in for his tournament life. Azor shuffled chips and threw his head back and forth as he pondered making a huge call for his tournament a mere five spots from the money. Eventually, Azor relented and announced a call. He showed
for bottom set.
Unfortunately for Azor, Selbst flipped up
for a bigger set, and Azor was drawing slim to stay alive.
The
completed the board and Selbst was able to send Azor out of the tournament area. With that win she is sitting on a stack of 184,000 and is the current chip leader in the room.