Event #3: €5,300 Pot-Limit Omaha
Day: 2
Event #3: €5,300 Pot-Limit Omaha
Day 2 Completed

Level 15 : 1,500/3,000, 0 ante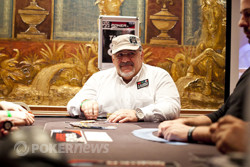 The second day of play started with only 25 players, but it was far from easy for the nine finalists to reach that last table. French pro Roger Hairabedian emerged as the chip leader followed by the dangerous Fin Ville Mattila. Michael Mizrachi however is the story of this final table as he will be trying to win his second bracelet of 2012, and also second bracelet at the WSOPE in back-to-back years. Joe Hachem, the 2005 Main Event champion, also reached the final table. He will be trying to win his second bracelet.
Erich Kollmann started the day as chip leader, but just about everything went wrong for the Austrian. After bluffing off some chips he got himself involved in a huge pot against Mattila. In a limped pot Kollmann fired out 4,000 on a
flop, and Mattila was his only caller. On the turn, the
, Kollmann check raised the 9,000-chip bet to 25,000 and Mattila called. the river was the
and Kollmann moved all in for 45,000. Mattila called with a set of kings and that beat Kollmann's set of eights.
French bracelet winner Aubin Cazals took down the $5,000 Mixed Max at the World Series of Poker this summer, but he would not add a second bracelet in his home country. Vanessa Selbst knocked Cazals out who narrowly missed out on the money. Shortly after this hand it was $10,000 Pot-Limit Omaha winner Jan-Peter Jachtmann who made his exit. He fell to Jani Sointula.
Ran Azor was one of the main characters on Day 1, but Day 2 was far from kind to him. The jovial Israeli busted to Selbst who seemed have everything under control. After this though she could not get a lot going, and busted right in the money, 12th for €9,696.
Jussi Ryynanen and Michael Mizrachi had many clashes, and both players held the chip lead for quite some time. We expect to see big things from these two players at the final table. Sam Chartier was the eventual bubble boy when his kings could not beat Jason Mercier's aces. Mercier was patient throughout the day and one big double up gave him high hopes for another WSOP bracelet. His final level was far from good and he will be one of the shorter stacks going into the final table.
Bruno Fitoussi made the 2012 $50,000 Players Championship final table, where he was the first to be knocked out. Today he bubbled the final table finishing in 10th place. Fitoussi ran into Mizrachi's aces and he failed to improve.
With that the final table was set, and we welcome you back tomorrow at 12:00 PM GMT for the conclusion of this star-studded final! Tune into PokerNews.com as we bring all the live updates throughout the day.

Player
Chips
Progress

Roger Hairabedian

335,000

-27,000

Ville Mattila

297,500

7,500

Michael Mizrachi

211,500

26,500

Jussi Ryynanen

168,500

3,500

Joe Hachem

148,000

2,000

Jussi Nevanlinna

87,000

-1,000

Michel Abecassis

85,500

500

Jason Mercier

75,500

1,500

Michael Schwartz

48,000

-2,000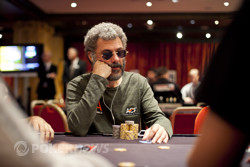 Bruno Fitoussi raised to 8,500 from the button and Michael Mizrachi re-potted from the big blind. Fitoussi committed all his chips after giving it some thought, and Mizrachi called.
Showdown:
Bruno Fitoussi:

Michael Mizrachi:
The board ran out
and Fitoussi was eliminated. A full chip count update will follow shortly. Play is done for today.

Level 15 : 1,500/3,000, 0 ante
Unofficial Final table

| Seat | Player | Chips |
| --- | --- | --- |
| 1 | Michel Abecassis | 85,000 |
| 2 | Bruno Fitoussi | 43,000 |
| 3 | Roger Hairabedian | 362,000 |
| 4 | Michael Mizrachi | 185,000 |
| 5 | Jussi Nevanlinna | 88,000 |
| 6 | Michael Schwartz | 50,000 |
| 7 | Joe Hachem | 146,000 |
| 8 | Ville Mattila | 290,000 |
| 9 | Jussi Ryynanen | 165,000 |
| 10 | Jason Mercier | 74,000 |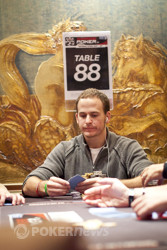 We caught the action when Douglas Corning was facing a tough decision. He had invested 12,000 chips from the cutoff, and Ville Mattila had put in 42,000. Corning had around 50,000 chips left and after some tanking he moved all in. Mattila called right away.
Showdown:
Douglas Corning:

Ville Mattila:
The board ran out
, and Corning was done in eleventh place. Just ten players remain, seat draw en chip counts will follow shortly.

Ville Mattila just raised to 5,000 and Michael Schwartz called. Jussi Nevanlinna three-bet to 24,200 and the action was folded back around to Schwartz. He counted what the damage could be, and put Nevanlinna all in for a total of 41,200.
Showdown:
Jussi Nevanlinna:

Michael Schwartz:
The board ran out
, and Nevanlinna survived this favorable all in. Schwartz is now one of the short stacks.
Level: 15
Blinds: 1,500/3,000
Ante: 0

Jason Mercier opened with a raise to 4,800 and was called by Roger Hairabedian from the button and Michel Abecassis from the big blind.
The flop was
and Abecassis checked. Mercier fired out a continuation bet of 6,300 and Hairabedian quickly called. Abecassis called as well and the three saw the
turn. All three players checked and the board completed with the
.
Abecassis checked for a third time and Mercier fired 21,700. Hairbedian came out with a raise, however, making it 65,000 to go. Abecassis threw away his hand and Mercier went into the tank.
"Six-seven," Mercier said out loud to his opponent. "I don't know how though. Ace and then six-seven?"
Eventually Mercier gave up his hand and Hairabedian was awarded the pot. He's now sporting about 275,000 while Mercier has fallen to 91,000.
Player
Chips
Progress

Roger Hairabedian

275,000

19,000

Jason Mercier

91,000

-79,000

Level 14 : 1,200/2,400, 0 ante
The final table is near, and everybody seems to be aware of that. We need to lose two more players before the day will be done.