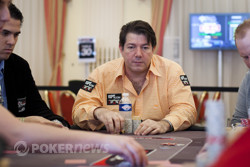 After David Benyamine raised from middle position, Sergii Baranov called and the two took a flop of
. Benyamine put out a bet of 40,000, Baranov called, and the dealer burned and turned the
. This time Benyamine checked, but called when Baranov bet 80,000.
Benyamine checked for a second time on the
river, and Baranov spiked out a tall stack of red T25,000 chips, enough to cover Benyamine if he chose to call. The high-stakes pro thought for a moment and then committed his last 320,000. Baranov proceeded to proudly roll over
for a full house, and Benyamine sent his cards to the muck before exiting in 15th place.