Event #15: €550 Colossus No-Limit Hold'em
Day: 3
Event #15: €550 Colossus No-Limit Hold'em
Day 3 Completed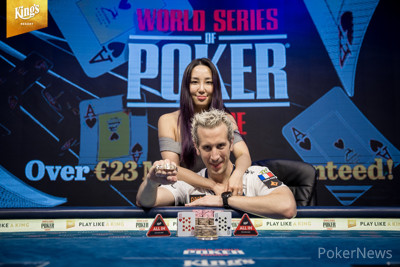 The 2019 World Series of Poker Europe has crowned the final champion of the festival at the King's Resort in Rozvadov as Bertrand "ElkY" Grospellier defeated Avraham Dayan in heads-up to claim the top prize of €190,375 along with his second career bracelet.
Throughout nine starting days, the €550 buy-in attracted a field of 2,738 entries to create a prize pool of €1,300,550 and the vast majority of that was paid out to the 313 players that advanced to Day 2. But only 11 of them returned to their seats on the final day to determine the 15th and final WSOP bracelet winner in the third edition of the WSOPE in Rozvadov.
Dayan had the chance to follow into the footsteps of fellow countryman Tamir Segal, who came out on top of a field of 2,992 entries one year ago to claim his maiden gold bracelet. His runner-up finish came with a payday of €117,630 and there were no previous recorded live cashes for the player from Israel prior to the tournament.
Formerly one of the top-ranked players in StarCraft and WarCraft III, Grospellier has since taken over the top spot on the French all-time money list in poker with more than $14 million in cashes and becomes the second Frenchman to win a second bracelet.
"It means a lot because it is so hard to get one. The first one I got after fix or six years of playing the World Series but that was eight years ago. It's also special because it comes in such a huge field where it is much harder to win. If there are 2,700 entries in the field you have to be lucky at some point to win. Of course you also have to play well but it is such a rare opportunity. I was two cards away from busting in fifth and now I am first," a delighted Grospellier said in his interview after the victory.
Unlike some other top pros, Grospellier only entered three times and had one min-cash where he busted in the last hand of the respective Day 1 and secured his spot for Day 2 on the last day. The Frenchman now lives in Prague and the King's Resort has become his home casino where he takes part in most big festivals.
"I am so happy that you won, that really makes my day," King's owner Leon Tsoukernik congratulated Grospellier when all was done and dusted. Grospellier will be attending Tsoukernik's birthday party in Prague in the upcoming days and after that, a trip to Paris for the League of Legends Worlds Final is planned followed by the Caribbean Poker Party on the Bahamas.
While he is not actively competing in gaming anymore, Grospellier still follows the scene and was also wearing a Team Liquid shirt during the final table.
The final day also featured Shaun Deeb, who came up short in his bid to become the first player to win back-to-back WSOP Player of the Year titles. Other notables such as Pasquale Braco, Mick Heder and Marian Kubis claimed five-figure scores but bowed out before the duel for the title got underway.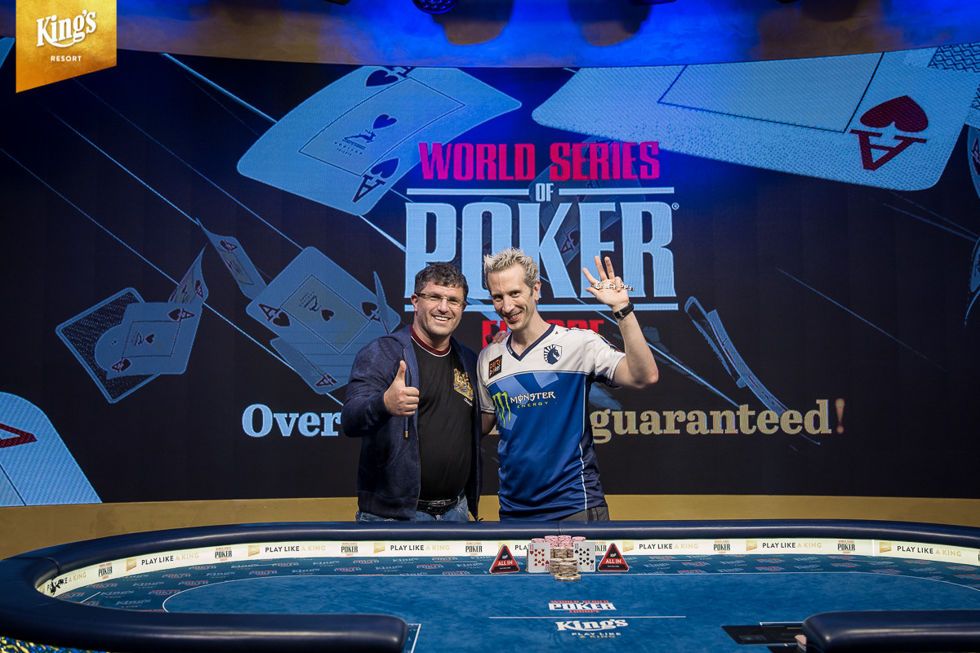 Results Final Day Event #15 €550 Colossus
| Place | Winner | Country | Prize (in EUR) | Prize (in USD) |
| --- | --- | --- | --- | --- |
| 1 | Bertrand Grospellier | France | €190,375 | $213,220 |
| 2 | Avraham Dayan | Israel | €117,630 | $131,746 |
| 3 | Marian Kubis | Slovakia | €86,172 | $96,513 |
| 4 | Mick Heder | Denmark | €63,670 | $71,310 |
| 5 | Dieter Becker | Germany | €47,452 | $53,146 |
| 6 | Christoph Peper | Germany | €35,674 | $39,955 |
| 7 | Sergii Karpov | Ukraine | €27,057 | $30,304 |
| 8 | Alessandro Pezzoli | Italy | €20,703 | $23,187 |
| 9 | Francesco Candelari | Italy | €15,984 | $17,902 |
| 10 | Pasquale Braco | Italy | €12,453 | $13,947 |
| 11 | Shaun Deeb | United States | €12,453 | $13,947 |
Shaun Deeb's POY hopes vanish in the first 15 minutes
The big story line heading into the final day of the festival in Europe's biggest poker arena was the highly-anticipated battle for the 2019 World Series of Poker Player of the Year title and Shaun Deeb entered the final day third in chips, needing at least a fifth-place finish to pull ahead of Daniel Negreanu.
"I was a huge underdog throughout the whole series and today was the first day I was a legit favorite, and it fucked with my head," Deeb said during his commentary stint on the final table.
He had taken a short break to get fresh air after going from hero to zero in the first 15 minutes of play and furthermore mentioned that he didn't want to fold his way to fifth place to secure the Player of the Year title.
However, Deeb's aggression backfired in three hands on the outer table as he first doubled Alessandro Pelozzi blind versus blind, lost some more chips and then check-jammed into the flopped straight of Bertrand "ElkY" Grospellier.
"We started five-handed and you have to take some risks, the variance is always high in those spots," Grospellier said when asked about the decisive hand against Deeb.
"He limps the small blind and I have jack-eight suited in the big blind. It is an easy check-back especially when you consider the stack sizes. I don't think he traps that much but there is no point in raising and playing a big pot against him."
Grospellier flopped the second nut straight and that's when things got interesting already as Deeb bet and called the raise of the Frenchman.
"That was pretty much a dream. Now he leads and I make it 800k. I could slow play but I think it is the best flop not to. The turn is an off suit ten and pretty irrelevant, I don't think he has queens or nines. He can have nine-ten or queen-ten, I guess, but he is probably just raising those most of the time."
Grospellier bet the turn big and Deeb eventually got his stack in.
"He tanks for a while and shoves for like 2.3 million more so I have to snap because it is super-committed. I was surprised he turned over jack-nine actually, it is a really high variance play. The river was a blank and I won a huge pot."
Down to six players in quick succession
The final table was set with the elimination of Deeb but only nine players would take a seat as Pasquale Braco lost a flip with ace-king against the pocket queens of Dieter Becker. Braco's countrymen Francesco Candelari and Alessandro Pelozzi were the next two casualties and Sergii Karpov vanished soon after to reduce the field to the final six hopefuls.
Candelari was left short after a move against eventual runner-up Avraham Dayan and sent the remainder of his chips over to Dayan minutes later when his king-queen suited were dominated by ace-queen. Dayan also claimed the stack of Pezzoli when he held up with kings against nines and Marian Kubis turned the nut flush with ace-queen suited against the ace-eight of Karpov to leave half a dozen hopefuls in contention.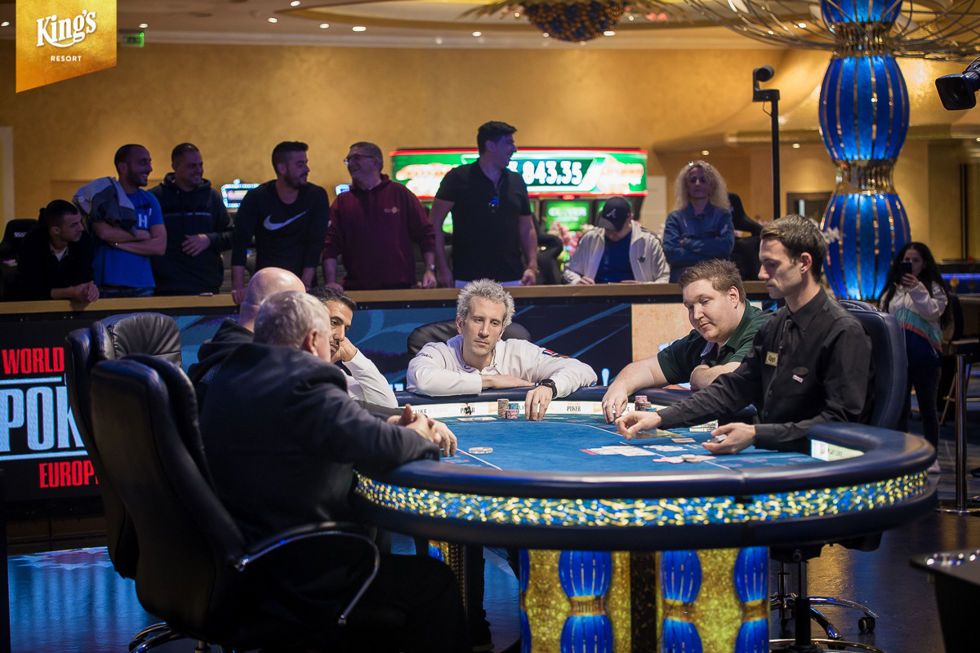 One lucky double sets ElkY on track to victory
While the all-in showdowns kept coming there was only one elimination in the next two hours and it was Christoph Peper that fell with ace-ten against the ace-king of Mick Heder. By then, Grospellier was short-stacked and needed a lucky double against Dieter Becker to get back into contention.
"It was quite tough because I lost a lot of pots early, the blinds go up pretty quick and it is not forgiving. I shoved jack-ten for eight blinds and the small blind had ace-king. I won that hand and after that I won ace-king against king-jack of the same guy."
While low variance play was the initial plan of Grospellier, things didn't quite pan out as expected.
"Some of the guys were sizing their raises quite big and it was tough to play against them. They have a lot of chips and are not afraid to get it in. Once I won the two all-ins it put me into the lead and I had a good run after that and I am really happy with the result."
Becker went from chip leader to fifth place finisher after his clashes with Grospellier and not even 15 minutes later the heads-up duel was already set. Mick Heder got it in with ace-nine against the ace-eight suited of "ElkY" and an eight hit the flop to leave the Dane empty-handed. Moments later, Marian Kubis called the shove of Grospellier with ace-six and found no help against ace-jack.
The duel for the coveted gold bracelet took just over half an hour and was interrupted by a scheduled break. Dayan was unable to close the gap and called a four-bet shove in the final hand with ace-ten suited to get shown pocket tens. An additional gutshot on the turn brought more hope for the rail from Israel but it was Grospellier that had reason to celebrate after a blank on the river.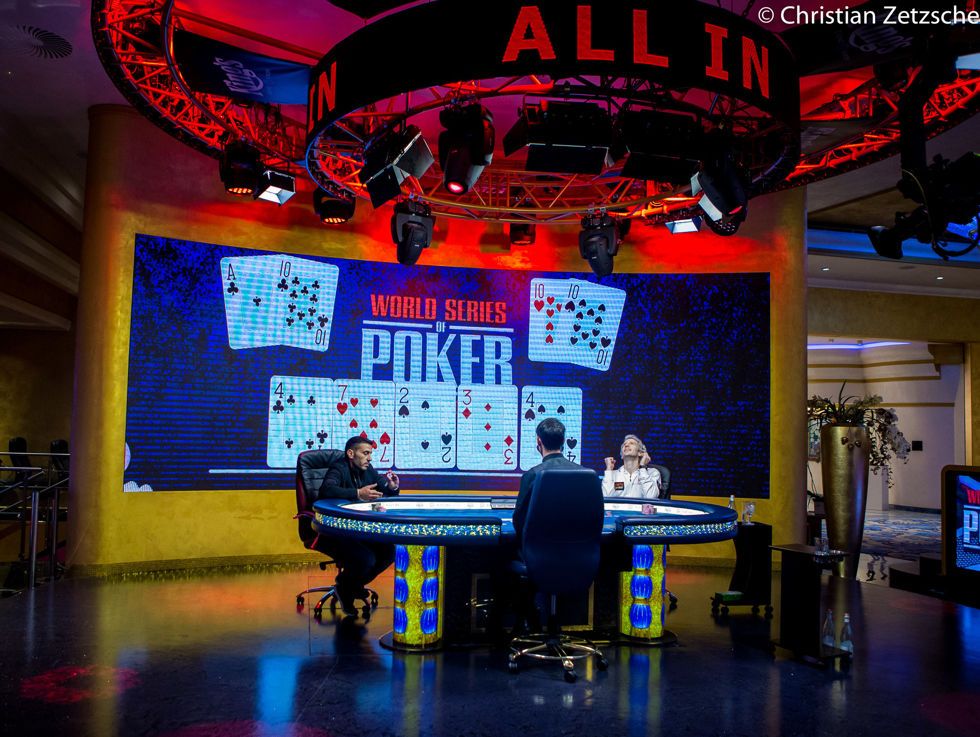 That wraps up the PokerNews live updates from the 2019 World Series of Poker Europe from King's Resort and the international poker circuit remains in full swing at the end of the year with many more exciting tournaments to come.

Level 40 : 500,000/1,000,000, 1,000,000 ante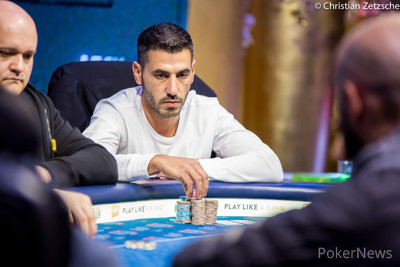 Bertrand Grospellier raised to 2,000,000 on the button and Avraham Dayan three-bet to 6,000,000 in the big blind. Grospellier four-bet shoved all in and Dayan snapped it off for his last 27,000,000 chips.
Bertrand Grospellier:

Avraham Dayan:
The flop came
and Grospellier was still in a commanding lead with his pair of tens. The
on the turn gave Dayan a straight draw to go with his one overcard but the
paired the board on the river. Grospellier's pocket tens held on to eliminate Dayan in second place.

Level 40 : 500,000/1,000,000, 1,000,000 ante
Bertrand Grospellier raised it up to 2,000,000 on the button with
and Avraham Dayan three-bet to 6,500,000 in the big blind with
. Grospellier made the call and the dealer fanned the flop of
.
Dayan just shoved all in for around 14,000,000 and Grospellier was forced to send the best hand into the muck.

Level 40 : 500,000/1,000,000, 1,000,000 ante
Bertrand Grospellier raised to 2,000,000 on the button with
and Avraham Dayan called from the big blind with
. The flop came
and Dayan checked to Grospellier who bet 2,000,000. Dayan check-raised to 5,000,000 and Grospellier called.
The turn was the
and Dayan tossed in a bet of 4,500,000. Grospellier shoved all in with his two pair, putting Dayan to the test for his remaining 18,000,000 chips. Dayan let his hand go and Grospellier extended his lead.
Level: 40
Blinds: 500,000/1,000,000
Ante: 1,000,000
The level has reached its end and a color up is needed. The players are taking another 20-minute break in the action.
Avraham Dayan limped in on the button with
and Bertrand Grospellier raised to 2,500,000 in the big blind with
. Dayan just folded his suited cards and Grospellier took the pot.
A couple of hands later, Grospellier was the one to limp the button with
and Dayan raised to 2,500,000 with
. Grospellier decided to not peel a flop with an ace in his hand and Dayan was awarded the pot.
Bertrand Grospellier opened to 1,600,000 on the button with
and Avraham Dayan called with
in the big blind. The flop came
and Dayan check-called a bet of 1,500,000 from Grospellier.
The turn was the
and Dayan counted out a bet of 4,000,000 after making the best hand. Grospellier thought for a brief moment but let his hand go to the muck.
Avraham Dayan and Bertrand Grospellier are back in their seats with some 14 minutes remaining at blinds of 400,000-800,000 with a big blind ante of 800,000. At the end of the level is a scheduled 15-minute break to race off some smaller denominations.