Event #4: £10,350 No-Limit Hold'em High Roller Heads-Up
Day: 4
Event #4: £10,350 No-Limit Hold'em High Roller Heads-Up
Day 4 Completed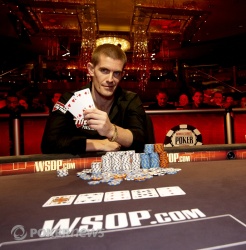 It's a result that we here at the Empire had to wait an unscheduled extra three days for - but Mr. Gustav Hansen of Denmark has been waiting for it for a lot longer than that.
Hansen has been a regular at the WSOP in Las Vegas since 1996 when he and Huck Seed were the last two players to cough up their $10,000 for a Main Event seat. Seed went on to win it that year, and while Hansen has enjoyed some excellent results in the intervening years (three WPT titles plus an invitational is nothing to sneer at), he has never managed to get his hands on a coveted bracelet. Until now.
Hansen admitted that winning a bracelet was, "For sure a monkey off my back," but that he was somewhat surprised that it had come in a heads-up event. He conceded that he'd got rather lucky in his earlier round match against Phil Ivey, but beyond that was very happy with how he'd played, and with good reason - he almost had it won back on Day 3, before Jim Collopy made an extraordinary comeback to make it one-all.
Nevertheless, in a high-octane match that saw Collopy take an early lead before doubling Hansen back up in a crazy cooler of a hand - Collopy's slow-played flopped trips against Hansen's rivered full house - it was Hansen who came out on top. As he hobbles out into Leicester Square on his broken leg, Hansen will surely sleep well tonight, knowing that he has finally achieved the Holy Grail of poker - a bracelet.
From this WSOPE Heads-Up odyssey, it's over and out.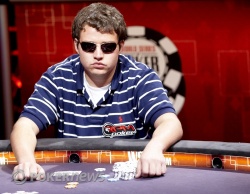 Gus Hansen opened for 91,000 on the button and Jim Collopy pushed for around 1.2 million.
Gus Hansen said many things while he was contemplating what to do. Among them were, "I'm getting tired," and then a moment later, "This is probably a bit light, but I call."
On their backs.
Collopy:

Hansen:
Board:
Collopy stood with his hands behind his back, his head slightly lowered, looking for all the world like a captain going down with his ship. No kings came in for him, nor did his turned flush draw materialise on the river. The best hand held up, and it was all over.
Still, plenty of time for Mr. Collopy - he's only 21, and we suspect we'll see him at another final table pretty soon.
After a couple hands' worth of various walks and preflop raises which resulted in nothing major at all, Gus Hansen opened for 91,000 and Jim Collopy announced all in from the big blind. There was a brief moment of tense inaction from Hansen - but then he folded, and we continue.
Hansen's at around 2.6 million now, to Collopy's 1.2 million.
Level: 5
Blinds: 20,000/40,000
Ante: 0
...For five minutes, anyway. Back soon.
Gus Hansen opened for 66,000 on the button - a rare non-limp - and Jim Collopy called in the big blind. Collopy checked and Hansen bet 86,000 - but folded when Collopy raised it up to 202,000.
The stacks remain at roughly Hansen 2.4 million to Collopy's 1.4 million.
Jim Collopy's stack has made a small upwards movement to around 1.4 million now after he raised to 75,000 from the button and got a call from Gus Hansen to see a
flop. Hansen checked before very quickly calling Collopy's 78,000; the caginess however resumed as both players checked down the
turn and
river. Hansen turned over
for a pair of deuces, but Collopy's
was good enough to win him the pot.
Just as we wrote that Jim Collopy hadn't limped on the button at all yet, he went and limped on the button!
Indeed the play seems to have got altogether less aggressive in the last half hour or so, and we now appear to have entered the small-ball period of the tournament. With the blinds going up regularly, though, we will be seeing some more of that good action pretty soon...