Don't Miss the Upcoming Wynn Signature Series in January

Level 29 : 60,000/120,000, 120,000 ante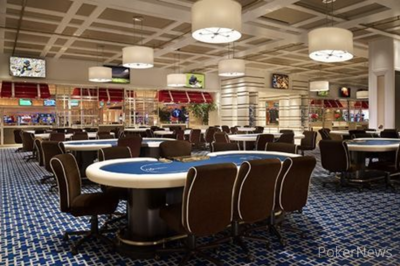 Players looking for some major live poker tournament action in January need to look no further than here at the Wynn with its Wynn Signature Series.
Taking place between January 15 and February 2, 2020 at the luxurious Wynn, Las Vegas, the festival guarantees more than $1.3 million will be won.
Massive $400,000 Guaranteed Event
The crown jewel of the Wynn Signature Series sees $400,000 guaranteed for a $1,100 buy-in.
This massive event features three starting flights, the first of which shuffling up and dealing at 12:00 p.m. on January 23.
Day 1B and Day 1C commence at the same time on January 24 and January 25 with the final day starting at 12:00 p.m. on January 26.
All three Day 1s see you sit down with 25,000 chips and play to 40-minutes blinds. The blinds remain the same on Day 2, too.
Should the $1,100 buy-in for this event be a little steep for your bankroll, Wynn is running two Super Satellites that only cost $200 to enter.
The first of these Super Satellites runs from 7:00 p.m. on January 23 while Day 1A of the $400,000 guaranteed event is running, while the second Super Satellite starts at 7:00 p.m. on January 24 while Day 1B is in full flow.
There was a $400,000 guaranteed $1,100 buy-in tournament that was part of the Wynn Fall Classic in October.
That particular event saw 473 entries battle it out for a slice of a $463,162 prize pool.
Sanket Desai banked $70,306 as part of a four-way deal with Eric Blair, Eric Baldwin, and Tamas Lendvai.
Here's a look at the festival's entire schedule:
| Date | Time | Event | Guarantee | Buy-in |
| --- | --- | --- | --- | --- |
| Wed 15 Jan | 12:00 p.m. | NLH $3K Survivor $100 Bounty | $40,000 | $400 |
| Thu 16 Jan | 12:00 p.m. | Limit Omaha 8/B | $10,000 | |
| | 12:00 p.m. | No Limit Hold'em Day 1 | | $150,000 |
| Fri 17 Jan | 12:00 p.m. | No Limit Hold'em Day 1B | $150,000 | $600 |
| | 7:00 p.m. | No Limit Hold'em Turbo | $10,000 | $200 |
| Sat 18 Jan | 12:00 p.m. | No Limit Hold'em Day 2 | $150,000 | |
| | 12:00 p.m. | No Limit Hold'em | $50,000 | $550 |
| Sun 19 Jan | 12:00 p.m. | No Limit Hold'em | $40,000 | $400 |
| | 7:00 p.m. | No Limit Hold'em Turbo | $10,000 | $200 |
| Mon 20 Jan | 12:00 p.m. | No Limit Hold'em | $40,000 | $400 |
| Tue 21 Jan | 12:00 p.m. | Pot Limit Omaha | $20,000 | $400 |
| | 12:00 p.m. | No Limit Hold'em Day 1A | $100,000 | $400 |
| Wed 22 Jan | 12:00 p.m. | No Limit Hold'em Day 1B | $100,000 | $400 |
| Thu 23 Jan | 12:00 p.m. | No Limit Hold'em Day 2 | | |
| | 12:00 p.m. | No Limit Hold'em Day 1A | $400,000 | $1,100 |
| | 7:00 p.m. | Super Satellite | | $200 |
| Fri 24 Jan | 12:00 p.m. | No Limit Hold'em Day 1B | $400,000 | $1,100 |
| | 7:00 p.m. | Super Satellite | | $200 |
| Sat 25 Jan | 12:00 p.m. | No Limit Hold'em Day 1C | $400,000 | $1,100 |
| Sun 26 Jan | 12:00 p.m. | No Limit Hold'em Day 2 | | |
| | 1:00 p.m. | No Limit Hold'em | $100,000 | $1,100 |
| Mon 27 Jan | 12:00p.m. | No Limit Hold'em Day 1A | $200,000 | $600 |
| Tue 28 Jan | 12:00 p.m. | No Limit Hold'em Day 1B | $200,000 | $600 |
| Wed 29 Jan | 12:00 p.m. | No Limit Hold'em Day 1C | $200,000 | $600 |
| Thu 30 Jan | 12:00 p.m. | No Limit Hold'em Day 2 | | |
| | 1:00 p.m. | No Limit Hold'em | $40,000 | $400 |
| Fri 31 Jan | 12:00 p.m. | No Limit Hold'em | $40,000 | $400 |
| | 7:00 p.m. | No Limit Hold'em Turbo | $10,000 | $200 |
| Sat 1 Feb | 12:00 p.m. | No Limit Hold'em | $50,000 | $550 |
| Sun 2 Feb | 12:00 p.m. | No Limit Hold'em | $20,000 | $300 |