Sung Joo "Arte" Hyun Wins Wynn Spring Classic $3,500 Championship ($323,409)
Level 32 : 100,000-200,000, 100,000 ante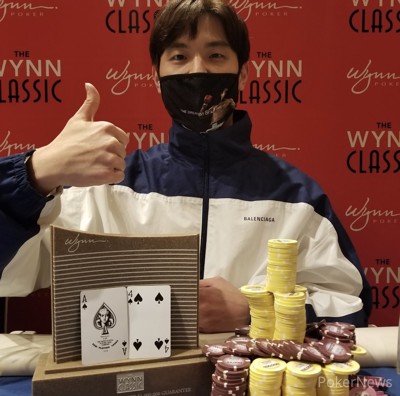 Despite a 15-hour final day, the energy at the final table of the Wynn Spring Classic $3,500 Championship reached a fever pitch as the stakes raised with every late pay jump. Small but boisterous rails matched the enthusiasm of the players, making for a truly memorable atmosphere.
It's an experience Sung Joo "Arte" Hyun will recall fondly after he emerged as the official winner from a 614-entry field to secure $323,409 in prize money.
That sum is nearly identical to that paid out to Matthias Auer, the only other player at the final table who got through more than 31 levels without losing his final chip.
The two players reached heads-up play and immediately struck a deal that saw each side lock up $323,408, with $1 and the trophy left for a best-of-three flip. Hyun proved to be the luckier man, perhaps fitting given that he said from the beginning of negotiations that he cared more about the trophy than the money.
"Every time I start a tournament I just go for the first place," he explained. "Not the money. If there's a tournament that doesn't give you any kind of bracelet or trophy, I'm not very interested. I don't know why. I'm very competitive.
Official Final Table Results
| Place | Player | Country | Prize |
| --- | --- | --- | --- |
| 1 | Sung Joo Hyun | South Korea | $323,409* |
| 2 | Matthias Auer | Austria | $323,408* |
| 3 | Will Failla | U.S.A. | $173,240 |
| 4 | Eric Afriat | Canada | $121,450 |
| 5 | Matthew Wantman | U.S.A. | $89,842 |
| 6 | Mihai Manole | Romania | $69,588 |
| 7 | David Cabrera Polop | Mexico | $55,291 |
| 8 | Chris Moorman | U.K. | $45,760 |
*reflects heads-up deal
A streamer for an audience he said can number around 3,000, mostly Korean fans who know him as Arte, Hyun often plays tournaments online on GGPoker and PokerStars hoping to entertain and showcase strategic play.
He's had some big successes, too, including a bracelet last summer in a $500 Deepstack on GGPoker worth $161,898. He also had a big live win in Vegas less than two months ago in a WPTDeepStacks event for $208,335. However, neither of those cashes matched this one.
That wasn't on Hyun's mind at the final table, though, as he was singularly focused on the trophy.
It looked for most of the final table like Auer would surely get his hands on it, though. He had a dominating chip lead at several points, peaking with around 20 million of the roughly 24 million in play. He rolled through the likes of tournament legend Chris Moorman and three-time WPT winner Eric Afriat.
A defeated Afriat acknowledged what seemed like destiny, saying Auer's win was meant to be after he went down in fourth place.
Things got really wild three-handed, though. Will "The Thrill" Failla got hammered down to a couple of blinds by a Hyun three-outer. He came roaring back with several doubles, including a crazy runout when his underpair ran out a runner-straight against Auer, needing Auer to make a set on the river.
The celebrations had the tournament director doing his best to calm the mini crowd, saying they had people in the casino thinking a rumble was happening.
"There is a rumble in here!" Failla bellowed.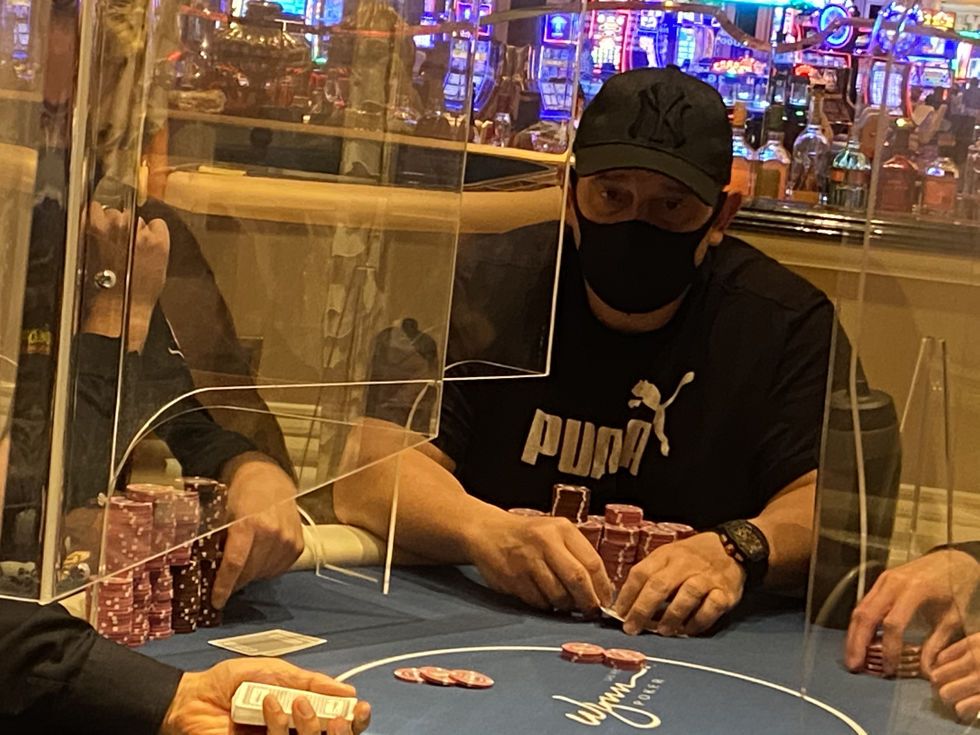 Hyun said he'd never seen anything like it.
"That was crazy," he said. "Crazy. It was the craziest final table I've been to."
Hyun fought his way back to a solid stack by check-raise shoving a river on Auer — it went uncalled — then busting Failla in another exciting hand, nailing an ace on the river in a race against pocket eights.
That's when deal talks went down, and after some discussion, the Austrian and the Korean, along with their support crews, came to an agreement.
It was also doubtlessly a monster moment for Auer, whose team was celebrating every pay jump. Auer has just a few thousand in recorded live cashes but comes well-trained from the PokerCode grindhouse in Europe, having learned from the likes of Fedor Holz.
As for Arte, he plans to continue to pursue dual goals. First, he wants to raise the profile of poker in Korea as a strategic game, removing the stigma of it being pure gambling as many still believe. Second, he just wants to keep improving until he's competing on a world-class level.
"I want to be one of the best," he said. "Not just in my country but worldwide. That's my goal."
Remaining 2021 Wynn Spring Classic Schedule
Next weekend, another $1,000,000 GTD tournament will be held in the 2021 Wynn Spring Classic. The $1,600 buy-in no-limit hold'em tournament will offer three starting flights.
| | | | | | | |
| --- | --- | --- | --- | --- | --- | --- |
| *Date | Time (PST) | Tournament | Guarantee | Buy-in | Starting Stack | Level Length (minutes) |
| Tuesday, March 16 | Noon | Event #13: No-Limit Hold'em | $15,000 | $270+$30 | 20,000 | 30 |
| Wednesday, March 17 | Noon | Event #14: NLH $4K Survivor | $20,000 | $360+$40 | 20,000 | 30 |
| Thursday, March 18 | Noon | Event #15: No-Limit Hold'em Day 1a | $1,000,000 | $1,500+$100 | 30,000 | 60 |
| Thursday, March 18 | 6 p.m. | 5 seat GTD Super Satellite to $1,600 | - | $270+$30 | 15,000 | 30 |
| Friday, March 19 | Noon | Event #15: No-Limit Hold'em Day 1b | $1,000,000 | $1,500+$100 | 30,000 | 60 |
| Friday, March 19 | 6 p.m. | 5 seat GTD Super Satellite to $1,600 | - | $270+$30 | 15,000 | 30 |
| Saturday, March 20 | Noon | Event #15: No-Limit Hold'em Day 1c | $1,000,000 | $1,500+$100 | 30,000 | 60 |
| Sunday, March 21 | 1 p.m. | Event #16: No-Limit Hold'em | $50,000 | $500+$50 | 20,000 | 30 |