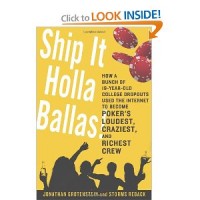 Ship It Holla Ballas!: How a Bunch of 19-Year-Old College Dropouts Used the Internet to Become Poker's Loudest, Craziest, and Richest Crew
Author: Jonathan Grotenstein, Storms Reback
Year: Jan 2013
Print house: St. Martin's Press
Buy
Who were the Ship It Holla Ballas?
Arguably the most successful poker crew of all time, they took advantage of the online poker boom to win tens of millions of dollars before most of them were old enough to set foot inside a casino. Then they did what any red-blooded teenagers with mountains of cash and no responsibilities would do: They partied like rock stars, transforming themselves from Internet nerds with zero life skills into legends, at least in their own minds.
In Ship It Holla Ballas!, Jonathan Grotenstein and Storms Reback trace the rise and fall of Internet poker through the eyes of its most unlikely stars: A group of teenage college dropouts, united by social media, who bluffed their way to the top of the game.
Check out our full review of the book, as well as an interview with Grotenstein, by clicking here.