How to Beat Video Poker and Win More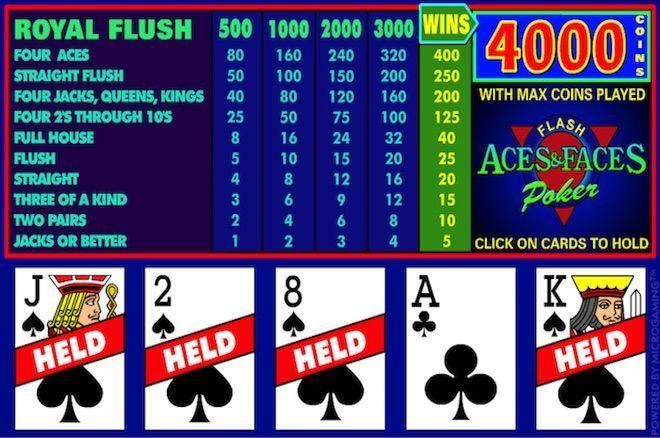 In this article, I am going to explain how to beat video poker machines by:
Playing smarter
Playing slower
Picking the best games
Reducing the house edge
Avoiding the stupidest mistakes
Also, I am going to suggest you a website to play your video poker games.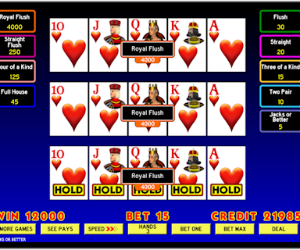 In case you don't know about it, Caesars Slots features a collection of fun and exciting Casino games and also a generous welcome bonus package available to all players who open a free account on this page.
But - we'll get to this later.
What Makes Video Poker Special?
Since it made its entry into the casino scene back in the 1970s, video poker has grown from strength to strength to become one of the most popular gambling games.
Do you know why?
Video poker is one of the few casino games that not only offer some of the highest odds in casino gambling but is also one of the very few games that give you the chance to influence the game's outcome by significantly depending on your skills.
As if that's not enough, video poker is also immensely popular because it brings into the mix a low house edge (profit to the casinos) while still giving you, as the player, the possibility to win big (in jackpot proportions).
Better still;
Video poker gives you that much-craved anonymity in the sense that you can play alone and without the psychological pressure a live poker game.
In other words, you don't have to deal with pit bosses, dealers or fellow players who dissect and even irritatingly comment on your play.
While these are just some of the few godsend advantages that video poker brings into your playbook, the biggest question remains: how can you beat video poker machines?
You may have probably come across an adage in the betting circles that states:
"The house always has an advantage."
It may be hard to refute this, but video poker is almost an exception to this rule.
It doesn't matter whether you play Jacks or Better, Deuces Wild, or any other video poker variation.
With the right skills, strategy, knowledge and an element of luck, you can beat video poker machines hands down.
The fact that you are playing against a machine and not against other players is an advantage that makes video poker machines very beatable.
Add this to the fact that you're almost five times more likely to hit a big jackpot (aka. the Royal Flush) when playing video poker makes it one of the best games out there.
In fact, you should seriously consider moving from traditional slot machines to video poker machines.
But before you blindly jump ships, here's how to beat video poker machines.
Learn the Rules of Video Poker
Playing video poker is simple.
While there are various variants of video poker, they have one thing in common: they're all based on simple mechanics of five-card draw poker.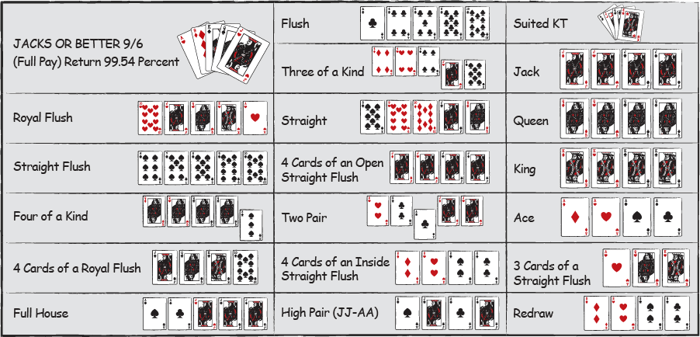 Video poker uses a standard 52-card deck.
After making your wager and pressing the "Deal" button, the machine randomly gives you five cards.
At this point, you need to choose which cards to keep and which cards to throw away or discard.
To keep them, tap on the pictures of your chosen cards on the screen.
Once you have made your pick, press the "Draw" button for the machine to randomly replace the discarded cards.
In this exciting game, your winning is based on ending up with a poker hand such as flush, straight, two pairs or even a royal flush.
Always keep in mind that the amount that you win per hand depends on the poker value of your hand and the posted pay table of the machine you're playing.
One of the most important things to know on how to beat video poker is that you have to make a wise decision on which of your dealt five cards you will keep and which ones to discard.
Remember, making the right decision from the word go will give you the best chances of winning even a jackpot.
Video Poker Basic Strategy
The gravest mistake that you can do in your quest to beat a video poker machine is to attempt playing by just…guessing.
You will lose a lot of money on a simple game that gives you a real shot at winning.
Remember, having the right skills and using an optimum video poker strategy will not only give you a higher chance of winning millions, but you will also enjoy the benefits that come with winning such as, comps that are set aside for casino's best players.
Keep in mind that you should also thoroughly practice on your computer before risking real money on a real video poker machine.
Fancy a game of video poker? Check out all the options to play video poker games for free activate a new player bonus when you sign up! Click here to read more.
Choose the Right Pay Table
One of the best things about playing video poker is that the machine allows you to know the expected return before you even start to play.
Video poker is incomparable to any other game because unlike quite a few new slots, it is the only game that shows you the expected return on your money on the pay table.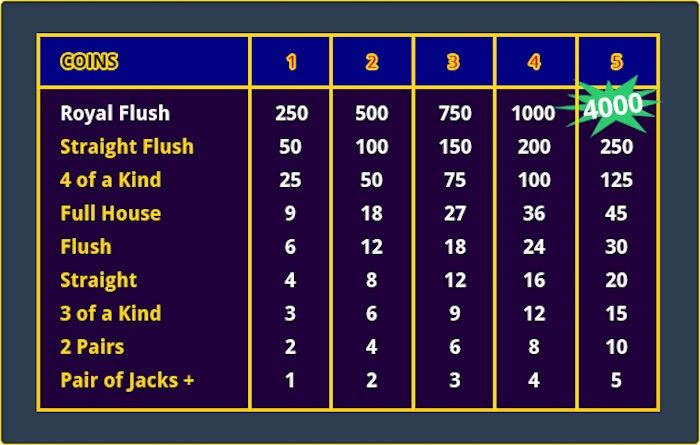 It is therefore very crucial that you do your research to identify the best video poker machines that offer good paytables.
To find the most generous machine that offers the best pay table, you should understand that the return on a particular video poker machine is based on the machine's pay table.
For instance, casinos average a profit of about 3% on each play on a video poker game.
This profit is known as house edge.
Now if the casinos get 3%, you as the player should get a return of 97%, which can vary depending on the machine's pay table.
That's why you need to check out various machines and their pay table before you play at the video poker with the highest returns.
For example, you increase your chances of beating a video poker machine if you choose a machine with a paytable that offers 99.54% return than if you pick a video poker with a paytable that provides a 97.29% return.
In other words, the 99.54% machine only keeps 0.47% house edge while the 97.29% machine keeps 2.71%.
In this case, choosing the 99.54% is the better option as it offers you close to full pay.
On the contrary, you will lose your money almost six times faster if you play on the 97.29% machine.
There is, consequently, no doubt that searching for a good machine will pay.
You should not fall prey to using machines that are lousy or machines that offer terrible paytables.
How to Beat the Jacks or Better Video Poker
Each video poker game has its own strategies.
For instance, the strategy that will help you win on Jacks or Better is different from that which will help you succeed on Deuces Wild.
And because learning all the strategies on the book might be tiresome if not impossible, let's look at how to beat video poker Jacks or Better.
Even though Jacks or Better offers one of the lowest returns, especially when compared to games such as Deuces Wild, Double Bonus Poker and other variations, it remains the most enthralling and rewarding video pokers games, at least according to the majority of video poker players.
Therefore, here are some crucial tips that will help you win big and beat the video poker machine while playing Jacks or Better.
Always Play the Max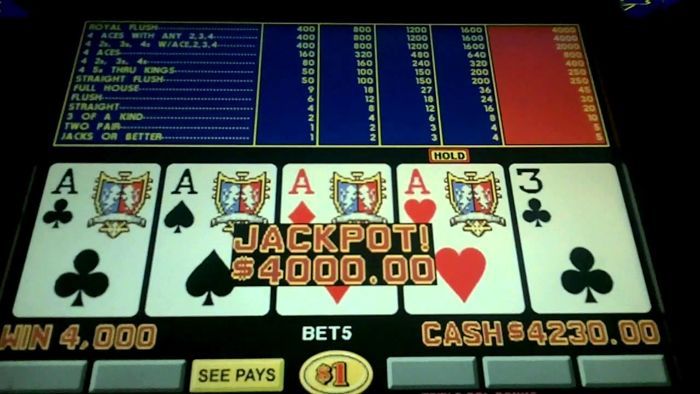 It is always imperative to play maximum coins.
This is because Jacks or Better video poker machines offer top payout for a royal flush (the jackpot).
Playing maximum coins gives you the chance to get a bonus win when you hit a royal flush.
Even though you can bet between one to five coins per hand, you only stand a chance to get the bonus on a royal flush when you bet five coins per hand.
On the contrary, you can consider dropping down to a lower coinage if you aren't comfortable with the five-coin bet.
The only difference is: you will not play for the jackpot.
Find the Best Pay Table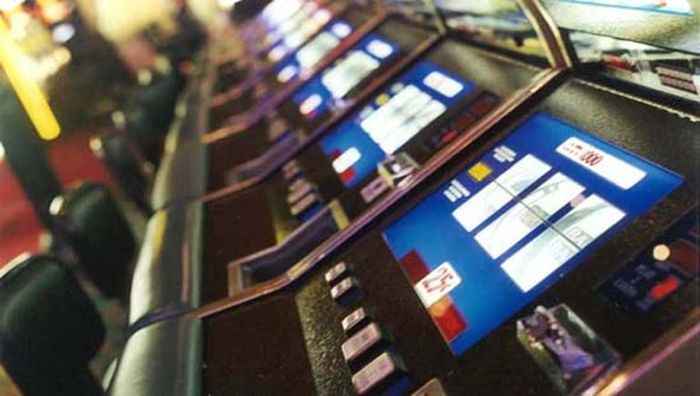 As noted above, finding the best pay table is crucial if you are serious about beating a video poker machine.
With regards to Jacks or Better, there is a myriad of pay charts available.
Although each pay chart offers a different house edge, you should always consider going for a 9/6 (or more) pay chart when playing Jacks or Better video poker.
This is because a 9/6 is a fair return that offers full house pay on nine coins and flush pay on six coins.
Playing on a pay chart that offers less the 9/6 pay chart is a risky move and clear indication that you are playing with a bigger house edge.
In this case, you are giving the casino more profit (money) per hand, thereby losing your money faster than you realize.
Slow Down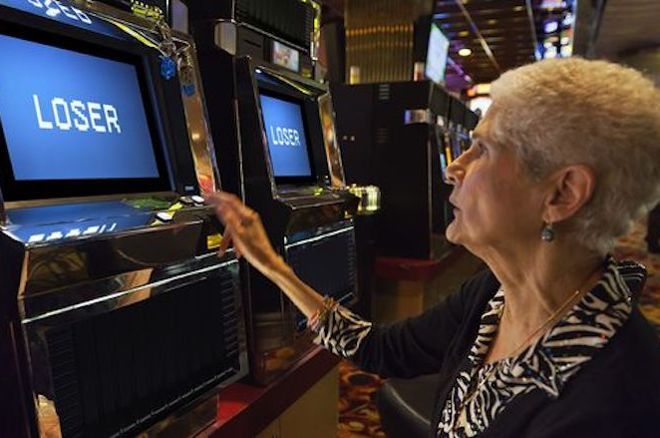 Like almost all casino games, you should always remember that video poker machines are designed for one main purpose: make a profit (house edge) for the casino.
Either way, the more you play, the more you lose.
It is, therefore, advisable to apply what I call "a slow-down strategy" when playing Jacks or Better.
No one chase you and no one will call the clock if you take some time to decide what cards to keep.
Even better:
You can play and go on a break anytime you want.
The key is not to rush and don't play for volume. Video poker, unlike online poker, is a gambling game where the greater the number of your hands is, the higher are the chances that you will lose your money.
If you play poker, you know that the key to being a winning player is "to play fewer hands."
Video poker is different.
In video poker, you don't need to play fewer hands - you need to play slower hands.
This will help you in lessening your hourly losses, hence giving you the opportunity to play for longer and increase your chances to hit a royal flush or to put together a sizeable win.
Even though this is nothing but common sense, many players often ignore this basic gambling principle and therefore lose a lot of money within a very short period.
You need to take complete control of your hand-per-hour to get the chance to extend your playing time and minimise your losses at the same time.
Join a Player's Club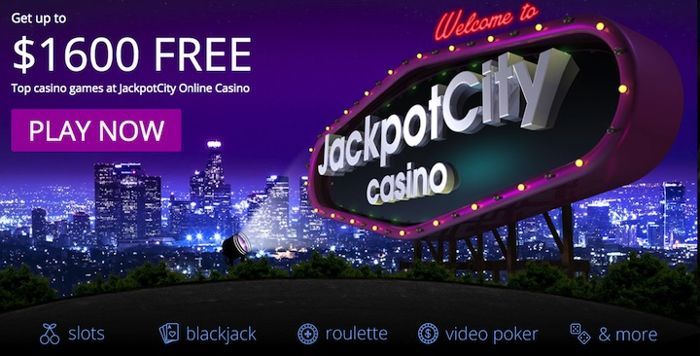 More often than not, the player's clubs are created and designed to get you and other players to play more and longer to get comps.
While this may seem like a negative, it shouldn't be your ground of not joining them.
The Player's clubs are your best chance to earn special bonuses that casinos give only to their most valuable players.
This works to your advantage in the sense that it helps you reduce the house edge in the long run.
You should strongly consider joining House of Fun Casino as their promotions are best ones in 2020.
Play the Progressive Jackpot Video poker Machines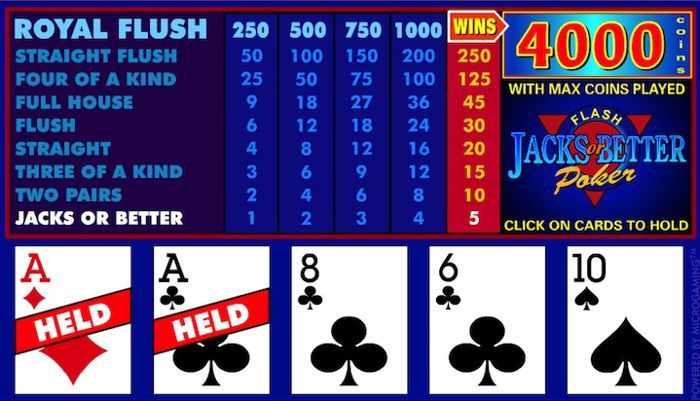 One of the main reasons why almost all casinos offer progressive jackpots is to give players an added chance of reaping big on a relatively small bet.
Jacks or Better video poker games are known to offer some of the best progressive jackpots out there, but you only stand a chance of winning if you use the best strategy.
The problem is, many progressive Jacks or Better video poker machines use very terrible pay tables.
You should be very vigilant to ensure that you only play progressive jackpot on machines that offer a comparatively good pay table.
Remember, progressive jackpots offer players the chance of winning phenomenally big. It could be you.
But if you pick a video poker game that gives you no chance of winning, then you won't get a single chance to beat the game.
Keep an Eye on the Bonuses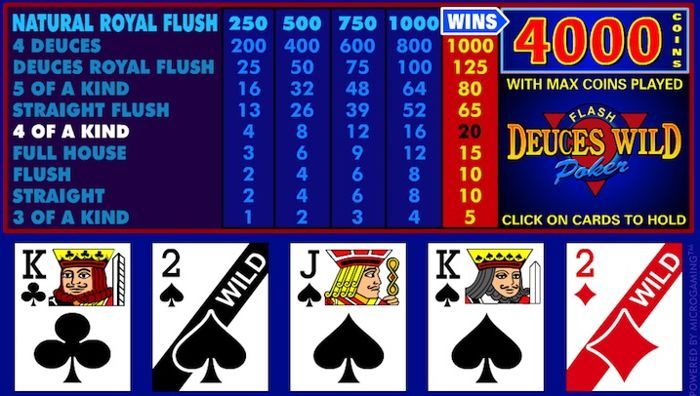 There are always a lot of promotions and offers not just on the Jacks or Better video poker, but on other games too.
By targeting the right promotions, you stand a bigger chance of beat the video poker machines since you get free money to play more games.
Don't ignore the bonuses to play video poker and don't be afraid to use a casino's live chat feature to ask if there's something for you.
Only last month, I received four bonuses only because…I asked for them.
Sometimes, online casino websites are so bad that it's nearly impossible for an average user to find all the promotions or all the latest casino bonuses that are running at any given time.
If you want a bonus, ask for it. Remember: fortune favours the bold.
Be bolder.
Things to Avoid
And now, a few practical and simple tips to win at video poker online.
The Kicker. When you play Jacks or Better video poker, you should always avoid the widespread blunder of retaining a kicker.
Many players mistakenly think that keeping a kicker gives them a higher chance to win with a higher payout.
The Straight / Flush. You should also never attempt to keep three cards in your quest of chasing a straight or a flush.
Keeping three cards with the hope to grab a straight or a flush only leave you in a losing position.
The only time that you can keep all the three cards is when you can pull off the highly valuable straight flush in your attempt at going after a big payout.
Keep in mind this basic strategy on how to beat video poker machines: never give up a winning hand in an attempt at getting an even bigger hand.
Conclusion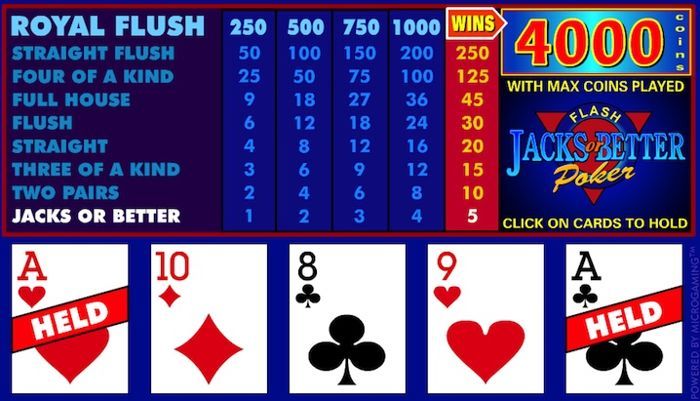 Playing video poker games, particularly Jacks or Better video poker, is one the best choices you can make when you log in to your favourite online casino.
Video poker games come with a lot of options and features that not only make them a proper alternative to traditional slot machines but also give players a real shot at winning big.
Probably the Best Video Poker Site of 2020
We all have our favourite online casinos.
I have Casino sites where I play live dealer games, and then I have House of Fun Casino - my top choice for Slots and video poker games online.
What I like about this site is that, as a player, you get everything you need to learn the game and play for free, totally risk-free.
Have a look at it.
If you sign up through this page, you get a bonus package that lets you play all the games on the platform for free with their Gold Coins.
This is by far the best offer to play video poker and beat the game in 2020 -don't miss it!
The promotion presented on this page was available at the time of writing. With some Casino promotions changing on daily basis, we suggest you to check on the site if it still available. Also, please do not forget to read the terms and conditions in full before you accept a bonus.