Egypt Slots: the Best Games to Play and Win BIG in 2018
Saulius Griskenas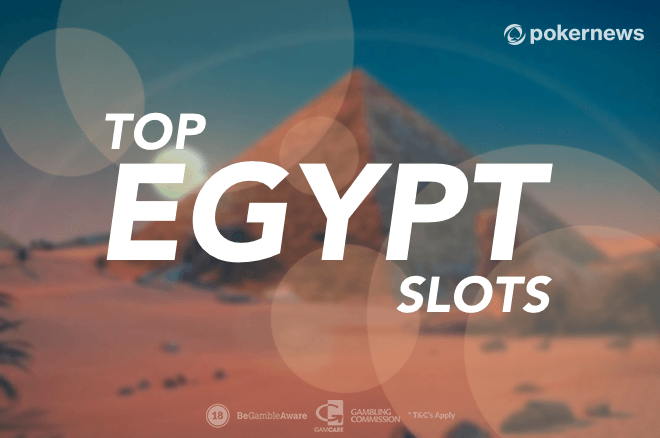 Almost every Slots player has a theme they love. Maybe it's South American Slots (Aztecs, Eldorado, etc.)? Or colorful and funny Irish folk-inspired Slot machines? You know, leprechauns and rainbows.
One of the most sought-after themes is Ancient Egypt. And game developers know it well. The times of Pyramids and Pharaohs have inspired dozens of Slots. In this article, I give you the nine best Egyptian Slots you should play if you are into the Pyramids and all.
You may already know some of the games. But I bet there will be a couple of surprises for you, too.
So, let's get right to it.
1. Pyramid: Quest for Immortality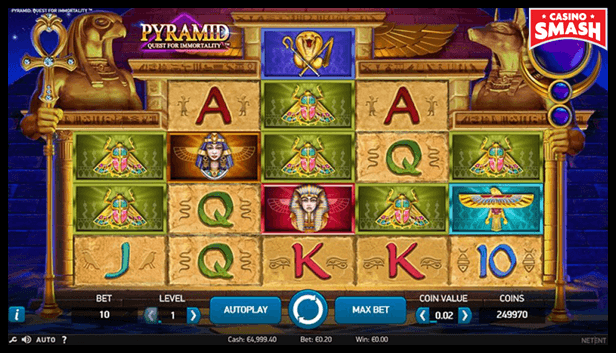 These days it looks like every 'Top Slots' list begins with a title from NetEnt.
That's not a coincidence - it happens because they make great games. Outstanding games. Pyramid: Quest for Immortality is a prime example.
The superb graphics immediately catch your eyes, while the beautiful Egyptian soundtrack immerses you into the world of the Ancient Gods.
By now you've probably noticed the unique layout. This is a 5x3 Slot with additional four symbols helping to give it the shape of a Pyramid.
Right about what you'd expect from an Egypt Slot.
That makes Pyramid: Quest for Immortality a 720-payline Slot with a minimum bet of 0.10 and a generous 96.4 percent RTP. I know you will love it. Once you have your fun with this one, check out the other eight Egypt Slots I've lined up for you.
2. Eye of Horus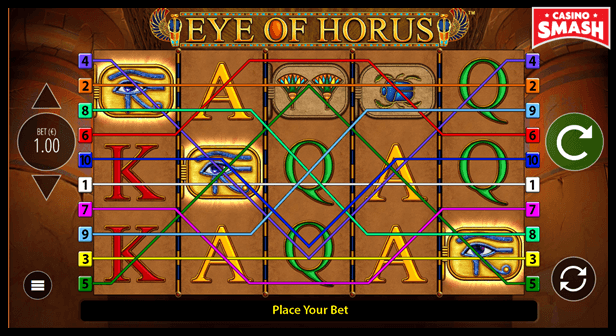 Some of the Egypt Slots in this list are a bit more expensive and slightly more complex than average. Before we get to those particular games, here's a super beginner-friendly Slot.
Merkur Gaming's 10-payline Eye of Horus. The game is incredibly simple to grasp even for a total newbie. Plus, it starts at 0.10 per spin (you can't change the paylines) and goes all the way up to 20 per spin.
At 96.3 percent RTP, it stands among the best-paying Slots, as well.
Eye of Horus is a standard five-reel Slot machine with some fan-favorite features. Like an Expanding Wild (the Horus symbol).
Traditionally, you also have a Scatter symbol. Hit three and claim 12 free spins with enhanced value symbols.
3. Ra and the Scarab Temple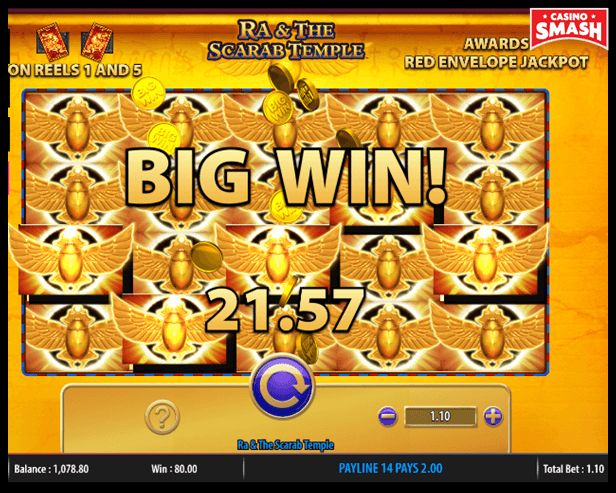 The previous game featured Horus, one of the most significant Egyptian Gods. So I guess it would be disrespectful not to include a game that features Ra, wouldn't it?
Ra and the Scarab Temple is a brand new release from SG Interactive. And it's a very different game from the previous two.
First, there's the non-standard layout (four rows and five reels).
Second, it's not a a slot for beginners - as the bets start at 0.55.
Third, it's packed with unique features. There's a Red Envelope jackpot, Mystery Stacked Reels, Radiating Wilds, and a Free Spins bonus for hitting three Scatters.
There is a learning curve with this Slot, but that's a big part why it's on this list. All Slots can't be alike!
4. Pharaohs Treasure Deluxe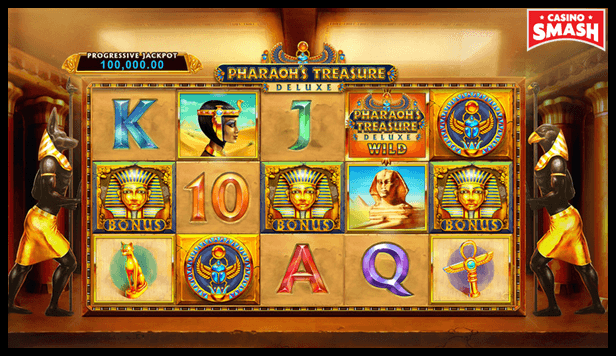 I'll be honest, Pharaohs Treasure Deluxe got a place on this list because of its predecessor, Pharaohs Treasure. I have always enjoyed Egypt Slots and Pharaohs Treasure was a great one to play.
What about Pharaohs Treasure Deluxe, then? I'll just say this. It gives you choices, where other Slots don't.
This is a 20-payline, 0.20 minimum Slot. 14 wager levels overall, going up to £200. If you're bored, the Turbo mode will be helpful.
You can also choose a unique High Roller mode. It's an expensive way to play but you get to choose between extra Wilds either on the middle reel, or the reels 1, 2, and 3.
5. Crown Egypt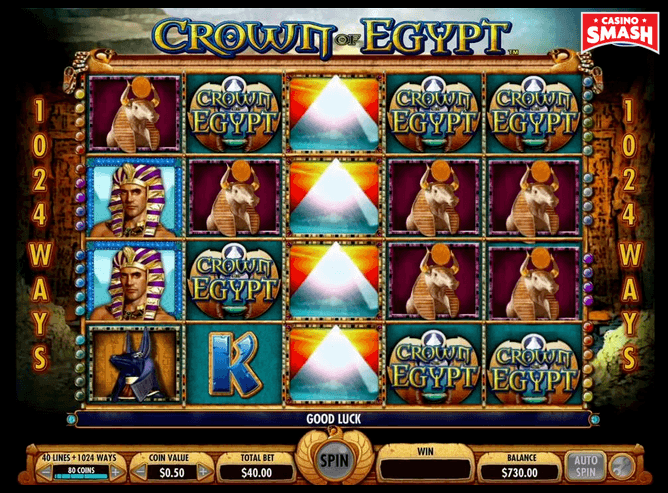 Another 4x5 Slot, but this time you have 1,024 ways to win! And it has what I like most, choices.
When it comes to the bets, you can pay for extra paylines if you don't want to play Crown Egypt as a regular 40-payline Slot.
Double the bet, double the fun? Needless to say, 0.80 per spin is quite a high starting point.
As features go, there is what you would expect - Wilds and Scatters. The Wilds come frequently while two Scatters are enough to trigger the Free Spins bonus. Nice!
6. Golden Egypt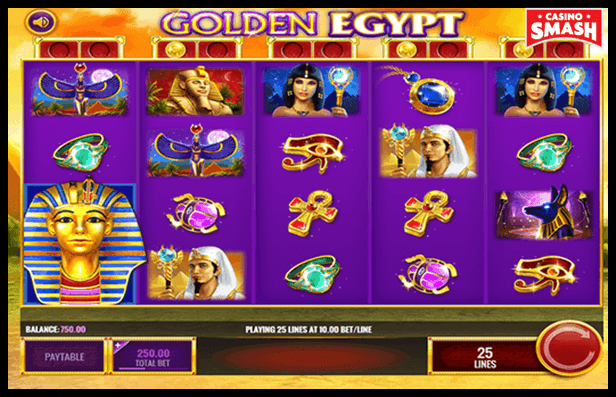 IGT decided to utilize Cleopatra's beauty to attract players to their Slot. And it's clearly working!
Just like Ra and the Scarab Temple, Golden Egypt is a four-row, five-reel Slot. You can play this 25-fixed-payline game from 0.25 per spin.
As I said, it's a huge player favorite. Rightly so!
High 96.16 percent RTP
Immersive atmosphere
Smooth gameplay
In addition to the Scatter bonus, there is one unique feature. Funky 'Wild Stays 2 Pays' feature can actually be pretty lucrative. Active throughout the game, it requires you to collect two Golden Coins. Once achieved, they will turn the whole reel into a Wild. Cool, huh?
7. Cleopatra Plus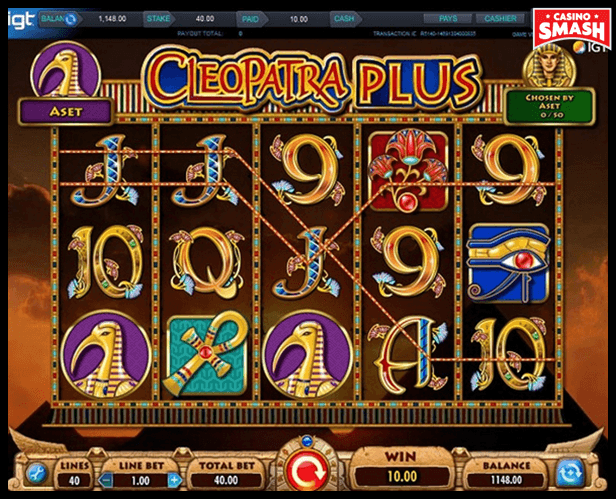 As long as we are talking about Cleopatra, IGT has another game called Cleopatra Plus. It's actually a sequel to a previously popular Queen of Casino Slot.
Cleopatra Plus shines with the best Egypt-inspired Slots. It's a favorite for many due to its depth.
As a new player, you pick one of the three deities to help you. As you play, you level up and collect followers. Level 4 will unlock three more deities that will appear as stacked symbols in the base game.
While collecting followers will unlock new maps and features.
Cleopatra Plus is not the most beautiful Egyptian Slot, but it will draw you in for long hours. Guaranteed!
8. Treasures of the Pyramids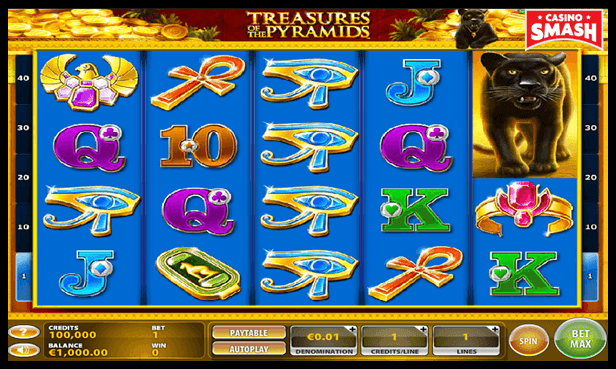 Treasures of the Pyramids is a 40-payline Slot from IGT. While it's entertaining, the Slot is not meant for beginners. The game starts from 0.40 per spin, but if you have the bankroll, you may find it worth the risk.
Did you know that you may win up to 100 free spins?
Hitting the Pyramid Scatters will activate 8, 15, or 100 free spins with a 2x multiplier.
While the atmosphere is not as immersive as you may find on other great Egyptian Slots, a 96.1 percent RTP and many features make this Slot worthwhile.
9. Egyptian Heroes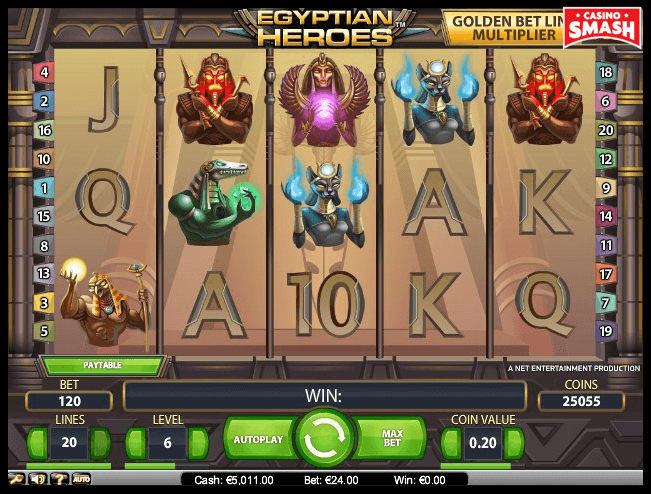 You know, we started with NetEnt, maybe it's appropriate to end with them as well. Egyptian Heroes is a fierce-looking game. You're among the Gods, you better be ready!
It's a 20-payline Slot with an impressive 96.7 percent RTP. And it's from NetEnt.
You know it's good. It is.
Especially the features in Egyptian Heroes. For example, a base game feature called the Golden Bet Line randomly selects one of 20 paylines and multiplies winnings up to x5 times.
That's it. That's the whole 9 yards of the best Egyptian Slots. Do you agree? If you found some new Slots, try them out and let us know if you like them.
Finding a trustworthy room to play online poker can be a monumental burden. That's all the more true if you're just looking for a place to play poker for free. We've listed five of the best play-money poker sites to enjoy and help hone your skills.
The promotion presented on this page was available at the time of writing. With some Casino promotions changing on daily basis, we suggest you to check on the site if it still available. Also, please do not forget to read the terms and conditions in full before you accept a bonus.