European Blackjack: Most Common Blackjack Game Online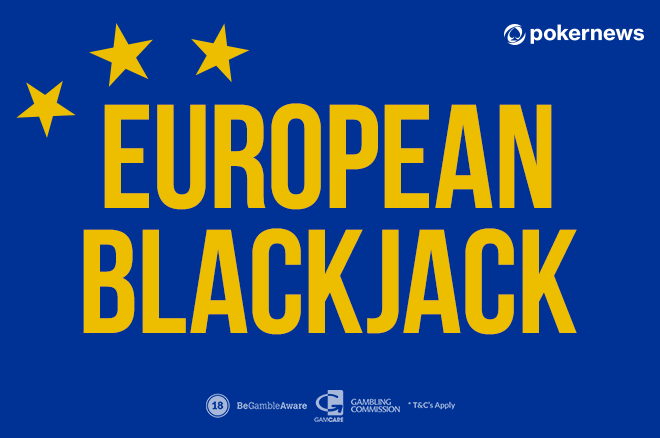 European Blackjack is the most common Blackjack game
It's variant of Blackjack
The game is played with two decks of cards and has an RTP of 99.60 percent
European Blackjack is similar to classic Blackjack and you Blackjack. You can play it online right here.
If you're you're serious about your Blackjack games, grind, you want to know as much as you can before you start playing for real money.
One way to do it is by to open an online Casino site, try different Blackjack variants, and discover differences, strategies or strategies, and betting systems that work.
An easier way, though, is to read about it all before you begin to spend your money on a game of European Blackjack.
You'll find European Blackjack games at most of online Casinos. Many brick-and-mortar Casinos follow European Blackjack rules at their Blackjack tables, too.
So, naturally, it's smart to learn more about this variant.
And this is the best place for that.
In this article, discover the differences between European Blackjack and other variants, basic rules, your chances of winning at European Blackjack table, and more!
European Blackjack vs Other Blackjack Variants
There are many Blackjack variants out there. To complicate things, you should know that Blackjack games that go by the same name can have different rules based on the Casino you play them at.
I bet you didn't see that coming, did you?
European Blackjack vs American Blackjack
If you play Roulette, you know that European Roulette has almost twice lower house edge than does the American variant of the game.
Many players believe that the same goes for Blackjack.
However, because of the subtle differences in the card dealing, American Blackjack actually has better odds than European Blackjack does.
It's not nearly as bankroll-wrecking difference as in the Roulette odds but it's still something: European Blackjack has 0.05 percent higher house edge than American Blackjack.
How come?
American Blackjack players can avoid some doomed bets when the dealer has a blackjack. That's because the dealer can peek at their hole card and finish the game right there and then.
In European Blackjack, the dealer doesn't have such an option. They get their second card only after the players are done with their moves.
European Blackjack vs Classic Blackjack
Even though the European Blackjack has slightly worse odds than American Blackjack, the card dealing in European Blackjack is actually the same as in the classic game.
Of course, in classic Blackjack, only one deck of cards is used. Thanks to card counting experts, that's not a luxury brick-and-mortar Casinos can afford nowadays.
European Blackjack House Edge
So, European Blackjack has a 0.05 percent higher house edge than American Blackjack. But how much is the house edge in total?
That would be 0.40 percent.
If you compare it to most of the bets in Slots games, Roulette, or Craps, it's still very little.
However, when you use strategy and find games with player-favorable rules (single deck, early or late surrender, switch, resplit/double down on all hands - you name it) you can find Blackjack games with odds as low as 0.10 percent!
When it comes to Blackjack at land-based Casinos, you won't won't have an option to experiment at many different tables until you find the one with the best odds.
You can do so online.
Even if you play at only one online Casino, you'll have 10+ different Blackjack tables to choose from.
If you play at a worthy online Casino, that is.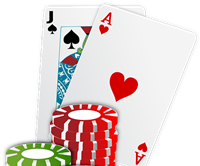 How to Play European Blackjack
Okay, so you've rel="nofollow"]you've opened a European Blackjack game. What now?
STEP #1. Place your bets

The bets at most table game online start at $1. But you can always find games with lower or higher stakes.
Don't go all-in with your first Blackjack bet.
Sure, the game has better odds than 99 percent of games you'll find at a Casino. But it doesn't mean you'll win every single hand.
STEP #2. Check your hand and the dealer's dealer's card
After you place your bet, you'll receive two cards. The dealer will get one card.
In Blackjack, you don't care if the cards match the suit or make up some rank like in Poker. You look at the cards and see their points (value) instead:
Numbered cards () have their numerical value (e.g. counts as 8)
Face cards () are each 10
Ace ()can be either 1 or 11
Your goal is to beat the dealer by having a higher hand than they do, yet not going over 21.
Your initial cards hint you if your hand is good enough already:
is it close to 21?
perhaps it's a natural blackjack - the winning hand?
could you use an extra card(s) to make your hand better?
The dealer's dealer's hand hints you what kind of card the dealer may get - a weak one or a strong one.
Based on it you can predict if the dealer has higher chances of busting, thus making it easier for you to win with a lower value hand.
STEP #3. Make your move

After analyzing the cards, you need to make your move:
to hit - to ask for ask for an extra card (no additional bets required)
to stand - to continue playing with the current hand (no additional bets required)
to double down - to ask for an extra card and stand right after receiving it (the original wager is doubled)
to split - (only if both cards are the same, e.g. two Aces) to divide cards into two hands (requires an extra bet of the same amount as the initial wager)
You can also make an insurance bet if the dealer has an Ace. It's It's a side bet that you can win if the dealer ends up having a natural.
Any professional Blackjack player will tell you - never take insurance.
It's the worst bet you can make at the Blackjack table.
But let's go back to the moves that you can and should make at some point.
If you're you're not a math genius, thinking about your chances of winning may be a complicated and boring thing to do.
Luckily, you can use the Blackjack basic strategy.
Blackjack basic strategy is a set of optimal moves to make at the table based on your hand and the dealer's dealer's card. You can find Blackjack basic strategy chart here.
STEP #4. See how the game plays itself out

After your round of decisions is done, it's it's the dealer's dealer's time to play.
Based on predefined rules the dealer will hit until they have at least 17. Unless you busted already, you'll you'll see the outcome of the game right there and then:
you win if your hand is higher than the dealer's dealer's (e.g. 19 > 18)
you lose if your hand is lower than the dealer's dealer's (e.g. 19 < 20)
it's [*]it's a push if both hands have the same value (e.g. 19 = 19)
What happens with the push depends on specific Casino or European Blackjack game.
In many cases, you will get your wager back. But in some cases, the House wins on every push.
It's pretty obvious which rule is better for you, right? Choose your games accordingly.
European Blackjack Payouts
Speaking of the House and the player-favorable rules, the payouts in Blackjack games differ rarely.
Usually, you get:
3 to 2 for a natural win
1 to 1 for other wins
2 to 1 for insurance win
This applies not only to European Blackjack but all Blackjack games. Both online and at brick-and-mortar Casinos.
However, sometimes the natural blackjack pays 6 to 5.
If you see a European Blackjack table with such payout, run away.
Seriously.
This payout is designed to increase the house edge and that's the last thing you want at a Blackjack table. Or at any Casino game for that matter.
European Blackjack Games Online
Congrats, now you know everything you should know about European Blackjack.
Now you only need a good online Casino and flawlessly developed European Blackjack games to practice it all.
And I have just the thing.
Create a FREE account at this online Casino and you'll you'll find eight European Blackjack tables where you can practice the game both in demo mode and for real money.
Also, 25 other Blackjack games. But who's counting.
| European Blackjack Platform | Developer | Min/Max Bet | Extra Rules | Link |
| --- | --- | --- | --- | --- |
| European Blackjack | Switch Studios | 1/200 | - | Play here > |
| European Blackjack | Microgaming | 1/200 | - | Play here > |
| European Blackjack Gold | Microgaming | 1/200 | - | Play here > |
| European Blackjack High Limit | Microgaming | 10/1000 | - | Play here > |
| Multi Hand European Blackjack Gold | Microgaming | 1/200 | Multi hand play1 | Play here > |
| Multi Hand Perfect Pairs European Blackjack Gold | Microgaming | 1/200 | Multi hand play, Perfect Pairs side bet2 | Play here > |
| [B]HiLo'13 [B]HiLo'13 European Blackjack Gold[/B] | Microgaming | 1/200 | HiLo'13 Gold[/B] | Microgaming |
| European Blackjack Redeal Gold | Microgaming | 1/1000 | Redeal option4 | Play here > |
1 In Multi Hand Blackjack, instead of playing with one hand at a time, you can play with up to five hands.
2 In Perfect Pairs you can place a side bet(s) that your initial hand will have 1) a perfect pair (cards with the same symbol and same suit, e.g.
), 2) a colored pair (cards with the same color suit, e.g.
), or 3) a mixed pair (cards with the same symbol but different color, e.g.
). The Perfect Pair pays 30 to 1, the Colored Pair - 15 to 1, and the Mixed Pair - 7 to 1.
3 In HiLo'13 HiLo'13 you can place a side bet(s) that your initial hand will have a low value (< 13), a value equal to 13 (= 3), or higher (> 13). Hi and Lo bets pay 1 to 1 while 13 bet pays 10 to 1.
4 In Redeal Blackjack, for a certain price, you can ask for the dealer's dealer's first card, your last card, or your hand redeal.
The promotion presented on this page was available at the time of writing. With some Casino promotions changing on daily basis, we suggest you to check on the site if it still available. Also, please do not forget to read the terms and conditions in full before you accept a bonus.