Live! Social Casino: 5,500 Credits for Slot and Table Games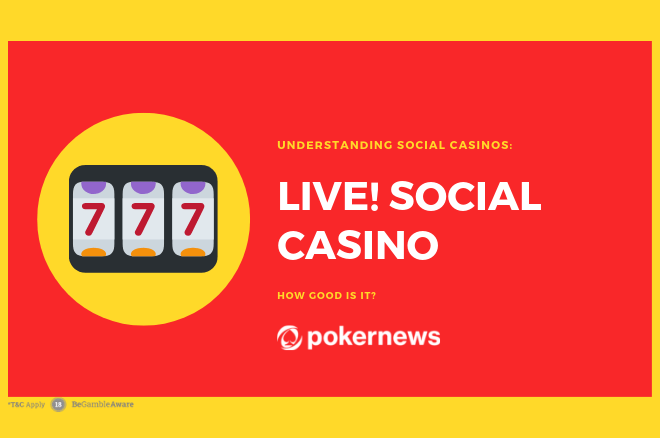 Table Of Contents
Social Casinos are always a hit or miss.
Sometimes you download mind-blowing games like Scatter Slots and you play for days…
…and other times you fill your mobile with apps that are nothing more than free-to-play meh's.
To bring some clarity in the world of social gaming, we have decided to review a different social casino site every week.
These articles should help you understand why some sites are great fun and why others suck.
Today, we go through Live! Social Casino, the 2016-born social casino website by Maryland Casino.
Live! Social Casino Online Games and Live Rewards
This article is the most comprehensive guide to Live! Social Casino in 2020.
The best part?
It's also the only review on the Internet dedicated to a website where social Casino games meet land-based Casino gambling - even if you can only play with virtual credits.
It sounds crazy, doesn't it?
You will learn how to open an account at Live! Social, play all the games (including the free Slots), and get the free casino apps offering live social Casino games on iPhone and Android.
Play the Best Slots of 2020!
Check out our curated list of the best Slot machine games to play in 2020. Register for a special bonus (it's free!)
In short: if you have ever considered playing Live! Social Casino or you are looking for a good app to play Slot machines from the United States, you'll love this article.
What's Live! Social Casino?
When Maryland Live! Casino launched, not many gave it a chance.
Although the website looked cute (and it still does), it didn't seem this operator had the numbers and the games to compete with the giants that had already started to split the US player pool.
A few years later, however, this social Casino platform has developed to become one of the most interesting players in the social casino industry.
The games and missions rival those of Slotomania and the overall quality of the product is excellent
The only defect? You can't play for real money.
On Live! Social Casino you find 57 slot machines and 15 table games. While the number of slots isn't impressive - this is one of the best Social operators to play roulette, blackjack, and baccarat.
Slot and table games are all of the highest quality and please - do not just take my words for it.
Look at the video we filmed while we have been working on this casino review. The slot in the clip is 'Neon City Casino':
If you are into more modern Slot machines, look at the 'Forest of Fortunes' game:
The bonus round on Neon City Casino is super-exciting. The idea to combine slots play with 7-card stud, roulette, and blackjack to boost your results is brilliant.
But Live! Social Casino isn't only about slots. The table games are great too.
This is Blackjack Pro on Live! Social Casino:
If you are more into Roulette, make sure you don't miss the beautiful Roulette Royale:
Slot Tournaments
Live! Social Casino features a lot of Slot tournaments. The action is neck-breaking fast and feels comparable to what you'd expect from the best real money casinos online. Here's me playing one:
As you see…
... it went pretty well!
The Lounge
Live! Social Casino works hand-in-hand with Maryland's live Casino, meaning that membership card holders get extra bonuses and exclusive games all the time.
To access the offers you need to visit the Lounge section of the website and connect your card. Do that, and you'll receive a free bonus of 50,000 credits.
That's just the beginning.
The Promotion
You get 5,550 free credits on signup and if those aren't enough - there are a lot of ways to get some more.
Visit the promo section of the site to know how to win prizes for 1,000,000 in the Live! Pursuit and to activate the 3,000 daily bonus you receive after each day's first login.
If you like it, you can spend your money to buy extra credits.
I think this is against everything that social Casinos represent but, if you are interested, the paid packages start at $24.99 for 50,000 virtual credits.
New Casino Bonuses - All the Time!
If you are planning to play Casino games this month, make sure to check out the promotions listed on this page and get all the bonuses!
The Apps
You can play Live! Social Casino by Maryland Casino on Android and iPhone. Just look for the dedicated free Casino apps on Google Play or on Apple's AppStore and get started!
The promotion presented on this page was available at the time of writing. With some Casino promotions changing on daily basis, we suggest you to check on the site if it still available. Also, please do not forget to read the terms and conditions in full before you accept a bonus.