Netent Slots: the 25 Best Netent Slot Games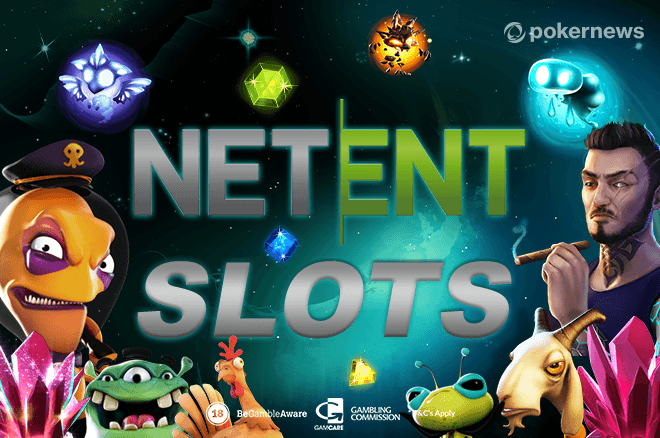 NetEnt is one of the leading companies in the online gambling industry and it's most famous for its innovative and engaging slots.
In fact, you can play NetEnt slots on the portals of the world's most successful casinos, and most players will tell you that they are the best in the business.
If you are sitting there wondering why that is, just keep scrolling to find your answer.
NetEnt slots are designed with the player in mind and they are some of the most engaging slots on the market.
They provide everything modern online gamblers need to be entertained. From old land-based slots brought back to life, to NetEnt 3D slots, all their games will have you glued to the screen.
Even some of the most avid gamblers can't stay indifferent when they try these slots for the first time. As the most innovative company on the market, NetEnt hit the sweet spot by developing their games around ease of use and great functionality.
Their slots feature amazing and colorful graphics.
And, since NetEnt develops its slots games to be playable across several platforms, the graphics don't lose their quality regardless of whether you play the games on desktop, tablet, or mobile. As a matter of fact, NetEnt mobile slots have become very popular in the online gambling community.
The other two aspects of their games are sleek animation and crisp sound. Dancing characters just like the one in Gonzo's Quest, engulfing flames, and the animations taking place on reels have the power to captivate the players and take them to another dimension.
You will also find the sounds crisp, amazing and immersive because they nicely complement the NetEnt slots themes. The sounds and graphics stay true to the original versions from the casino classics.
Some of their slots allow players to pick the soundtrack of their own liking. For instance, we really loved the sound option in Jungle Spirit: Call of the Wild where we could choose intense drums or relaxing nature sounds.
And the best part is that players can play new NetEnt games almost every month.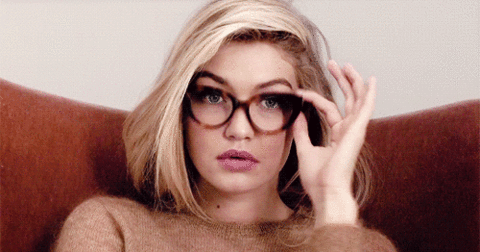 They work tirelessly on designing and producing brand new games that deliver fresh experiences to slot savvy gamblers.
It amazes us how their programmers, engineers, and designers always find a new way to surprise the players with a new cool feature. Just like when they released the first of many to come NetEnt 3D slots.
They also include tutorials in their slots to help the players figure out how to win.
What truly swept us off our feet is the fact that these slots have a free play option, too. Thanks to that, everyone can try the best slot experience the industry has to offer, hiding behind that "Play Now" button, at no cost whatsoever.
For all the reasons above, we decided to help you discover the best NetEnt slots that are definitely worth your time. Here is a list of the 25 best NetEnt slot games.
Archangels: Salvation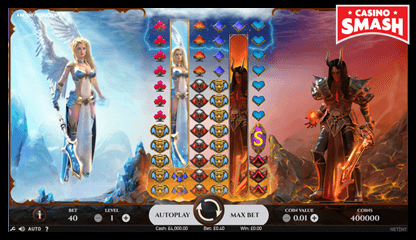 This is one of the most amazing NetEnt mobile slots. It's a 6 reel, 100 payline "good takes on evil" slot game. Players can enjoy the epic and visually engaging battle between good and evil by taking sides. With its Free Spins and Wild Bonus features, this game gets interesting really fast.
Angels and Demons are the most rewarding symbols, giving players 150 coins for 5 on a payline and the game features 2 Hot Spot areas. One consists of the two bottom rows on the reel set, while the other consists of the top two rows.
Fruit Spin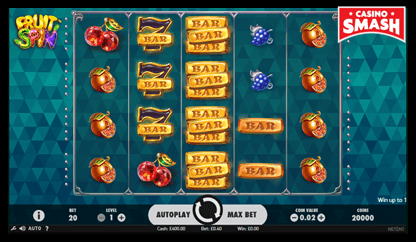 If you love the traditional-looking NetEnt slots, then Fruit Spin is the right game for you. This slot has 5 reels and 40 paylines. The two most engaging features in the Fruit Spin slot are Lucky Wheels and Free Spins.
The Lucky Wheels triggers when a part of a 3 x 3 scatter symbol hits the reels. It rewards players with cash, but it can trigger the Free Spins feature, too. It rewards players with at least 5 free spins and a chance to get an Extra Spin symbol, which will reward the player with an extra free spin.
Gonzo's Quest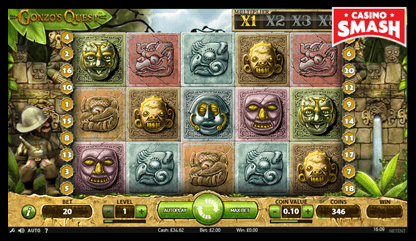 Taking a quest to search for the lost treasures in the lost City of Gold is always fun. Gonzo's Quest is a thrilling NetEnt game with an amazing Avalanche Reels feature, which can reward players with serious cash prizes. It's a simple 5 reel, 20 payline game.
Gonzo's Quest also features a Free Falls bonus, which rewards players with up to 10 free spins, triggered by the 3 Free Fall scatter symbols. Each win will increase the multiplier and this feature will also trigger Gonzo, a central figure in this game, who will perform for the players during the bonus round.
Starburst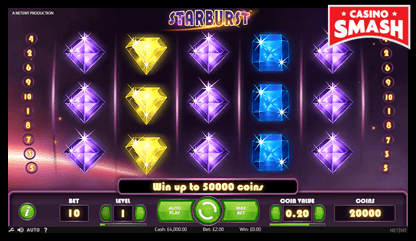 Starburst is one of the fastest and most unique NetEnt games. It's an arcade game where getting Starburst Wilds symbols is the main goal for players. It has 5 reels and 10 paylines. The graphics are very colorful and engaging, with music that really adds to the ambient.
Starburst Wild symbols on either of the 3 middle reels will trigger the bonus feature and expand the reel they appear on. Other reels will go into a spin. This will repeat as long as new Starburst Wilds appear in the re-spins.
Jack and the Beanstalk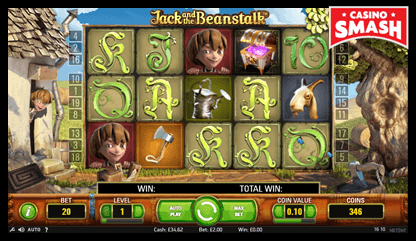 This is a fairytale-themed slot game. Everyone has heard of Jack and the Beanstalk. Well, NetEnt used this theme to power one of its most popular slot games. Jack and the Beanstalk is a 5 reel, 20 payline slot game.
Thanks to the Walking Wild feature, players will be immersed into the exciting experience this game has to offer for a long time. In fact, this feature will reward players with free spins at no extra cost every time a Walking Wild appears on any reel.
Twin Spin Deluxe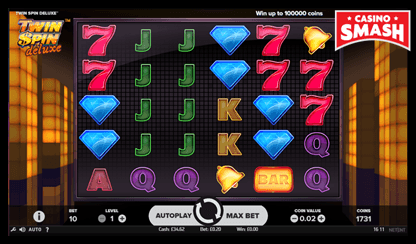 Twin Spin Deluxe is a 6 reel game with a Cluster Pays game mechanic. Thanks to this mechanic, players can try out something new – a chance to win when a cluster of 9 or more symbols appears on the reels.
The game has the same look and feel as the Twin Spin, but it has one extra reel and much better graphics. The good old Twin Reel feature remains the same though – it'll make each spin begin with two reels linked together. This game makes the question of "how to win at NetEnt slots?" an easy one to answer.
Players should keep their eyes open for blue diamonds, as they are the most valuable symbol in this game.
Alien Robots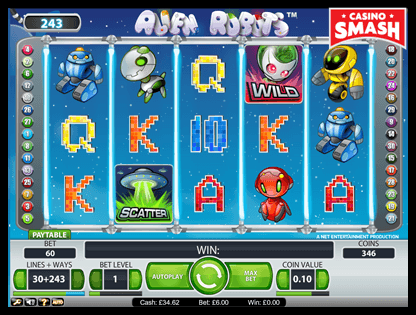 Alien Robots is another title that extends the list of NetEnt slots. This is a stellar slot featuring 5 reels and a chance to unlock 30 bet lines.
The game theme is built around rainbow-colored alien robots. The wild symbol is a white-faced robot, while the scatter one is a UFO.
Alien Robots is not a hard game to play, which makes it a good starting point for beginners who want a taste of the premium gaming experience.
Blood Suckers 2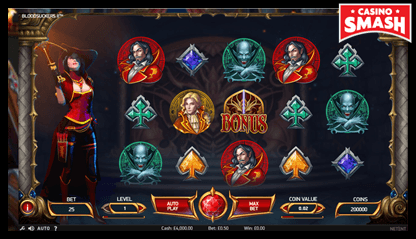 Blood Suckers 2 is yet another great game from the NetEnt mobile slots collection. It's a 5 real, 25 payline game, designed and developed as a sequel to the popular Blood Suckers classic.
The graphics look amazing, while the 4 bonus features are there to keep the players engaged.
Two of these bonus features are randomly triggered, which adds some thrill to the gaming experience. These features are Scatter Shot, which triggers 10 Blood Rose Free Spins and Bonus Shot, a feature that rewards you with a bonus symbol on either of the first 3 reels.
Dead or Alive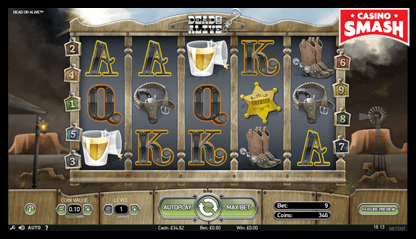 Dead or Alive is definitely a NetEnt game that's earned its cult status. This 5 real, 9 payline game is designed to reflect the Wild West theme. The outlaws Jesse James and Billy the Kid make this game interesting and engaging.
With sticky wild symbols, the wanted posters, and Free Spins feature, Dead or Alive has quickly become a very popular game among players who are looking for some fun, but also an opportunity to win big playing slot games.
Fantasini: Master of Mystery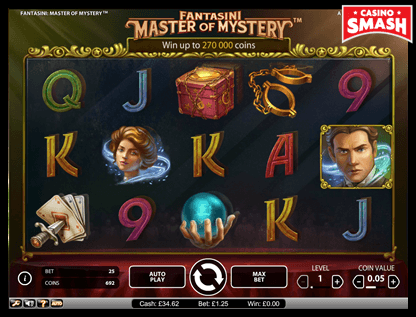 Fantasini: Master of Mystery is a 5 reel game offering amazing 243 ways to win cash prizes. The Linked Reels feature can link up to 5 reels and spin them together during each spin. This feature alone can win players 1,000 times their stake.
The Magician is a wild symbol. It appears on the 2, 3, 4, and 5 reels, increasing the player's chances to win big. This is one of the few slots that don't come with the Free Spins feature.
Fisticuff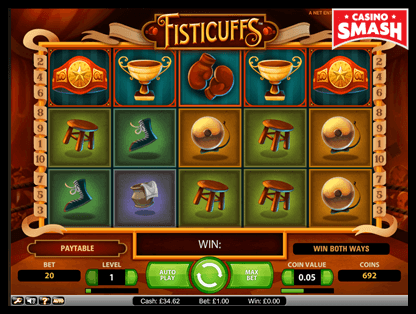 Fisticuff is one of the most impressive NetEnt slots. This slot game is designed for all the boxing fans out there – the piano-based soundtrack creates an amazing atmosphere.
Fisticuff is a 5 reel, 10 payline slot game and the wild symbols are two boxers. The chunky one is a straight wild. It appears on the reel 3. The fitter boxer is the second but diagonal wild and it appears on reels 2 and 4.
Players will have fun with straight wild and diagonal wild bonuses and at the same time have an opportunity to win big cash prizes.
Glow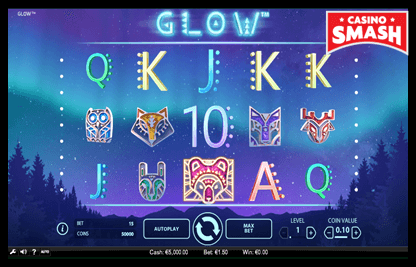 Glow is one of the premium NetEnt slots produced exclusively. It was developed on the Fruit Shop engine. It has 5 reels and 15 paylines. The Glow theme puts players in the Nordic nature exposed to the Northern Lights.
The gameplay is based on getting the wild symbol. In Glow, it's the Bear symbol and it will multiply the player's winnings. The Free Spins feature triggers with a minimum of two Moose symbols appearing on the reels.
Jack Hammer 2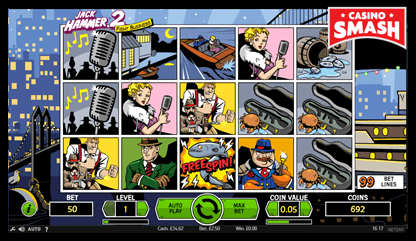 Jack Hammer 2 is a 5 reel, 99 payline slot game. The main theme of this game is a comic book from the beginning of the 20th century, with a private detective in the lead role. The setting is Grand City where Jack, our private detective, goes against the local mob boss Don Crabby.
At the same time, Jack is the most rewarding symbol a player can get. If it lands on reels 3, 4, and 5, the player's winnings will be multiplied by 0.5, 1.5, or 10 respectively. The Sticky Win feature, which triggers after any winning spin, is the central feature of Jack Hammer 2 and it makes the game very engaging.
Muse: Wild Inspiration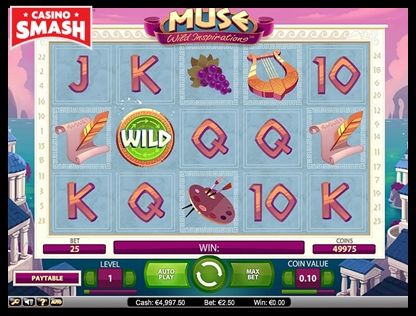 Based on the legendary Greek muses, Muse Wild Inspiration quickly became one of the best NetEnt slot games. This is a 5 reel, 25 payline slot designed to resemble the Greek coastline and mythology.
Muse icons are the wild symbols. After one of them appears on reel 2, 3, and 4 a player will trigger expanding wild, sticky wild, or x2 wild bonuses. The scatter and wild symbols appearing during free spins will reward the players with free bonus spins.
NRVNA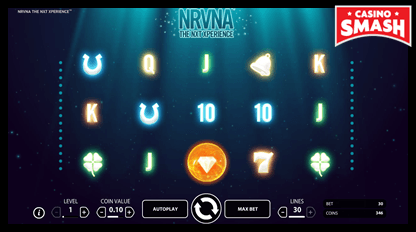 Nrvna is a 5 reel, 30 payline slot game. The theme is quite specific, as it embodies both spiritual and futuristic elements. NRVNA is a very simple game and the gameplay revolves around getting as many free spins as possible.
The pink star is the wild symbol and it comes with a 3x multiplier. The Free Spins feature is triggered by the scatters – diamonds. Players need at least 3 diamond scatter symbols to trigger the Free Spins round.
The NRVNA wheel located at the top of the reels will spin after every win, increasing the multiplier or awarding free spins.
Pyramid: Quest for Immortality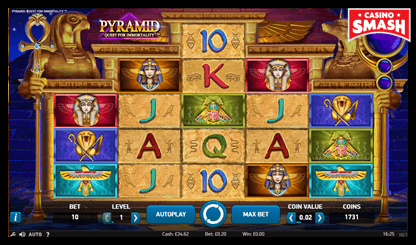 Pyramid: Quest for Immortality is one of the free NetEnt slots players can test any time they wish. It's a 5 reel slot offering players 720 ways to win. This game sets players on a quest to recover treasures lost in the ruins of ancient pyramids.
Avalanche technology makes the symbols fall into positions. When a player gets a winning combination, the symbols explode and the new ones fall down. Each consecutive Avalanche increases the multiplier, placing the players in a position to win huge prizes.
Secret Code
If you like mysterious and dark slot games, Secret Code is definitely a game worth trying. It's a 5 reel, 20 payline game. The game sound is something that will immerse you into this dark world.
The wild symbol is a cloaked man with a knife and the Secret Society bonus feature activates when a player gets the Key and Lock bonus symbol on reels 3, 4, and 5. This takes players to a new screen, where they can check statues for rewards. Revealing an angel rewards the players, while revealing a demon gives no rewards.
Sparks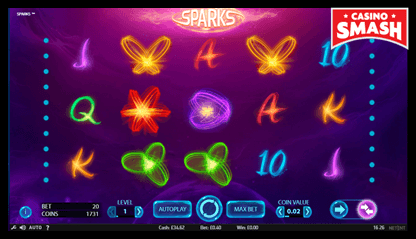 Sparks is a shiny 5 reel, 3 row, and 20 payline slot game. It offers two playable modes – Win One Way and Win Both Ways. Each mode features a unique background and slightly different RTP.
The symbols look electric and neon-colored. The main feature of this game is the Expanding Cloning Wild. These wild symbols can appear on reels 2 and 4, duplicating the symbols on the reel to the left of the reel on the right. Expanding Cloning Wild can increase winnings up to 400 times the player's stake.
Thief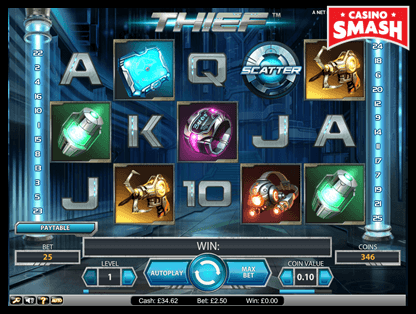 This futuristic NetEnt slot game has 5 reels and 25 paylines. Players can win big if they get the Thief symbol. In this game, the Thief symbol acts as expanding wild symbol. It can appear on reels 2, 3, and 4.
The free spins feature is also here. To activate 10 free spins, players have to get a combination of 3 Scatters and Adrenaline Scatters. Players who get 3 Adrenaline Scatter symbols will trigger the Adrenaline round and win serious cash.
Tornado: Farm Escape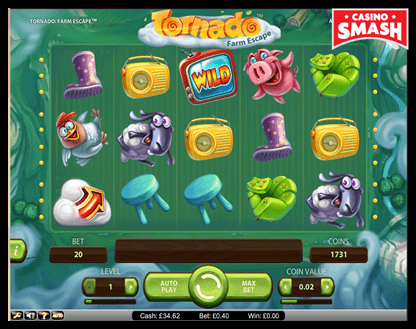 Tornado: Farm Escape is a 5 reel, 20 payline slot. The Southern theme and country music make this slot very unique and fun to play. Two bonus features are used to keep the players engaged.
The Tornado feature activates when players get Hot and Cold symbols on reels 1 and 5 at the same time. At that time the Tornado will collect wild and active symbols to give increased cash prizes. The Storm feature triggers randomly. The Storm generates wild symbols on the reels and increases the odds of winning big prizes.
Warlords: Crystals of Power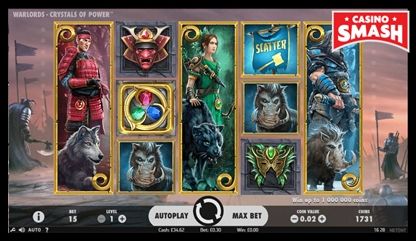 Warlords: Crystal of Power is a medieval-themed 5 reel, 30 payline slot. Thanks to the Priestess Free Spins features, players can win prizes at 6,666 times their stake.
Add the randomly triggered Random Overlay Wild Feature to this and you will have a recipe for the best slot game ever, both in terms of rewards and gaming experience.
With so many bonus features and free spins, the popularity of this game doesn't hit us as a surprise.
Reel Rush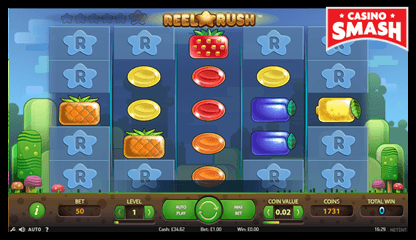 With 5 reels and 3125 paylines, Reel Rush justifies its name. The gameplay of this amazing game is fast-paced. After getting a winning combination on any spin, the players are rewarded with 1 re-spin. During each respin, 2 additional symbols will appear and increase the number of ways a player can win.
The number of re-spins awarded in this fashion cannot exceed 5. If a player gets a winning combination during the 5th re-spin, they will be rewarded with 8 Free Spins.
Koi Princess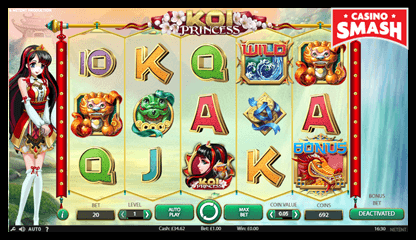 Another amazing game coming from the NetEnt workshop. Koi Princess has 5 reels, 20 paylines, and a distinctly Oriental feel. The Japanese soundtrack adds a nice touch to the entire gaming experience.
With 4 randomly triggered bonus features, Koi Princess is a slot game that offers fun and a lot of engagement potential. Beside these randomly triggered features, Koi Princess also packs additional 4 bonus features triggered by the 3 bonus symbols that appear on reels 1, 3, and 5.
Jungle Spirit: Call of the Wild
Jungle Spirit: Call of the Wild is a 5 reel game with 243 ways to win. This is a real jewel among the NetEnt 3D slots. The game takes a player deep into the jungle, where promising rewards await.
Among symbols featuring many jungle animals, the tiger is the most valuable one, as it rewards players with 150 coins. This slot has 3 bonus features: Symbol Expansion, Butterfly Boost, and Free Spins.
Hall of Gods
Hall of Gods is a progressive jackpot slot. It's designed around the Norse mythology theme, so don't get surprised when you see Odin or Thor showing up on the reels. Hall of Gods has 5 reels and 20 paylines.
The main feature of this game is the Expanding Wild, triggered by the Midgard Serpent showing on reels 2, 3, and 4. Odyn's raven is a scatter symbol.
Getting 3 or more of these awards players with Free Spins. Getting 3 Thor's Hammer symbols anywhere on the reels triggers The Pick Win. This is a feature that puts a player in a position to wield Thor's hammer and use it to break the shields
Have you ever wanted to write your own articles about poker? Maybe you've got some experiences or opinions about poker that you'd like to share. PokerNews is proud to launch The PN Blog where you can have a platform to make your voice heard. Learn more here.