How to Win With Scratchers on PokerStars Play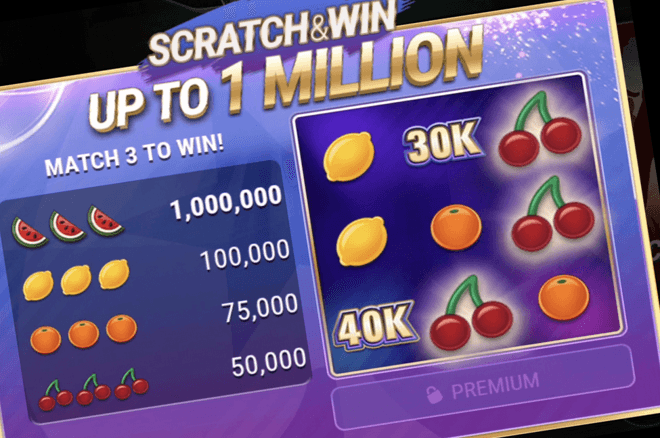 PokerStars Play is a great, immersive app from PokerStars offering gamers online poker and casino games to play for FREE. This is a great alternative gambling route for those who live in regions without legalized, online play, or anyone who just wants to improve their skills without spending any real money.
We've covered the amazing games on offer in our previous articles for the casino and poker games, so this time, we wanted to take a deeper look at some of the added extras you get when you download the PokerStars Play App. Specifically, the scratchers (also known as 'scratchcards') are a great addition to the games on offer with PokerStars Play.
PokerStars Play is available worldwide, including in the United States and Australia, but please be aware that it doesn't include real money gambling or an opportunity to win real money or prizes.
What is PokerStars Play?
PokerStars Play launched in 2017 as a free app to play, offering Texas Hold'em games to Android and iOS users. Since then, we've seen the app develop even further to include more online poker, casino games, and other elements, all free to play.
It's important to note that the PokerStars Play app games are for play money only. If you want to play for real money and live in a country with licensed, regulated gaming, just head to the PokerStars Casino website.
What are Online Scratchers?
Scratchers (or 'scratchcards' as they are sometimes known) are instant-win online games that work in much the same way as real-life scratchcards. Due to their simple gameplay and the fact that you can win a prize immediately, these are very popular games, and you'll often find them available at online casino sites.
Online scratchcards are like a virtual version of the cards you might buy in a shop, the difference here is that you need to use your mouse (or finger if playing on an app or mobile version), to 'scratch' off the prize on a card. You don't need a coin to do the scratching though!
How Do Scratchers Work on the PokerStars Play App?
You'll see the 'Scratch' option as soon as you download and log in to the PokerStars Play App, as the icon is located on the main lobby screen. As every player is awarded a free scratcher each day, the icon will show you that a new scratcher is available for you to use.
Once you click the icon, you'll be taken to the Scratcher section of the app. Like scratchcards that most of us are familiar with, you just need to hit the scratcher to reveal the symbols hidden on the card. Match 3 symbols to win - could be cherries, lemons, oranges, or watermelons!
As well as the Free Scratcher you'll get every time you log in, you can also earn another scratcher by watching an ad. You'll see the 'Watch' option when you load the Scratcher feature within the app. Clicking this will load an ad within the app, and once you've watched this, you'll be rewarded with a further scratcher.
You can also purchase Premium Scratchers that unlock bigger and better rewards!
What Scratchers are Included with the PokerStars Play App?
The scratchers included in the PokerStars Play App come in two varieties:
Free Scratchers
As mentioned, you'll get a Free Scratcher every day just for playing on PokerStars Play. Your Free Scratcher will be ready and waiting for you in the main lobby when you load up PokerStars Play, so there's no excuse not to have a scratch.
When you load up a scratcher, you'll need to scratch off the symbols on the card on screen. Match 3 symbols, and you'll win!
Earn an extra scratcher by watching an ad - just hit the 'Watch' option in the bottom right of the app screen.
Premium Scratchers
As well as the Free Scratcher, you can also purchase Premium Scratchers, which are a simple way to increase the rewards you can get. You'll need to redeem some of your chips to purchase any Premium Scratchers.
If you climb the Leaderboard to reach the VIP Level Shark and higher, you'll automatically get a Premium Scratcher every 4 days.
What Can You Win With PokerStars Play Scratchers?
PokerStars Play is a games app that runs primarily on chips, so any wins you get from your scratchers will come in the form of additional chips for your stack.
These chips can then be used to play with the poker and slot games you'll find elsewhere on the app, so its worth building up your chipstack as much as you can.
Ready to start with PokerStars Play? Read our full review to find out more about how to download and sign up for PokerStars Play, as well as more details on the free to play poker and casino games you'll find.
Senior Casino & Gaming Manager