Online Poker Spotlight: Joe "Hoodini10" Udine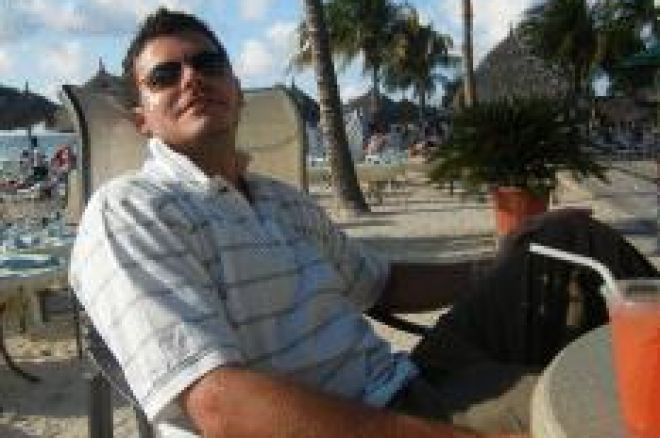 Pokernews: Hey, Joe! Congrats on your nice score two Sundays ago in the "Sunday Warm-Up". What's been going on in Mr. Hoodini's life these days?

Udine: Thank you. I appreciate it, Ryan. Well, I just recently got engaged at PCA in Bahamas which was amazing. I love going to the Atlantis and this was with my fiancés first time so it was an awesome trip. I also just moved into a new loft in Philly in Old City which I'm enjoying a lot. Other than that, I've been putting decent hours into tournaments which I plan to continue to play throughout the summer. I just got done with an 8 week winter basketball league with a few buddies from Philly. We ended up taking down the championship- so that was fun!
PN: Congrats on getting engaged! Sounds like life is going well for you - engaged, new crib, winning basketball championships, and rollin in poker... Tell us, how did you propose?
Udine: Haha! I will, but I'm wont get into too much detail. We arrived a few nights early, went to dinner at Nobu and then I walked her to underneath the Arch near the fountains by the pool. I said my spiel and we celebrated for a few nights before the tourney. Ironically, I busted on the very 1st hand so we had an entire week and a half to spend together. It was sick.
PN: I bet, well congrats again!
Udine: Thanks, bro.
PN: The WSOP is right around the corner, what are your plans for it? Give us living details, tourneys playing, prop bets, the whole ordeal.
Udine: I just looked over the schedules yesterday and made a tentative plan. This summer I'm doing a somewhat lighter schedule in my opinion but Alexis (fiancé) seems to disagree with me. I plan on playing WSOP prelims from May 30-June 10th, because it seems like that is when all the good prelims are. I'll probably end up staying with Sloppyklod, mman_status, WPTHero, BadgerPro, Wildman75, and DirtyRiver at their summer house in Vegas. Then I am coming home for awhile. I got a beach house in Margate, NJ with a bunch of friends from high school and college for the summer. So I will be playing the Borgata Summer Open back home in mid-late June then flying back out to Vegas in mid-July hopefully for Bellagio-Cup ME or Venetian Deep Stack ME. I know this is going to sound crazy but I am actually missing the WSOP ME this year.
PN: You are fn crazy, lol!
Udine: Ha! I have a relative's wedding to go to which is very important to me so I have to make the sacrifice poker-wise.
PN: Fair enough, any crazy prop bets lined up or no?

Udine: I've never been huge on props but I'll probably end up doing something with Chris "SLOPPYKLOD" Klodnicki. He always is trying to find interesting ways to win money off of me.
PN: What do you feel is the big difference between live and online tournament play, and how do you adjust?
Udine: I have not had any big success yet live so I might not have the best answer. The big difference is having easier calculations to make online as opposed to live - where there are more factors to use. You have the numbers and a player's perceived image to work with versus your own numbers as in exact chip count, blinds, pot size etc. Live, you need to constantly calculate and keep a rough estimation of these numbers while adjusting to actual opponents and what information they are giving away. Live, you can use much more information to make well-timed decisions, however, I still prefer online at the moment. That's where I have my most success and like the convenience of it. I enjoy traveling to live events and I look forward to this summer. I feel like I am ready to breakthrough and look forward to the challenge.
PN: Very insightful! Now, on to the "H2H" questions. You just had a 500k score; do you drive to Best Buy or Charles Schwab? What is your first stop?

Udine: Best Buy first for sure. My father and brother are both successful financial advisors so I trust them with the investing for the time being. The market is not a great place to be if you are not experienced. Right now I would probably buy a bunch of TV series and movies on DVD - Also some Playstation and Wii games.
PN: What is your favorite TV series?
Udine: Eastbound and Down is the nuts recently!
PN: Alright, when you're at a final table of an event, what is the one "Clutch" song that you have playing on your Ipod?
Udine: Hmmmm…. I like a lot of hip-hop - probably Gang Starr - Step into the Arena.
PN: What do you think about your 76ers?
Udine: The 76ers are the nuts always! Iguadala kills it. They are fighters.
PN: Who is the best MTT player right now, and what MTT do you feel has the most skill?
Udine: OK. Recently, I have to go with Steve "gboro780" Gross, he just kills it day in and day out. The most skilled player I would say is dw2006. I've played with him a bunch and recently seen him have great results. He constantly puts his opponents into awkward spots, and puts lots of pressure on them.
PN: Thanks for doing the interview Joe, and best of luck at the WSOP!
Udine: Thanks again Ryan, I appreciate it a lot!