Online Poker Spotlight: Josh Brikis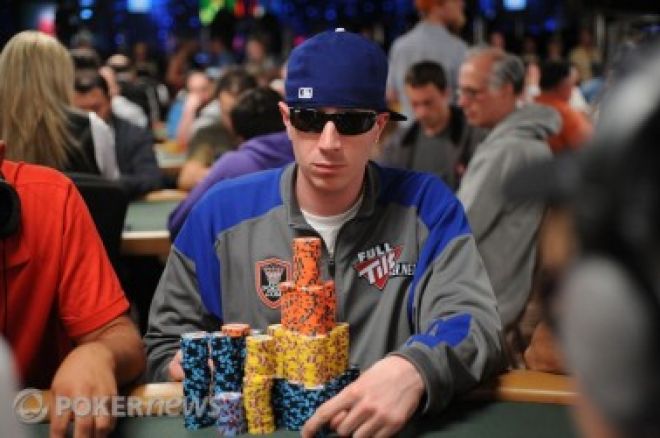 We caught up with poker pro Josh Brikis to discuss poker (obviously), some tips on becoming a live grinder, and who in the poker world he would want as a mentor.
Hey Josh! How's it going? For the readers who don't know much about you, give us a little background on how you got into poker and what has been going on in your life.
Everything is great! I wrote a blog with a little insight on my background as my first post in my blog on Blogs.PokerNews.com. I actually got into poker when I graduated from Penn State and was working at a bank in Delaware. A friend of mine, Dan Ricker, had a weekly home game that was $20, and I had no clue what I was doing, but I was instantly hooked. It didn't take long till I was at Borgata weekly and playing online, that was in 2003.
I actually have had a ton going on in my life recently. I just got married to my beautiful wife Kristen in August. We have been together for about eight years and we live together in Pittsburgh. I have had a pretty good 2010 in poker after an amazing 2009. I finished up the summer with five cashes at the WSOP including a deep run to 55th place in the Main Event! I also, in September, won the World Poker Tour $1,500 preliminary event at Borgata!
Congrats on the marriage! Yes, I would say that those are some great accomplishments. Since you are more live than online, tell us what made you take that route compared to being a online grinder? What were the pros and cons of this lifestyle?
I have a fair amount of scores online but I can't deal with the stress as good as the grinders. I wish I could, because there is a lot of money to be made online but it is hard to deal with the amount of beats and races that you lose to get the scores. I definitely prefer live because of that. I just really enjoy live poker because I can get a feel for how people are playing and instinct is usually more involved. Online, I don't like to fold and other people seem to not like to fold to me either so on top of taking the beats everyday it is also hard to take certain lines that you can take live.
I play online because I can make money at it, but I certainly don't enjoy it as much as live for many reasons. The typical pros of playing poker for a living are obviously the freedom - not having to answer to anyone. I actually really enjoy tournaments for the score factor - the thrill of winning - it brings back the feeling of winning a baseball game when you were a kid, its the competition that drives me. There are many cons but you can manage them and limit them. If your family and significant others aren't on board with you, it can be almost impossible to succeed.
With all the live poker you like to play, why haven't you moved to Las Vegas where they have solid daily tournaments and where you can make a good amount of money off tourists or fish? Plus, there's always the two month WSOP stretch.
A few things - most importantly my family and my wife's family are here in Pittsburgh and it wouldn't work with her if we were to move. She has a really solid job here and at this point we can't afford to change that. Our families are very close to us and we have had some things come up that are really important and we need to be around so those are the main two reasons. I love Vegas and wouldn't mind living there someday but I am completely content here and just traveling the circuit. I should also mention the other huge reason, that would be the sports teams. I am an absolute die-hard Steelers and Penguins fan and its much better enjoying all that comes with the teams here in "Da Burgh!"
Aren't you every woman's dream, you're a good man! One of the other things you mentioned above was how important it is to have your family and friends on board? Poker isn't viewed as the best thing in America. Did your family have any concerns when you first started?
[Laughs] I guess! It is so important. It was a long time coming for me though; it took a lot of convincing. My dad is really old-school conservative nongambler, so he was just totally against it and thought I was going down the wrong path, and my mom was just a little concerned but she wanted to support me. It really took a lot to prove to them this is a career and something that I will make work and I am extremely happy to get up everyday and play poker for a living.
It was the same with Kristen's parents. They were just against it forever and even her, we had plenty of arguments over it and it just made it harder on me but that is what drove me to succeed. I wanted to prove to all of them that I can do this and be successful. I can truly say that all of them are my biggest supporters today and without all of them I couldn't do it. It truly means the world to me that they support me so much!
Good for you! For the players who are trying to make it on the live scene, give them the three most important factors that have helped you become a successful player.
All these long responses I gave, now you got me stuck! [Laughs] I would say online can really help your live game for sure if you can handle the stress! Another thing that is really important is to play within your bankroll and try to be smart about it. It is really easy to get frustrated when you aren't winning, but if you are ok with losing the buyin for the tournament or the cash in front of you every time you play, you will be much more likely to succeed. For the third one, I would just say volume. Honestly volume equals experience and experience is so important. The more times you get in situations the more comfortable you will feel the next time you get there
If you're not playing poker, what are you doing?
I love going to the Steelers games and Penguins games. I enjoy going to a lot of concerts. I love to golf. I really enjoy just hanging out with my friends around Pittsburgh.
If you could have one poker mentor, who would it be and why?
Wow, there are really so many great players. But I think at the same time I am probably going to give you the same person that almost everyone would choose and that's Phil Ivey - I mean why not? He is just solid in every aspect of every game.
Would you get lessons on poker or craps?
[Laughs] No craps for me!
If you could be sponsored by any poker site, which one would you want and why?
Obviously it's any pros long-term goal for a site to recognize his value. I'm no different, and like everyone else I have my own order. But the truth is, once that opportunity arises the most important thing will be who saw value in me, and not my own personal wish list. My focus is on advancing my career, posting my results, and being a person who contributes to the poker community in as many ways as possible. I feel like I am getting closer to reaching that goal, and I'll leave the rest up to my agent, Randy Kasper of Poker Players International.
Last, if you could switch shoes with one person for a day who would it be and why?
I only get to pick one? There are so many exciting people in the world and so many of them live different lifestyles, it's hard to say. If it was poker, I'd probably say Ivey again because his lifestyle has got to be just awesome. If I chose outside of poker it would be like an athlete like Sidney Crosby or Lebron or back in the day Michael Jordan, something like that, to see how they live day to day and how hard they work to be the best!
Josh, thanks for taking the time to talk to us, we wish you the best of luck in poker and your marriage!
It was great talking to you and I appreciate it! Thank you!
Follow us on Twitter for up-to-the-minute news.