Online Poker Spotlight: Rayan "rkruok" Nathan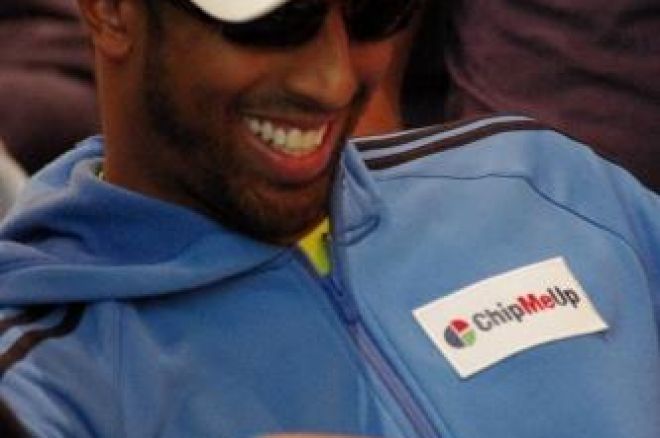 Rayan "rkruok" Nathan has been tearing it up on the felt for over five years. Mainly known as an online player, Nathan has over $1.7 million in poker earnings and is a successful entrepreneur and founder of the poker staking site ChipMeUp.com. We caught up with Nathan to discuss the Aussie Millions, his sports interests and of course petanque.
Hey Rayan, how's it going sir? What has been going on with you and poker these days?
Hi! Well I was in Melbourne for the Aussie Millions poker championships. I've been playing a bit online other than that, but have really enjoyed the holidays.
You have had some recent online success this past month, how do you adjust your play from online to live?
Thanks, well live play is so much slower it's hard not to get bored sometimes. I try to stay patient in live poker as it's very important, just because you don't play for 30 minutes that might only be 10 hands, versus 40 hands online. Also the online play is a bit more aggressive; you might be forced to gamble in some spots, where as in live play you probably can pick and choose your spots a bit better. Overall I like my chances live, but you still need that luck!
Do you rock the iPod or pull out some slick shades when you play? What are your thoughts on all that?
Well I do have my iPod with me, but I don't usually put it on. You do miss out on a lot of useful information if you don't listen to what the other players are saying. Listening and observing your opponents is the quickest way to work out their style. As for the sunglasses, I don't usually wear them unless I feel I might look more intimidating and want to change my table image. Usually it's too dark in the Crown casino to wear sunglasses!
You are the founder of ChipMeUp.com, tell us a bit about it.
My friends and I in Adelaide created ChipMeUp.com. Simply, it is a poker staking site where players can buy and sell shares in each other. If you want to raise capital to play in a tournament, live or online you can list yourself on ChipMeUp and get some investors. When you go on to win, you'll have to pay your investors back! Just recently on ChipMeUp we had a user win the Sunday Million, a $9 share got you $6k back! Now we we have partnered with PokerNews.com and are expanding all the time.
We obviously know you are a poker junkie. What are your other hobbies besides poker?
Well I always played a lot of sports. I still try and play indoor soccer and beach volleyball. Occasionally I hit the tennis ball and I went snorkeling around the Great Barrier Reef over New Years. I Definitely love to snorkel! Being from Australia I hadn't seen snow till last year, and now I'm probably going to try some more skiing. Between playing poker and ChipMeUp, I don't have enough time to work on making short movies, which I used to love to do. Obviously I also spend a lot of time traveling. :)
What is the best destination you have been too, and where do you dream of going?
Well I enjoy the beach and the water, so I love the small islands in Asia, Aruba, and Hawaii. Anywhere along the coast is a good start. I guess I'd like to really go to the poles, South or North. This year I'm planning to go to South Africa for the World Cup and after that maybe I can make it to one of the Poles before they melt.
Cricket, Rugby, or Aussie Rules?
Cricket first, and then Aussie Rules (I don't really play it but I like watching it). I'm not interested at all in Rugby other than the World Cup.
Who is the greatest Aussie poker player ever, and who is the future of Australia?
Well I think Jeff Lisandro is even before last year's World Series. He is an all-around world class player. Last year just cemented that. Of course Tony G and Joe Hachem have had great results and done a great job promoting the game in Australia.
As for the future, there are a lot of good online poker players coming through. Exciting players such as James Obst but I think that kid David Eldar from Melbourne has showed great potential in the high stakes games. Not quite as a big splash as Isildur1, but he could be a top high stakes player.
Our Editor-in-Chief Matthew Parvis wants to know do you prefer bocce ball or petanque?
(laughs) Petanque is a game of high drama and great skill, throwing larger balls at smaller balls till you have a winner. My prediction is that petanque will replace the NFL as the game of choice in America by 2150.
Rayan thank you for taking the time to stop by and talk to us, best of luck at in 2010.
Follow us on Twitter for up-to-the-minute news, and also become our fan on Facebook.