Football and Poker: Watch Ronaldo Play Heads-Up Against Bebeto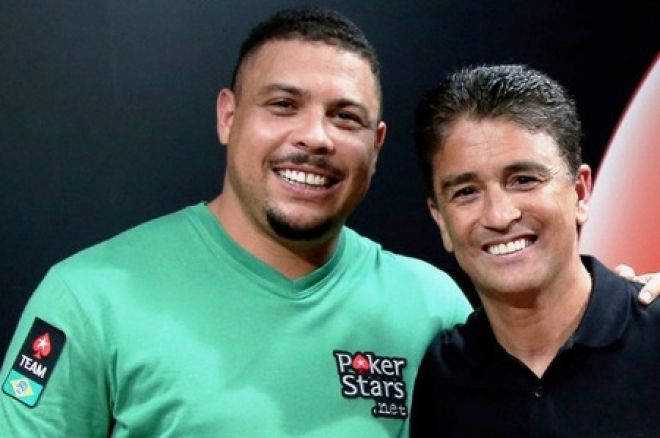 Twenty years after they made history together by leading Brazil's national team to victory in the 1994 FIFA Football World Cup, football superstars Ronaldo and Bebeto met once again to test their skills on a different kind of green battlefield: the poker felt.
The reunion of the two world-famous football players took place within an initiative organized by PokerStars to promote its poker mobile application in Brazil.
Former world cup champ and today's politician, Bebeto explained to the PokerStars Blog that he decided to join the initiative and play some Texas hold'em hands in heads up against Ronaldo to see if the game is really as fascinating as his former teammate keeps telling him.
"He [Ronaldo] tells me that [poker] is a sport based not on luck, but on a lot of strategic thinking," Bebeto said, "so it makes me curious to understand the game more."
Also, as Ronaldo is sure to have made considerable progresses in the game since he became a member of Team PokerStars SportStar, Bebeto confessed to have accepted the unusual challenge to make sure that "Ronaldo is really as good [at poker] as he says he is!"
Ronaldo, who is still seen by many as probably the greatest footballer of all times, confirmed his passion for poker and his interest in staying within the circuit of live poker events.
"I play poker almost daily," Ronaldo said. "I have been travelling around the world playing poker, visiting lots of countries and taking part in some important tournaments."
Bebeto's appearance at the table, however, came as a surprise for Ronaldo – as the former striker of Barcelona and Inter Milan was not aware of the meeting organized by PokerStars until Bebeto appeared right next to him.
To promote its mobile poker app, PokerStars representatives picked up some passers-by and invited them to play an handful of Texas hold'em hands in heads up against a mysterious opponent hidden behind a dark curtain.
In the video below you can see how surprised the players were to find Ronaldo on the other side of the curtain, and also how the football-star himself reacted when he found out that his opponent at the poker table was his former teammate Bebeto.
Photo courtesy of the PokerStars Blog
Get all the latest PokerNews updates on your social media outlets. Follow us on Twitter and find us on both Facebook and Google+!