Legends of Poker: Bob Stupak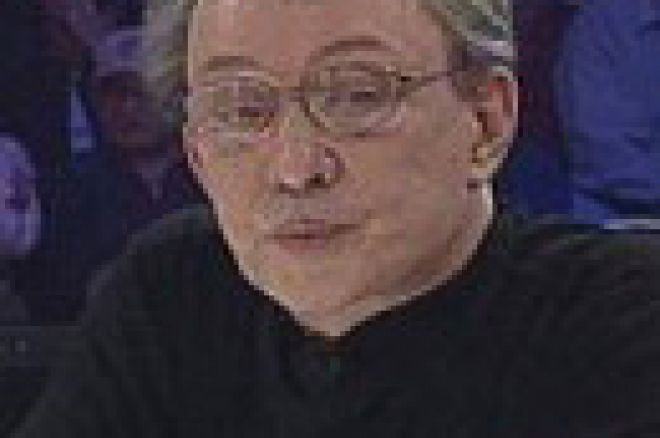 Bob Stupak, the self-styled "Polish Maverick," arrived in Las Vegas in the early 1970's and somehow managed to turn his thoughts, charm, and hard work into ownership of a major strip casino. Well, Vegas World was a bit off the strip, but Bob, himself, has always been a little off the beaten path.
He was born into the family of Florence and Chester Stupak on April 6, 1942, in Pittsburgh, Pennsylvania, where his father ran all the gaming the mob boys on the South Side allowed him run. It was a simpler time; back when police and politicians were willing to look the other way, when a floating craps game was ignored, as long as there was something in it for those looking the other way. It didn't matter whether you were in Brooklyn, Detroit, Chicago, or in Dallas, like Benny Binion was with his craps game, you paid the fee, and the heat went away.
After high school, Stupak supported himself by setting up card games, holding raffles, and selling the odd watch or TV. As Bob would say later, "I never had a steady job, all the jobs I had were self-inflicted."
While serving in the National Guard, Bob started selling two-for-one coupon books, and I swear, that's how he managed to keep Vegas World afloat years later. At the time, the income was very good, and he even traveled to Australia and gave them a try there. When he came home, he desperately wanted to open something his father never had: a legitimate casino. The only place to do that in the United States in the early '70's was Nevada.
Scraping together all his cash, with some from his father and a few of his friends, Bob purchased an empty car lot on Sahara Avenue. The property was typical of those in that portion of Las Vegas; cracked asphalt with weeds growing in the cracks. In a word, it was ugly. And, it was well past the Sahara (which was considered the end of the Las Vegas Strip), even past the little strip malls that would house the Wheel Casino and the Jolly Trolley.
On March 31, 1974, Stupak opened his slots-only casino (and only 15 of them), which he called "Bob Stupak's World Famous Historic Gambling Museum. As Bob would say years later, "The name was about 10 feet longer than the casino." It was not a money-maker, but sometimes things work out. Less than two months later an air conditioner caught fire and the museum burned to the ground. The insurance company suspected arson, but eventually paid the claim, and Stupak was able start on his next dream casino: Vegas World.
How he managed to talk Valley Bank, and their executives, E. Parry Thomas and Ken Sullivan (who loaned money to many, many casinos), into a $1 million dollar loan is anybody's guess, but he did it. It was a slow process from burning to resurrection, but on a lucky day, Friday the 13th, 1979, Stupak opened the doors to Vegas World Casino and its hotel tower.
At this point, Stupak got back to his roots by marketing his casino with coupon books. Later, he would move on to full-page ads in magazines and newspapers across the US. I still recall taking advantage of the "High Roller" deals the casino offered. For an advance purchase of $198, you had one year to use your 3-day, 2-night stay at the casino which included two tickets to the headliner show, your room, several meal coupons, as much as $500 in slot tokens, and $200 in casino chips. There were some drawbacks to the offer, for the player, at least. $500 in slot tokens sounded great, but the tokens were for a specific bank of old, crummy slots (that did not pay much), and you got only so many tokens per hour (so you were stuck there, waiting for your next dollop of tokens). The casino chips were "casino action" chips, which could not be cashed out; they had to be played. When you won say a $5 bet, the dealer took the chip you bet and exchanged it for a regular $5 chip, so if your won half your hands, your $200 in chips ended up being $100 in cashable chips.
Regardless of how good a deal the package really was, Stupak bankrolled his continuing business by selling tens of thousands of them. Many of the packages were never used by the buyers, and that didn't hurt old Bob's pocketbook either.
During his time at the helm of Vegas World, Bob is credited with inventing such games as Double Exposure 21 and Crapless Craps. Although the casino had just as large (actually larger) an edge in these games, players flocked to them, and Vegas World began to get a reputation as a real "gambling" casino. Bob also refused to follow the crowd, often over-booking his bankroll by allowing high-rollers to play for high stakes, and taking crazy bets in his sportsbook.
In the early 1980's, Bob decided he should be a poker player, and enlisted Puggy Pearson to teach him some basics. He then entered the $10,000 Hold'em tournament at the World Series of Poker. He turned into a pretty fair player, and a very solid one in heads-up matches. He did lose a $10,000 match to Stu Ungar, but before Stu could cash out the chips at the cage, he and Stupak got into a chip-pitching contest, and Stu walked away empty handed.
Vegas World hosted its own poker tournament, the American's Cup, and in 1983, Bob offered a free shot at winning his Rolls-Royce Silver Shadow to the winner of the preliminary no-limit hold'em tournament. Berry Johnston of Oklahoma City won the event, and both Stupak and Johnston started their freeze-out for the Rolls-Royce with $25,000 in chips. Later, after beating Johnston in less than an hour, the Polish Maverick said, "I really didn't want to lose that car."
Ever the promoter (and gambler), Bob accepted a $500,000 challenge to play ORAC, a poker-playing computer that had been programmed by Mike Caro. Bob put up his own money, and friend and casino owner Jackie Gaughn backed the computer. ABC's "Ripley's Believe It or Not" filmed the match for TV. It took a solid effort, but Bob eventually collected the prize money by busting the computer (figuratively).
In the 1990's, The Stratosphere Tower became Stupak's greatest dream, and his undoing. Although he managed to attract enough financial backing to begin building the giant Las Vegas casino, construction and design changes, and the delays and added expense they cause, put the entire project in the red. By the summer of 1993, Bob was in Minnesota, trying to interest Lyle Berman (Grand Casinos) in a partnership.
Although a partnership was struck, it left Bob as just an investor. Shortly before the tower was to open, Bob was involved in a horrible motorcycle accident. Every bone in his face was broken, and he was not expected to live, but once again, Stupak beat the odds.
The casino finally opened, and although there were big crowds, not many of the tourists played in the casino. Rapidly the stock price of Stratosphere plunged from $17 a share to $2. When bankruptcy became the only option, Bob was virtually wiped out. Carl Icahn purchased the floundering property, and it is still open today.
When I last spoke to Stupak in Reno (where he was trying to convince the City Council to allow him to purchase the closed-down Riverside Casino and build an amusement ride), he was still optimistic about the gaming industry. "People just need to be willing to follow a solid business plan, a solid idea, even if it is currently just a dream."
If anybody has ever dreamed, it is Bob Stupak. At a recent World Poker Tour event he was knocked out on the first hand when his pocket fives ran into pocket jacks, but Bob can still play some terrific poker. At the LA Poker Classic, Bob made the final table, finishing sixth and walking away with $46,000. Yes, the man still has plenty of gamble in him.
Satellites to most WPT events, including the LA Poker Classic, are available at Ultimate Bet