Legends of Poker: Tom McEvoy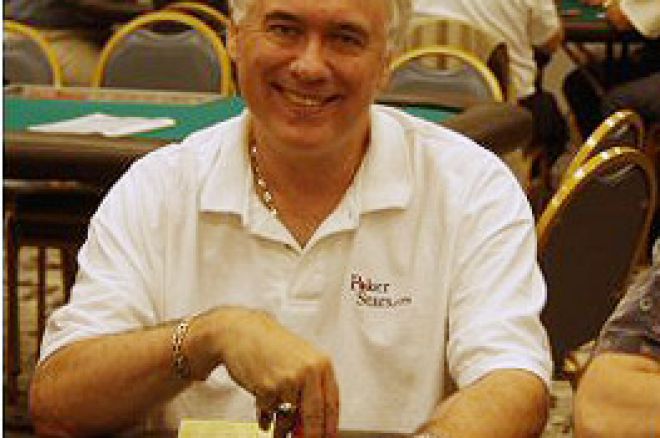 Tom McEvoy's name became a household word in the early summer of 1983 as hundreds of newspaper articles across the United States trumpeted his success at the just completed World Series of Poker. He was billed as an accountant from Grand Rapids, Michigan who took a shot at immortality by playing in the biggest poker game in the world. He was an unknown, a hick with a cowboy hat. A nobody.
Eventually the story caught up with the truth, he wasn't exactly an amateur. He wasn't like the 1979 Champion, Hal Fowler, who really was new to the poker scene. He also didn't ride a heater all week, running down better players by finding gold in what were described as "unplayable" hands by the local pro's. And, he didn't fade quietly into the night as some professionals expected.
Tom was born on November 11th, 1944, and swears he learned to play poker at the age of five, sitting on his grandmother's knee. He was good with numbers, practical and levelheaded. He worked for years as an accountant until the endless repetition and monotony set in. For a while, he thought he would lose his mind. Was it so impractical to head for Vegas and play poker? It was just a vacation, a diversion, a whim.
The summer heat of Las Vegas baked the asphalt and cooked anyone foolish enough to walk the strip, but in the air conditioned comfort of the local poker rooms a 35-year old man stayed cool, and contemplated a dream: no more numbers in columns, no more Grand Rapids. This is what he wanted, a challenge, and a new start.
Eventually Tom talked his wife into moving the kids out of school and settling with him in Las Vegas. It was a bold, exciting decision. It was madness. The local games were tough, and a good limit to aspire to for a player like Tom was the $10/$20 game at the Golden Nugget. But then again, the $25 to $30 he could make there was more than he was making in Michigan, it just wasn't guaranteed.
Much like future champion Johnny Chan, who arrived by bus the year before, Tom enjoyed the no-limit variety of Texas Hold'em, but found very few games to play in during the early 1980's. Most Las Vegas games were limit, and if a casino spread no-limit it was usually for a select group of players - hardly a place to learn the ropes. However, there were some tournaments around town that offered the game, and Tom enjoyed playing tournaments.
In fact, they became a way of life for him, and as the 1983 World Series of Poker approached, Tom won a satellite tournament at the Horseshoe Casino and looked forward to playing in the $10,000 main event. Before that arrived, Tom played in a preliminary event, taking down a gold bracelet for Limit Hold-em.
Twenty years ago the number of entries in the main event were a joke by today's standards. 1983's ME had just 108 entries, and readers may think that made the tournament easy, but two things have to be remembered. First, the WSOP was not the "poker fantasy camp" that it is today, with entry numbers pumped-up by thousands of small, online tournament qualifiers. And second, the overall quality of play was much higher. The cost of entry has stayed the same, and by using the US consumer price index we can show that the 1983 fee and expenses is equal to about $25,000 in 2005 dollars. That's a heavy bill, and made for a poker field that consisted mostly of just top pros, the best in the World.
Tom helped change all that by winning his entry in a satellite. As the main event wore on, he eventually found himself heads-up against another satellite winner, Rod Peate, who had won his entry at the Bingo Palace (now Palace Station), at the final table. This year, for the first time ever, a satellite winner would take the championship! Legendary player Doyle Brunson had just been knocked out in third place, ending his bid for a third ME bracelet, and Tom decided his strategy had to be conservative, straightforward. When the dinner break arrived, Tom realized he needed to change his strategy, and opened-up his play.
With just over $1 million dollars in chips on the table, Peate stretched his lead to over $600,000 while Tom's stack shrunk to a pitiful $200,000. The end appeared near, but top-notch poker sometimes takes time. In fact, Tom and Rod played over seven hours of heads-up poker before Tom finally wore his opponent down and sent him home with second place money of $216,000. Tom, with his first place money of $540,000 plus his limit hold-em prize, found himself in third place (behind Brunson and Ungar) in all-time World Series of Poker winnings after just his first year's play.
McEvoy knew better than the newspapers did, he wasn't some lucky amateur, he was Champion of the World, and it was just the time to try his poker prowess in far away places. The Irish Championship was just around the corner, and so was another big payday for Tom. His excellent play and run of good cards continued as Tom won the title of Irish Champion.
Streaks happen in poker, and 1983 was indeed an unbelievable year for Tom. It was another three years before he won his third World Series of Poker event (the seven card razz title in 1986). Although he won smaller tournaments, there was a lag of six years before Tom managed another high-profile WSOP win, taking the Omaha limit championship in 1992. His fourth gold bracelet pushed his winnings over $1 million dollars for the WSOP, and he has since topped $2 million dollars in winnings from all tournaments.
Tom writes regularly for Card Player Magazine and has authored or co-authored ten poker books. His work with T.J. Cloutier on winning tournament strategy is a must for all aspiring tournament players.
McEvoy continues to play poker, focusing on tournaments. So far in 2005, Tom has three large-event final table finishes. These include a 5th place at The Plaza, a 3rd at the Mirage, and a $225,000 first-place finish in the 2005 Shooting Star tournament. Tom may have turned sixty, but it doesn't appear he has lost his fastball!
Ed Note: Tom has authored, or co-authored many excellent poker books, most of which are available on our Books Page