Doyle Brunson makes a Play for the World Poker Tour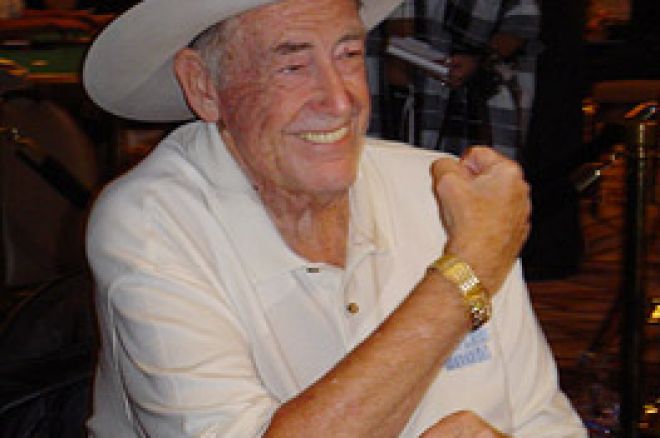 A true legend of the game is putting his money where his heart is. Already having made history at this year's World Series of Poker by winning his tenth bracelet, Doyle Brunson is looking to make poker history yet again.
The poker heavyweight is leading a group of investors who have made a $700 million cash offer for WPT Enterprises Inc., the owner of the World Poker Tour franchise.
Word spread quickly about the bid at the end of the week and sent WPT stocks soaring to a record high, increasing the market cap by more than 50 percent and sending its NASDAQ value to $27.60.
Brunson and company's unsolicited bid offered a 100-percent premium over WPTE's closing price of $17.75 on Thursday. The California-based WPT Enterprises was founded in March 2002 and made its public trading debut last August, when it opened at $8 per share. The company reached its previous high last month when shares jumped to $24.40.
Trading of WPT Enterprises was halted briefly on Friday afternoon, as shares had risen over 60% in value on the news of Brunson's bid.
According recent company data, the majority of WPT stock is owned by two stakeholders, Lakes Entertainment Inc., which owns 62 percent, and co-founder and Chief Executive Steven Lipscomb, who owns 8.2 percent.
WPT is known for marketing its WPT gaming products and for its hit series on the Travel Channel. The World Poker Tour is also broadcast in 60 different markets.
Brunsons's bold move surprised WPT officials who have yet to respond to the offer. "This was a total surprise. The board will review this bid," said company spokeswoman Jackie Lapin.
At 71, Brunson shows no signs of slowing down and his offer for WPT Enterprises only furthers his legend in the poker world.
Ed Note: You can play online poker in the US right now at Ultimate Bet