Learning About "The Professor, The Banker And The Suicide King"
Earl Burton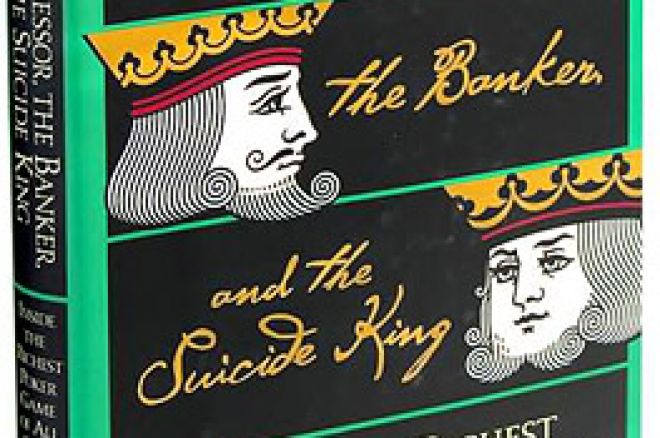 It has long been the stuff of legends, like the fishing stories that start out halfway believable and then grow into the battle of Captain Ahab and Moby Dick. Was there REALLY a poker game between a billionaire and some of the biggest names in the world of poker? Was there REALLY millions of dollars that were involved in each hand? Did it REALLY happen?
For the answers to all of those questions, you only have to look to Michael Craig's latest work, "The Professor, The Banker And The Suicide King". The book (available in hardback from your favorite bookstore for $24.95 US, $33.95 in Canada) is a complete review of those historic sessions that happened over a course of three years, not all at once as previously thought. It is an excellently written and researched book that will keep you coming back to learn more through each page.
"The Banker" in this case is billionaire Andy Beal. Beal never met a challenge that he didn't completely dominate and make his own. Whether it was repairing television sets as a teenager and reselling them to neighborhood families, or jumping into the world of real estate, Beal excelled at everything that he touched. His only failure, in an aerospace company, was not by any mistakes he had made, but forced by governmental control of the space program.
Andy was a billionaire banker and businessman who had amassed a fortune, and he wasn't above gambling. He became such a great blackjack player that he could not get a game during his visits to Las Vegas (he was so good at counting cards, he was banned from some casinos on the Strip). He stepped into the poker arena without ever reading anything on the game in his life.
When Beal decided to try and learn about poker, he didn't approach it in a lackadaisical manner. He attacked the game with the same voraciousness that he would have if it was a business venture that he was looking at. He also began to formulate some basic questions that the average person asks themselves:
Are the professionals that good? Do they have something that gives them an edge? How do I turn the tables and get them off their games?
Beal decided to try out his theories beginning back in 2001. At Christmastime that year, he had worked out a deal to play at the highest stakes heard of at that time, $20,000/$40,000 Limit Hold 'Em. Doyle Brunson arranged the finest in the game to go against him in heads up matches, including Jennifer Harman, Ted Forrest and Howard "The Professor" Lederer.
The book then delves into the details of what happened over the next three years. Beal devised ways to make him nearly unreadable to the professionals, including inventing devices that were almost maniacal in their creation. He worked on his game against other people in his offices, played other professionals that would come to his work, and gradually built himself into a very good to excellent heads up limit poker player.
It also looked at the professionals who banded together to play against the billionaire. It showed the true nature of poker players that, for all their efforts, they are gamblers at heart. It also showed that they were not afraid of the challenge of anyone. Finally, it showed that, while many may believe that they are wealthy beyond belief, in most cases the opposite is true.
It all boils down to The Biggest Game of All-Time: Heads Up Limit Hold 'Em for $100,000/$200,000 each hand. The ebbs and flows of the three years of games are fantastically recounted, as are the battles of Beal against the greatest players in the game at the highest levels ever played. Did Beal beat the pros? That is left to the reader to decide as, with most things in the game of poker, there is no black and white answer.
The book is a delight in its recounting of the events. It showed, with hard work and dedication (and getting the right stakes in their favor), a player can attack the professionals. Beal removed the lack of fear from the pros by getting them to play at stakes that could actually hurt them. Through this, their games were adjusted by the style that he was coming at them with.
While the book is not a great strategy analysis (unless you count Beal's numerous inventions to play against the pros), it serves as an excellent historical reference. Craig has come up with a book that gives people insight into the largest game in the history of poker. Perhaps Craig said it best when he summed up his book (and I paraphrase), "I can say two things for certain. First, it will be several decades before there is a higher stakes game than the one Andy Beal played against the professionals on May 12-13, 2004. And second, I wouldn't bet you on it."