Legends of Poker: Perry Green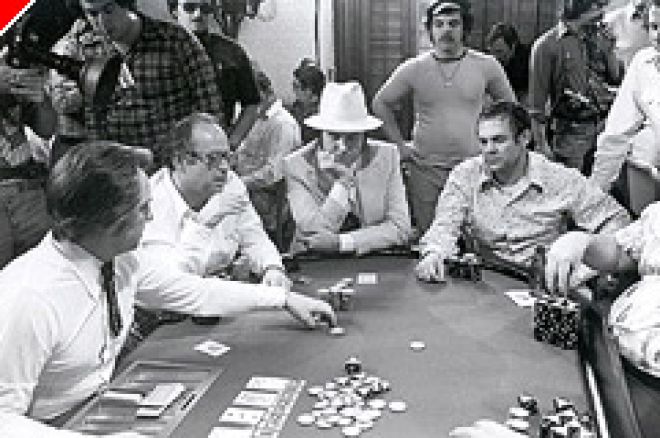 In 1980, Stu Ungar won his first World Series of Poker Championship. In the main event, Stu's five-high straight sent two-time champion Doyle Brunson to a $146,000 second-place finish. Doyle took it in style, and has gone on to win a record ten gold bracelets at the WSOP.
The following year, Ungar continued his championship play by taking on a field of 75 players and making the final table. When play started up again, Stu was second lowest with just $53,000 in chips. Slightly ahead of him was Perry Green, a seasoned amateur player from Anchorage, Alaska. As day turned to night, players fell by the wayside, and after dinner, it was just Ungar and Green still standing.
Perry had the chip lead, and after flopping an open-ended straight, he got Ungar all-in with a pair of jacks, and hoped to hit his straight. The pot was $560,000 but the straight never came, and Perry found himself with just $190,000. Later, the final hand of the championship brought a similar fortune as Green again flopped an open-ended straight and got all-in, but when the turn and river brought blanks, Ungar won his second World Championship. Perry settled for $150,000 and pledged 10% to charity.
Perry was 45-years old at the time, and had spent the previous year preparing for the main event. Each day he looked at a newspaper photo of Stu's 1980 win and mentally placed himself in the winner's spot. He was preparing for battle. His many years of fur trading in the bitter cold of Alaska had hardened him, and forced Perry to learn the skills of survival.
Survival and winning go hand-in-hand in Alaska, and in Green's life. When he found himself snowed-in at some remote polar outpost, he played cards with the Eskimos, and focused on winning (that, and staying alive).
Perry didn't limit himself to a single style of poker during those frozen days and nights. Any game the locals played, he played, and it prepared him well for the WSOP.
In 1976, Perry won his first gold bracelet and $68,000 in the $1,000 ace-to-five draw tournament. The next year he added to his jewelry collection by winning the $5,000 ace-to-five draw tournament, and followed that up with a 1979 $1500 no-limit hold'em win.
After Green's second place finish in May of 1981 in sunny Las Vegas, he headed home and prepared for the Super Bowl of Poker, held in the snow of Lake Tahoe. The cold of December may have been a hindrance to some of the players, but it was warmer than home for Perry. His poker play moved from war to hot, and although a long-shot to win the main event, Perry was fourth in chips at the end of the first day.
The second day of play saw chip leader Charles Dunwoody and second place chip leader Stu Ungar both knocked out of play. On the final day of the tournament, Junior Whited began the day with a 2-1 chip lead over second spot holder, Green, and six hours later there was no change. Junior won the final hand of the tournament over Perry, and collected the first-prize payoff.
It was Perry's third major tournament with a second place finish, as he had also placed there during the Super Bowl of Poker when it was held a year earlier in Reno. In 1982, Perry also reached the final table at the Super Bowl of Poker.
Although Perry never won the main event at the World Series of Poker, he did win several other tournaments, and as recently as 2003 finished in 9th place at the World Poker Tour's $10,000 No Limit Hold'em Championship in Tunica, Mississippi. His thirty years of poker tournament excellence lead me to believe that Perry Green, while essentially an amateur, has earned the honor of inclusion in the small (but growing) list of poker legends.
Ed Note: Heads up is the purest form of poker. Great heads up action always at Pacific Poker