Legends of Poker: Jay Heimowitz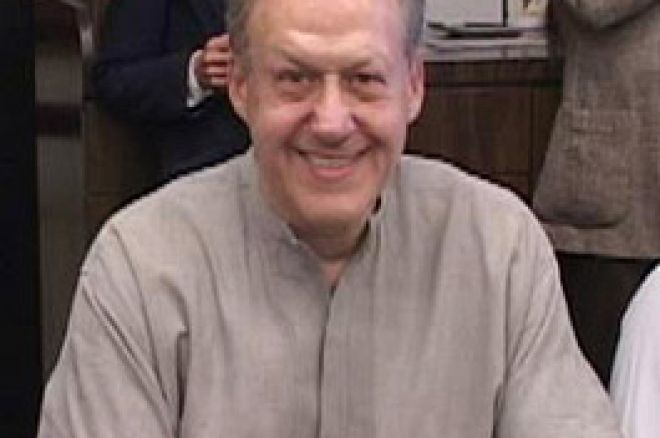 I have a lot in common with Jay Heimowitz. For instance, both of us list our favorite celebrity as Albert Einstein. We both like skiing, and we both started playing poker for baseball cards when we were about ten years old. Another amazing thing is that we both won the very first poker tournament we played in. Of course, the tournament I won was between six friends, and the one Jay won was a $1,000 no-limit hold'em tournament at the 1975 World Series of Poker for $32,000. This year at the WSOP, I failed to cash in any events. Jay, on the other hand, cashed in three. Maybe we don't have that much in common.
Jay Heimowitz was born in New York City the day after Christmas in 1937. From an early age, he wanted to run a business of his own, and he tried to save a few dollars here and there to someday buy one. Then, like well-known players Puggy Pearson and Amarillo Slim, he entered the military and found the poker games with his barracks mates to be very easy. In fact, he left the Army at 21 with over $10,000. That pales when compared to the $300,000 that Amarillo had stuffed into two barracks bags when he arrived back in the States, but most of that was from black-market operations; Jay's was mostly poker money.
Heimowitz took his cash and invested in a beer company, worked eighty hours weeks, and eventually parlaying his little business into a Budweiser beer distributorship at the age of 23. Obviously he had than just hard work going for him. His hard-driving business life has been tempered only slightly by his wife of 45 years, Carole. They have four sons, two of whom play a little poker too.
Through 1974, there had only been eleven different winners at the WSOP, and most of them were "known" professionals like Johnny Moss, Puggy Pearson, and Sailor Roberts. There were fewer events back then, and the idea of having a small buy-in, no-limit event came about in 1974. You didn't have to be an amateur, as evidenced by the first winner, Amarillo Slim; you just had to win.
Jay was certainly an amateur in 1975, considering his main interest was his family and his businesses, but he played like a seasoned pro, knocking out the other entrants and winning a gold bracelet. Professional poker player and writer, Mike Sexton, considers Jay Heimowitz to be one of the top two amateur players in the world. The other, according to Sexton, is Lyle Berman, and he stresses "they not only are sensational players, but conduct themselves impeccably both at and away from the table at all times." "They set a standard of behavior that all of us should emulate."
Heimowitz himself considers it very bad form to "criticize other players for how they play a hand." "Everybody is playing their own money to the best of their ability, and the best players should never get out of line." "Any top player who conducts themselves with dignity and class is a player worthy of respect." At the of Jay's list of respected players is Doyle Brunson, for just that reason; "the man always conducts himself as a gentleman."
Nothing wrong with being a classy player, and Jay is right up there with fellow player (and once amateur), Lyle Berman. For what it's worth, Lyle was elected to the Poker Hall of Fame in 2002 for his expert play among the best poker players in the world.
Since 1977, Jay has been playing in the $10,000 WSOP main event each year, and has enjoyed some great success. In 1980, as Johnny Moss made a run at a possible third Main Event Championship, Jay was right there with him. Moss was eventually gunned down in forth place, leaving a TV special well worth watching even today as Jay went up against Doyle Brunson and Stu Ungar for $385,000 in first place money.
When Jay's big hand came about, a raise and a reraise got all of Doyle's chips in the pot, and most of Jay's. Heimowitz turned over his pocket aces and Brunson tabled jack-jack. Doyle, a 4-1 dog, stood up and pulled his jacket from his chair with a dejected sigh. However, the two-time champion caught a little magic when a jack hit the board. Doyle sat back down, and Jay was soon gone from the party. His $110,000 payday was little consolation as he watched Stu Ungar use that same magic to turn a gut-shot straight against Brunson and win the first of his three championships. It all could have been different; but then again, it wouldn't have been poker.
The very next year, Jay and Ungar again battled it out at the final table, but this time Heimowitz had to settle for a sixth-place finish and $30,000 as Stu "The Kid" Ungar won his second main-event bracelet. In 1986, Jay won his second WSOP bracelet, beating a large field for $175,000 in the $1,500 limit hold'em tournament.
Over the years, Jay has won a total of six gold bracelets, and accumulated over $1.3 million in WSOP winnings with a total of 29 money finishes. This year, as I mentioned earlier, Jay finished in the money three times. That's pretty good for a guy in his mid-sixties, but I see no reason to assume there will be any slowdown in Jay's poker prowess. He is considered a health-nut by some, taking great care of himself, eating well and exercising. He also has the right mental frame for high-stakes poker, as well as tournament play. He knows he is responsible for his own actions and that the fall of the cards, whether good or bad for him personally, is just the way the game goes
Jay and I might not have that much in common when it comes to WSOP success, but even if I never win a gold bracelet, I can always say that I have been inspired to always be a gentleman at the table by Mr. Heimowitz' example. His legacy, and my desire to follow it, is something both Jay and I can be proud of.
Ed Note: Poker Blue are giving away a $10,000 seat a week in a freeroll. You need to check this out!