Legends of Poker: Berry Johnston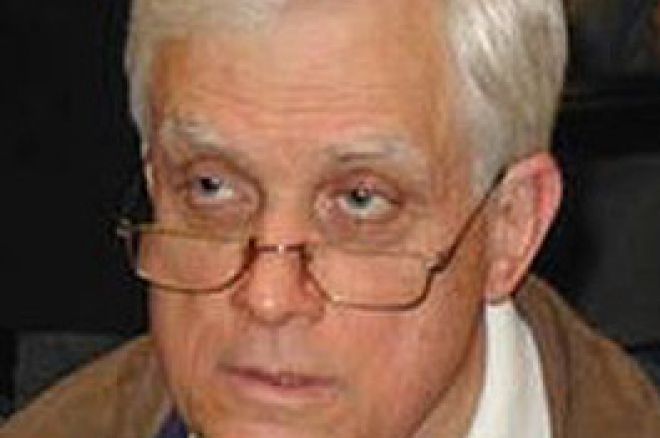 When I started writing about the legends of poker, Nick "The Greek" and Johnny Moss were my first two "locks." Another obvious choice was Doyle Brunson. I mean really, what would poker be without Texas Dolly? Amarillo Slim may have done the best public relations work ever for the World Series of Poker and poker as a whole, but Doyle's still winning tournaments, and he's over seventy years old. Holy river!
There are twenty-two men enshrined in the Poker Hall of Fame that Binion's Horseshoe started in 1979. Half of them you've probably never heard much about, because their time was before many of us were born. The other half are players like Doyle, Slim, and Johnny Chan. Sure, they belong. But what about the 2004 inductee, Berry Johnston?
Berry made Las Vegas his home, and hit big-time poker running in the early 1980's. He was 45-years old, and wasn't exactly a household name when he entered the $10,000 main event at the 1982 WSOP. When the field of 104 had been narrowed down to just nine players, the lineup looked like a poker spectator's dream. Included were Buster Jackson, Carl Cannon, Sailor Roberts, Doyle Brunson, Dody Roach, Berry Johnston, Dewey Tomko, A. J. Myers, and "Treetop" Jack Straus. Somehow, Straus had made a miraculous comeback from being down to a single $500 chip two days earlier, to leading the final table field by a 2-1 chip margin over Myers.
At this point in the tournament the posted odds on Johnston winning were 8-1. That wasn't an insult, just a reflection of his chip position, and his lack of experience playing at this level with the best in the world. As the tournament went on, Johnston eventually got all-in against Straus and busted out in third-place. The $104,000 prize was just a start in Berry's high-limit career, and the next year he won his first gold bracelet in the $2,500 Match Play tournament.
In 1985, Berry reached the final table again in the main event, and once again ran into expert company. This time, it was T. J. Cloutier who Berry got to commit his whole stack of chips with A-J to Johnston's A-K. However, after flopping aces, the turn brought a jack and it knocked Berry out again in third-place.
Mike Sexton, who was watching the final, remembered that "Berry shook the hands of both players and wished them good luck." When he walked into the crowd, his wife said to him, "Honey, I'm hungry. Can we go get something to eat now?" And Berry simply replied, "OK, honey, we'll go eat if that's what you want to do."
How's that for composure? Doyle Brunson said, "What I admire most about Berry is not Berry the great poker player, but Berry the man. He is a deeply religious and devoted family man who has always been a gentleman at all times. When it comes to tournaments, well, T.J. is probably the best player around, but Berry is right up there with him."
Berry was also cashing in other tournaments like the Triple Crown of Poker, and the Grand Prix of Poker where he cashed four times in 1986, including a second-place finish for $43,000 in the $5,000 buy-in Deuce-to-Seven NL tourney. Mike Sexton, still new to tournaments himself, finished in the money of the Omaha Hold'em tournament. If that's not impressive, you have to understand that these tournaments were populated by the best around, and players like Jack Keller, Jay Heimowitz, Chip Reese, Tuna Lund, Bobby Hoff and David Sklansky were fighting against them. For what it's worth, Reese, Sklansky, Tomko and Keller all finished in the money more than once and also won an event.
At the 1986 WSOP, to help celebrate his upcoming 50th Birthday, Berry won the $10,000 championship and $570,000. If that's not amazing enough, Berry finished 32nd the following year, and then took a 29th place finish in 1989. Flat out, this man is a tournament master.
Believe it or not, Johnston has five other excellent finishes in the $10,000 hold'em event, finishing 5th, 17th, 21st and 16th. Who can match that record? To go with those amazing feats, Berry has five gold bracelets, including wins in limit hold'em, limit Omaha, and Razz.
When Binion's Horseshoe set up the Poker Hall of Fame, they set the criteria for induction. The rules stated that a gambler must have played against acknowledged top competition - well there's no doubt there with Johnston. They also stated that a player had to play for high stakes, had to have played consistently well and gained the respect of their peers, and last, they had to stand the test of time.
This year, approaching his 70th birthday, Berry cashed in three of the WSOP tournaments he entered, with 30th, 22nd and 15th place prize checks going his way. How's that for standing the test of time? I guess old legends never die, they just keep cashing.
Ed note: Vince Van Patten of the World Poker Tour plays at Hollywood Poker