Al Alvarez: The Poet Laureate of Poker
Murphy James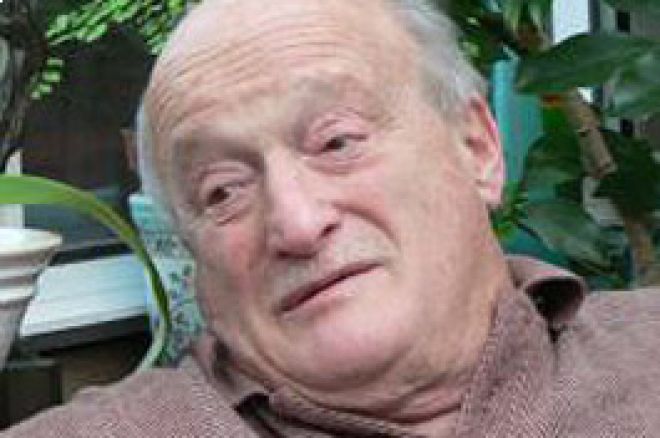 In 1983, British poet, poker player, theatre critic, rock climber, and novelist Al Alvarez published The Biggest Game in Town, an account of the 1981 World Series of Poker ("poker's equivalent of Wimbledon"), won by Stuey Ungar. One critic called it "the origin of contemporary poker literature." The London Evening Standard calls it "probably the best book on poker ever written." Jim McManus, author of Positively Fifth Street calls it "the seminal book on the literature of poker. Gorgeously written. Very cool."
Although Al is known in some circles - our circles - as a "poker writer," he has written about poker in only two of his 25 books. The other is Poker: Bets, Bluffs, and Bad Beats (2001).
His other books cover other passions and experiences: Feeding the Rat, about rock climbing, Offshore: A Northern Sea Journey, about oil exploration, and The Savage God, about suicide. In The Savage God, Alvarez, then the poet-critic of a London newspaper, championed the young poet, Sylvia Plath. He was a close friend of Sylvia and her husband and fellow-poet, Ted Hughes. In the first chapter, he recounts Sylvia's suicide. In the last, his own suicide attempt after a failed marriage.
His newest book, The Writer's Voice (2005) is based on a series of lectures he gave on the art and craft of writing in New York. His novels include Hers, Hunt, and Day of Atonement. In 1999 he published his autobiography, Where Did It All Go Right? Though he has often written of the pain of a divorce, he has been married to Anne, a psychotherapist, for almost 40 years.
The Biggest Game in Town was originally published in the New Yorker Magazine as a series of long articles. "Here was the World Series of Poker," Al says, "and hardly anyone was writing about it." With a few changes, the articles then became the book.
People like Doyle Brunson, Jack Straus, and Amarillo Slim opened up to him. "They didn't quite know what to make of me," he says. "I was the little Brit with the funny accent who could make them laugh", he adds. Later, Jack Straus and Crandall Addington would visit him at his home in London.
Prior to The Biggest Game, most poker books were about how to play the game, or what Katy Lederer, in Poker Face, calls the "head" of poker. Al delved into the people and their personalities. He wrote about what they did away from the poker table. He wrote about the heart of poker.
His own take on poker: "Quite simply, poker taught me qualities I lacked - patience and cool-headedness - that steadied me when I most needed them."
Al writes from his spacious home in the Hampstead section of London. A climb to the top - he walks slowly due to a rock climbing accident years ago - takes you to his office where the smell of pipe smoke reminds you of another passion of his. Though many classic pipes are on display, he says he is down to only one smoke a day. There is the impression that he would like to do more.
He was working on proof sheets for the New York Review of Books, going over his lengthy reviews of Dalla and Alson's One of a Kind, about Stuey Ungar, and Craig's, The Professor, the Banker, and the Suicide King. His conclusions: Stuey was "mobbed up." Banker Andy Beal played too long.
Though Alvarez also writes for writers, as in The Writer's Voice, he says, "I hate writing. I'm glacially slow at it." He goes on to say, "The Biggest Game was the only book I enjoyed writing." Jim McManus, a great fan of Al's calls his writing style "lapidary." Highly polished, indeed.
In The Writer's Voice, Alvarez speaks to his central theme. The writer has to have a distinct voice. It has to be you. You hear yourself speak. The reader recognizes the work as yours.
On his 70th birthday, six years ago, friends of Al's put together a book of essays about him in a book, The Mind Has Mountains. Good friend David Cornwell, also known as John le Carre, contributed a chapter, calling Al "the most chivalrous and best-mannered man you or I are likely to meet." They are such close friends that Alvarez dedicated The Biggest Game to Cornwell and his wife, Jane.
Cornwell/le Carre goes on: "I come to him because you never part from Al without feeling a couple of degrees jollier. But most probably I've come to him because, half consciously, I need the laughs; because the writing is going stale on me, or mortality is weighing heavy, or I'm in a private mess and need to share it with someone."
The Mind Has Mountains also has a contribution from Anthony Holden, author of Big Deal (Bigger Deal is in the works), who met Al when he was a cocky, 21 year old editor of the Oxford student magazine, Isis. He calls Al "my surrogate big brother." David Spanier, author of Hand I Played and Inside the Gambler's Mind, wrote of Al's bust-out at the 1994 World Series of Poker. Alvarez, Holden, and Spanier used to engage in a friendly, weekly game of poker. What a meeting of great poker literary minds!
Though he may be glacially slow at it, and though he may hate it, Al keeps on writing. New and Selected Poems marks his return to his first love, poetry. And, of course, he drops down to the Victoria casino in London to play a little poker from time to time. He has played once or twice a week for the past 40 years.
How much longer will all of this go on? "It's going to finish when I fold my hand and go up to the big poker game in the sky," he says. Hopefully, that bad beat is a long, long way in the future.
Ed Note: Paradise Poker are giving away a ton of seats to the biggest game of all - the 2006 WSOP. Check it out.