World Poker Tour Battle of the Champions IV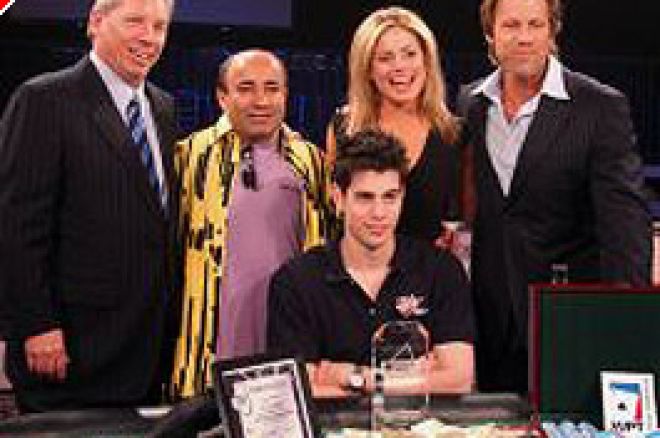 The fourth season of the World Poker Tour reached its climax Monday night with the final table of the WPT World Championship. But the season wasn't over yet; the last episode to be taped would be the next evening — the WPT Battle of the Champions IV.
The winners of this year's 16 events were invited to Bellagio to determine the best of the best. All but one of the champions showed up back on April 17th, the day before the WPT World Championship began. (Steve Paul-Ambrose, the young Canadian student who won the PokerStars Caribbean Adventure, was the only no-show.)
It took several hours to play down to the final six that day, but there were only five guaranteed seats at the final table. (The sixth seat was reserved for the winner of the WPT World Championship.) Finally, after a flop of J-9-3, Al Ardebili was all in with J-x (pair of jacks) against Freddy Deeb's pocket queens. The overpair held up, and Ardebili was out on the bubble in seventh place.
A week later (April 25th), the five survivors returned to Bellagio to face off with Joe Bartholdi (who won the WPT World Championship the previous evening) for the title. This was the lineup:
Seat 1: Mike Simon, winner of the World Poker Challenge in Reno
Seat 2: Nick Schulman, winner of the World Poker Finals at Foxwoods
Seat 3: Freddy Deeb, winner of the UltimateBet.com Aruba Poker Classic
Seat 4: Scotty Nguyen, winner of the Gold Strike World Poker Open in Tunica
Seat 5: Michael Mizrachi, winner of the Borgata Winter Poker Open
Seat 6: Joe Bartholdi, winner of the WPT World Championship
Like all of the WPT's "special" events (Bad Boys of Poker, Ladies Night, etc.), each player was given 250,000 in chips, and the blinds started at 3,000-6,000, with a 1,000 ante.
Nobody expected a long match, but it was still surprising to see an all-in situation on the second hand. Deeb pushed with pocket tens and Nguyen called with A-K suited. Nguyen picked up a flush draw on the turn for some extra outs, but he missed everything on the river. Scotty Nguyen was the first casualty of the day, while Deeb doubled up to half a million in chips.
Five hands later, Deeb was in the thick of it again, raising preflop for the fourth time in seven hands. Bartholdi moved all in with J-8 offsuit, sensing weakness. But he was wrong — Deeb had pocket queens. The board never gave Bartholdi much hope, and he was eliminated in fifth place.
The next hand, Simon check-raised Schulman after a flop of K-Q-J rainbow, and they were quickly all in. Simon showed K-5 offsuit (pair of kings), but Schulman held pocket aces. The last two cards were blanks, and Mike Simon was out in fourth place.
The final table was less than 25 minutes old, and only eight hands had been played. But half of the table was already gone, and there were no signs that the action would slow down anytime soon. Somewhere, a WPT producer was fearing the possibility that he'd have to edit a one-hour tournament into a two-hour TV show.
With three players left, Mizrachi was the short stack, with fewer chips than he started with. In hand #21, he raised five times the big blind, and Schulman moved all in. Mizrachi called with A-7 suited, but he was in trouble against Schulman's pocket nines. Mizrachi flopped a pair of sevens and turned a flush draw, but he missed all of his outs on the river. Michael "The Grinder" Mizrachi was out in third place.
In a World Poker Tour record, the first four players were eliminated in just over an hour — and that includes a 15-minute break. The fate of the show would rest with the final two players, Nick Schulman and Freddy Deeb. They were even in chips, with about 750,000 for each.
Heads-up matches are notoriously unpredictable, as they can end any time both players catch good cards or a strong flop. When Deeb won the Aruba Poker Classic, he was heads up against Josh Schlein for 18 hands. At the Foxwoods World Poker Finals, the finale between Schulman and Tony Licastro lasted just four hands.
After a brief money presentation (there was only $25,000, after all), they would battle back and forth for another 75 hands — another two hours and twenty minutes. There was a palpable but inaudible sigh in the room as the World Poker Tour was guaranteed enough footage for their show.
Schulman dominated the heads-up action early, winning nine out of the first ten hands to give himself a 2-to-1 chip lead. Deeb was able to hold his ground after that, but couldn't get himself back to even. Late in the match, Schulman's momentum was just too strong, and Deeb's stack was getting smaller and smaller.
Finally, in hand #96, Schulman moved all in from the button with J-10, and Deeb called for his last 110,000 with 7-5. Schulman flopped a pair of tens, Deeb turned a pair of fives, and that was it. Deeb was the runner-up, and Nick Schulman was the 2006 WPT Battle of the Champions champion.
For his victory, Schulman earned a trophy, a $25,500 seat into next season's WPT World Championship, and bragging rights.
Mike Sexton summed it up best: In a season where youth dominated the felt, it was only fitting that the youngest-ever WPT champion would win this event. (Schulman was just 21 years old when he won $2.1 million at the Foxwoods World Poker Finals last November.)
Schulman was a man of few words during his end-of-show interview, but he got a big laugh when Sexton asked him if he was intimidated by the other, more experienced champions, or if he thought he was as good. Schulman replied, "I'm better." He now has two WPT trophies to back that statement up.
Ed note: back your statements up at Ultimate Bet