WSOP Daily Summary for Thursday, July 6th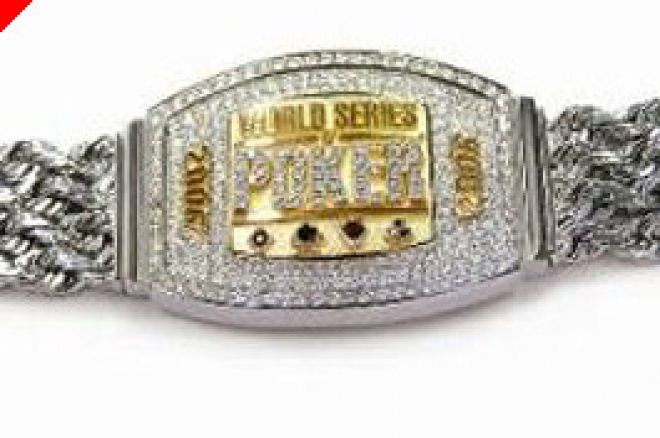 Thursday marked the first day of the 2006 World Series of Poker that kicked off two events — Event #11 ($1,500 Limit Hold'em) and Event #12 ($5,000 Omaha Hi-Low Split). So there were a total of four events in action yesterday, with all of the buzz focused on the final table for Event #9 ($5,000 No-Limit Hold'em) where Jeff Cabanillas came out of nowhere to deny Phil Hellmuth his record-tying 10th bracelet. Cabanillas and Hellmuth fought an epic heads-up battle that last nearly four hours. (For details on the final table, read Earl Burton's full report.)
The other three events are summarized below.
EVENT #10 ($1,500 SEVEN CARD STUD) - DAY TWO
Event #10 resumed with 40 players, all looking to make the final eight-handed table. It started later in the day (because of the late finish the night before), but the action moved quickly until the players got close to the final table.
Day One chip leader John Hoang stayed strong throughout, and finished as the Day Two chip leader. He's really hoping he can add "Day Three Chip Leader" to his resume today, because that title includes a bracelet.
David Williams was right behind Hoang at the start of the day, and he navigated the field to the final table as well, finishing once again right behind Hoang in second place. Williams is looking to buck that trend at the final table.
Miami John Cernuto was in a lot of trouble when play was down to the final two tables. He was crippled down to 3,000 in chips, at a time when the limits were 1,500-3,000. But Cernuto tripled up with two pair, and then doubled up with a pair of queens. That took him to 23,000, giving him enough of a cushion to play his way back up. Cernuto would end the day in fifth place with 86,000 in chips.
On a day when all eyes were focused on Phil Hellmuth at the final table, Hellmuth may have been keeping an eye on Johnny Chan, who refused to bust all day long. When Mark Dickstein was eliminated in ninth place (shortly after 11:00 pm), Johnny Chan had made the final table with a chance for another bracelet. This was shortly after Hellmuth lost the chip lead heads up at the final table, and he never recovered. Hellmuth fell short of his 10th bracelet just as Johnny Chan gave himself a shot at #11.
Here are the eight final table players and their official chip counts:
Seat 1: Miami John Cernuto - 86,000
Seat 2: Jack Duncan - 106,000
Seat 3: Mitchell Ledis - 42,500
Seat 4: David Williams - 142,000
Seat 5: Matt Hawrilenko - 32,000
Seat 6: Ivan Swertzer - 118,500
Seat 7: Johnny Chan - 26,500
Seat 8: John Hoang - 170,000
Deja Vu: For the second day in a row, the excitement level will be off the charts at the final table as a WSOP legend goes for a career record in bracelets. Expect Phil Hellmuth to make an appearance to support Chan if he goes deep. Yes, you read that correctly. Hellmuth is a classier guy than most people give him credit for.
The final table for Event #10 is scheduled to begin today at 2:00 pm.
EVENT #11 ($1,500 LIMIT HOLD'EM) - DAY ONE
Event #11 attracted 701 entrants, creating a total prizepool over $956,865. On a day with multiple events starting, players were given a choice of games to play. This event featured a much larger field, as cheaper buy ins generally attract more players. (The $10,000 Main Event is a notable exception, of course.)
Because most of the professional players preferred the other event, this gave hold'em players a shot at a bracelet without having to face many of the best players in the world. For those players who look forward to sitting at a table with their poker idols, they would be better off playing another day.
With most of the big-name players in Event #12, the Day One action here didn't attract much attention. But the players don't care. First prize still gets a bracelet and $258,344.
Day One lasted for nearly 13 hours, and play ended with 41 players remaining. Here are the top five chip leaders, along with some notables who are above the average stack of 25,646:
1. Bobby Law - 57,000
2. Bob Chalmers - 56,500
3. Bob Bartmann - 55,000
3. Jason Eakes - 55,000
3. Joe Sebok - 55,000
6. David Baker - 48,500
8. Jan Sjavik - 42,500
Chip leader Bobby Law finished in the top 150 of last year's Main Event, and he claimed second place at the WSOP Circuit Championship in Tunica after last year's World Series.
Joe Sebok made two hold'em final tables at last year's WSOP, and he's looking for a third (and his first bracelet). David Baker won a $2,500 Limit Hold'em event at the L.A. Poker Classic in February, and this is the tenth WSOP cash of Jan Sjavik's career.
Why You Should Root For Joe Sebok: Joe Sebok has a bet with Gavin Smith about who can accumulate the most Player of the Year points during the WSOP this year. The loser has to dress up like a superhero while they play in the Main Event. The winner of the bet gets to choose the costume. So if Joe Sebok makes the final table, it'll increase the likelihood that you'll see Gavin Smith dressed as Wonder Woman.
Why You Should Root Against Joe Sebok: It'll increase the likelihood that you'll see Gavin Smith dressed as Wonder Woman.
Day Two of Event #11 is scheduled to begin today at 2:00 pm, one hour later than usual.
EVENT #12 ($5,000 OMAHA HI-LOW SPLIT) - DAY ONE
Event #12 attracted 265 entrants, creating a total prizepool over $1,245,000. With two events starting today, this was the preferred choice for most of the top pros, attracted by the higher buy in (which means more starting chips). And if they skip this hold'em event, they have a few dozen others to choose from.
This event started at 2:00 pm, since Event #11 started at noon. But the late start would force a late finish, with play continuing well past 4:00 am.
Reigning WPT Player of the Year Gavin Smith took a huge chip lead about 2:00 am, when his 144,000 had him 50,000 higher than the rest of the pack. With that lead, he probably could have gone to sleep and coasted into the money. Smith claimed that only two players could lose that entire stack and finish out of the money — Sam Farha and himself. (Farha was sitting at his table.)
But Smith held on to enough chips to finish the day in first place with 118,000. Ironically, Sam Farha is right behind him in 2nd place with 115,000 — Smith may have overestimated their late-night recklessness.
There was an unusual double-up around 2:30 am. Everyone has heard the saying about a chip and a chair. But what about half a chip and a chair? Amir Vahedi was down to his last 500 when the field took a break and it was time to color up the chips. According to the TDA rules, a player can't be eliminated during a race, and he or she is guaranteed a single chip of the next lowest denomination. So during the break, Vahedi "doubled up" to 1,000.
Unfortunately, Vahedi couldn't pull out a miracle, and he was eliminated out of the money shortly after the break. So it's just an amusing anecdote, and not the comeback story of the year. Sorry if I got your hopes up.
The really comeback belongs to Phil Ivey, who was down to just 5,000 during round-for-round play, when the limits were 3,000-6,000. But he went on a rush late, and finished the day above average with 56,000. Rather than going home to rest, Ivey immediately sat down in the "Big Game" here at the Rio, playing with Barry Greenstein and some other high-stakes players.
Day One finally came to a conclusion about 4:15 am with 26 players surviving. Here are the top five chip leaders, along with some notables who are above the average stack of 50,961:
1. Gavin Smith - 118,000
2. Sam Farha - 115,000
3. Ryan Hughes - 110,000
4. Jim Ferrel - 109,000
5. Mike Henrich - 95,000
7. Mike Wattel - 71,000
8. Kirill Gerasimov - 69,000
9. Phil Ivey - 56,000
Looking For Bracelet #2: Brett Jungblut (2004) and Mike Wattel (1999) have both won bracelets in Omaha Hi-Low events. Jungblut is in 17th place with 30,000 in chips.
Looking For Bracelet #6: Phil Ivey and Chris "Jesus" Ferguson are tied with five career bracelets, and they both have two of them from Omaha events. Ferguson is in 15th place with 33,000 in chips.
Why You Should Root For Gavin Smith: If he wins his bet with Joe Sebok, you'd get to see how Barry Greenstein's son looks in a Catgirl suit. (See Event #11, above.)
Why You Should Root Against Gavin Smith: There is absolutely no reason to root against Gavin Smith. Ever. And since their wager only includes hold'em events, this Omaha event won't affect their bet.
Day Two of Event #12 is scheduled to begin today at 3:00 pm, one hour later than originally scheduled.
Full Tilt are giving away 100 seats to the WSOP in one tournament. Check it out.