WCOOP Event # 1: $215 Razz 'Nabokov' Notches Triumph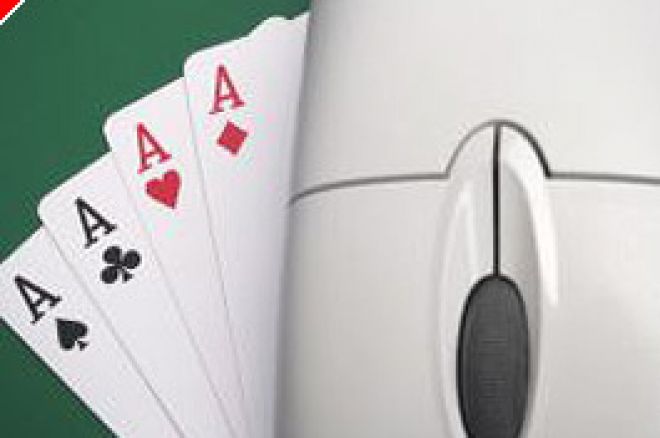 So much for the guarantee. Poker Stars' fifth annual World Championship of Online Poker [WCOOP] made a roaring start on Saturday, as Event #1, the Razz tourney, shattered pre-tournament expectations with its fantastic turnout.
1,297 entrants signed up for this one before registration closed, each ponying up the $200+15 entry fee, and that translated to an incredible $259,400 prize pool. You read that right --- more than a quarter million in prizes, for an online razz tourney. The turnout rendered meaningless the "$100,000 Guarantee" for this event, exceeding it by more than 150%, and 136 players cashed.
In a new twist, Stars enabled final-table deal making for this event (and presumably for all other WCOOP events), staying consistent with the site's practices in other big cash-prize tournaments. The Poker Stars trio of recent WSOP Main Event champs was also on hand, and each performed respectably. Chris Moneymaker went out in roughly the middle of the pack, while both Greg Raymer and Joe Hachem ran into key all-in moments at the bubble. At different tables but at almost exactly the same moment, both were down to the felt with 8-high hands, but with opposite results. Raymer was bounced just outside the cash, in 142nd place, while Hachem won his showdown and moved deep into the money. Hachem, who plans to play in all 18 WCOOP events, surged as high as the top 10 before exiting in 60th.
The final table took quite a while to form, in part because 8th-place cash represented quite a jump over spots 9-16, which paid a little over $2,000 each. 'Nabokov' led the way to the final table with over $1 million in chips, but the first order of business was the narrowing of the field in a couple of short-stack battles. Online star 'FellKnight' (Jordan Devenport) eliminated the shortest stack, 'BadgerDawg', in 8th, with FellKnight showing a perfect seven (7-4-3-2-A) to BadgerDawg's 8-6-5-3-A, after BadgerDawg pushed the last of his chips to the center early in the hand.
The next elimination sent 'debrisfish' out in 7th, after he pushed the last of his $60,000 in virtual chips to the pot after starting four cards to the eight, but debrisfish was never ahead in the hand. 'respekmestak' had a better four-card eight at the time, and picked up a seven to finish an 8-7-4-2-A holding, and debrisfish found nothing better than a 10 in his last three cards.
Nabokov's lead slipped away, then rebuilt in a huge way as six-handed play continued for a lengthy span. In a key three-way hand, Nabokov ran his stack to $1.6 million when he improved an already good-looking 8-high hand to a better 7-high on the river, putting both respekmestak and FellKnight on the ropes. In even more dire straights, though, was '2badd4u,' who still staved off elimination and doubled through twice, long enough to watch other stacks be put into danger. Next up was the final table's worst beat, when FellKnight committed his last $50,000-odd chips on a desperation play. FellKnight had both a ten and queen as up cards, and figured that Nabokov, showing 9-6-4, was making a big-stack play. Unfortunately for FellKnight, Nabokov already held a made 9-6, leaving FellKnight in need of a runner-runner miracle: two cards less than nine, not pairing his three already good cards, plus two cards that didn't improve Nabokov's holdings.
And it happened. FellKnight found an eight and a four for an 8-7-6-4-A hand, while a king and jack left Nabokov unimproved at 9-6-5-4-3... and it would move FellKnight up in the standings, despite 'solody' hitting a 'wheel' (a perfect 5-4-3-2-A Razz hand) that again put FellKnight on the edge, part of a run that moved solody into the lead. solody, who captained Team France in the 2006 World Championship of Poker (a team poker event), went on a steady run through this segment of play. Meanwhile, another short-stack battle occurred, and this one sent respekmestak to the rail, when his desperation push ran into the best part of a made 7-hand held by 2badd4u. And then it was FellKnight's turn, departing in 5th when solody's 8-7-3-2-A hand easily topped FellKnight's J-high final hand.
2badd4u's survival-mode success brought him as high as third place, for a while passing 'TS Long', who reached the final table in a virtual tie for second but saw a long run of dry cards wither his stack away. 2badd4u's run ended, though, in two-part fashion: first, having to fold a big pot to solody after solody caught A-6-3 on fourth through sixth streets while 2badd4u found bricks, and then for his final $75,000 in chips in an all-in race against Nabokov, where again 2badd4u received no late-street help, his Q-T-8-4-3 no match for Nabokov's 8-7-5-4-A.
In the meantime, solody had built his stack to over $1.6M in chips, holding a sizeable lead at the start of three-way play. Was the fix in? solody joked that he hoped so --- his Stars avatar was just a handful of crude, Bart Simpson-styled letters reading "I LOVE YOU LEEEEEE" in mauve-ish purple against a pale yellow background (a reference to site host Lee Jones, who, as with the Sunday Million, was on hand with a ready-made, pun-filled congratulations for each of the final-table players as they departed). No doubt dozens of like avatars would have sprouted in the weeks to come, had solody been able to close the deal.
But it was not to be.
First came the charge of TS Long, who rode a hot run of cards from a point where his chips had fallen below $200,000, all the way up to what was virtually a three-way tie --- all three stacks within $150,000 of the million-chip mark as the contest neared the 12-hour mark. And then the hot cards shifted to Nabokov, who went on his own resurgence, whittling away at both TS Long and solody. In another half hour, Nabokov had run it all the way up to $2 million, and that was the deciding surge of the event.
solody ran out of cards first, his 9-6-5-4-A final hand falling to Nabokov's 8-7-4-3-A. A short while later, TS Long met the same fate, his decent 9-6-4-3-A hand falling to Nabokov's 8-6-5-3-2, with Nabokov catching the needed eight on seventh street, the very last card. Nobokov picked up more than $58,000 and the first of the 18 2006 WCOOP bracelets to be awarded, for his win.
WCOOP Event # 1 - $215 Razz
1st ($58,365): Nabokov
2nd ($35,019): TS Long
3rd ($22,827.20): solody
4th ($16,861): 2badd4u
5th ($13,748.20): FellKnight
6th ($11,154.20): respekmestak
7th ($8,560.20): debrisfish
8th ($5,706.80): BadgerDawg