Online Poker Weekend: 'Jovial Gent' Flops Victory in Poker Stars Sunday Million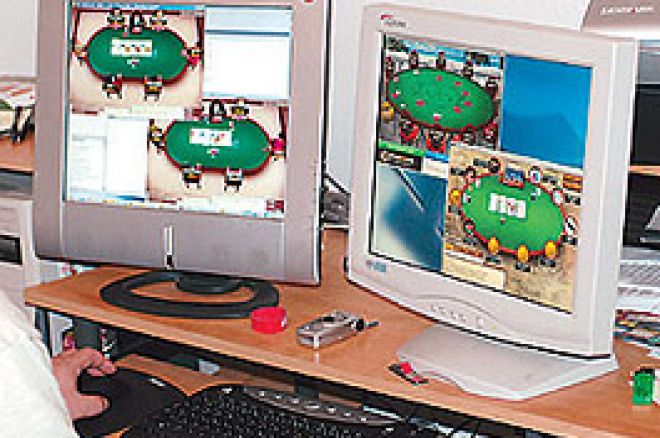 Another record prize pool and a late comeback win at Stars highlighted Sunday's online tourney action, but attendance was up across the board at all the big-prize events. Full Tilt also enjoyed solid numbers, as did Party Poker, whose new, Euro-friendly $200K enjoyed a 10% attendance jump over previous weeks.
Poker Stars Sunday Million
Poker Stars ran their monthly $500+30 version of their Sunday Million and the turnout did not disappoint --- 2,794 entrants combined to form a new-record prize pool of $1,397,000. 390 players made the money and the scheduled first prize here topped the quarter-million mark, being listed at $250,202.70. 'apestyles' held first spot as the final table came together, just shy of $10 million in chips, and 'Jovial Gent' was the only other player above $3 million, with just a bit over $5 million in second.
The first knockout here came when the ninth-place player, 'realest8,' pushed from late position with pocket eights and apestyles made the call from the big blind with K-Q, being rewarded when the board arrived Q-T-7-4-K. With several thin stacks remaining tight play ensued, lasting until apestyles picked off 'Pimplyteen' when Pimplyteen's A-T caught no help against apestyles's sixes. Not long after, an unlucky 'grgr333' hit the rail in seventh, his queens cracked by 'jesseduke's A-Q when a river ten filled an ace-high straight.
Meanwhile, apestyles continued to claim smaller pots, and with six players left he had nearly two thirds of all the chips in play. The blinds had reached $80,000/$160,000 when 'GoNoles' pushed for $1.2 million with pocket fives, but Jovial Gent found queens in the big blind, which easily held up. Not long after, 'tumbleweeds' caught 'JP 5-time' stealing from the button with Q-8, a bad matchup against tumbleweeds' A-Q in the big blind. That hand's board offered 4-9-T-3-7, meaning JP 5-time finished fifth.
Fourth place went to 'jesseduke' when he found A-Q at the wrong moment, pushing it head-on into Jovial Gent's pocket aces. The big knockout pushed Jovial Gent to about $7 million, still well behind apestyles, who was just under $17 million at the time. Jovial Gent nudged higher during three-way play, but apestyles won a huge race against tumbleweeds, his A-Q triumphing over tumbleweeds' tens when an ace fell on the turn. The $8 million pot reopened apestyles' gap over Jovial Gent as the two started heads-up play.
Jovial Gent made a strong early move to bring the match back to a virtual tie, forcing apestyles off a big pot when the board, post-turn, showed a ten and two eights. The deciding hand occurred just moments later, when, with blinds of $120,000/$240,000 plus antes, Jovial Gent opened to $640,000, apestyles re-raised to $2.16 million, and Jovial Gent made the call. The flop brought a rainbow Q-T-3, apestyles bet another $2.4 million, Jovial Gent pushed all-in, and apestyles, barely covered in chips, made the call. apestyles showed pocket kings, but Jovial Gent offered Q-T for the flopped two pair, and he dodged the counterfeit possibilities as a four and jack completed the board. The late surge gave Jovial Gent the win and a first prize of more than a quarter million dollars.
Poker Stars Sunday Million - Final standings:
1st ($250,202.70): Jovial Gent
2nd ($135,229.60): apestyles
3rd ($80,327.50): tumbleweeds
4th ($65,239.90): jesseduke
5th ($53,784.50): JP 5-time
6th ($43,307): GoNoles
7th ($34,226.50): grgr333
8th ($25,146): Pimplyteen
9th ($16,764): realest8
Full Tilt $350,000 Guaranteed
Once again, actual turnout for Full Tilt's big Sunday event smashed the pre-tourney guarantee. 2,279 players joined the fun, 351 cashed, and the prize pool in this one swelled to $455,800. 'cjhubbard' led the charge to the final table with a chips stack of about $1.7 million, a good margin ahead of a final table that also included poker author, and noted poker blogger Michael Craig (The Professor, the Banker, and the Suicide King).
Several tiny stacks limped through to the last nine seats, and one of them 'salty14,' quickly bowed out in ninth on a hand where cjhubbard's modest pair of threes claimed the pot. Next to fall was 'JohnnyROCKS,' whose A-7 fell to the A-T of 'XMart' after both players caught a piece of a K-7-T flop. The mopping up of the endangered stack continued when 'YukDaDuke's pocket eights held up over 'dermsperm's A-5, though dermsperm nursed his way up the board to a nice seventh-place payday.
'drbakunin' departed in sixth after his A-J ran into 'BlueChip200's A-K, and then Michael Craig's number came up when he pushed with A-Q and was called by Bluechip200 from the small blind with pocket fours. The board arrived T-J-7-5-8, giving Bluechip200 the knockout and the tourney lead. Craig's exit meant a one-spot bonus for 'YukDaDuke,' who had barely a big blind's worth of chips remaining and claimed fourth two hands later, sent out in a showdown where Bluechip200 made two pairs, queens and nines.
The three players remaining --- cjhubbard, Bluechip200 and XMart --- began three-way action closely matched. cjhubbard grabbed early control but Bluechip200 would assume command on a huge coin-flip hand, BlueChip's jacks holding up over cjhubbard's A-K when the board arrived T-Q-T-T-2. cjhubbard's end arrived when he raised from the button with A-2 for half his remaining stack, was re-raised all-in by XMart (who held A-K), and cjhubbard made the call. The board provided A-8-9-K-9, with cjhubbard's third-place exit sealed on the turn. Bluechip200, though, still held a sizeable lead, and he held it to the end. On the final hand, XMart moved all-in with K-J, Bluechip200 mde the call with A-6 suited, and the board provided 3-2-A-8-7, giving Bluechip200 a pair of aces and the win.
Full Tilt $350k Guaranteed - Final standings:
1st ($83,616.51): BlueChip200
2nd ($51,323.08): XMart
3rd ($33,592.46): cjhubbard
4th ($26,801.04): YukDaDuke
5th ($20,283.10): Michael Craig
6th ($14,585.60): drbakunin
7th ($10,711.30): dermsperm
8th ($8,386.72): JohnnyROCKS
9th ($6,381.20): salty14
Ultimate Bet $200,000 Guaranteed
Over at Ultimate Bet, another steady turnout meant the race was on for the $45,000 money for first. 963 players were on hand, with the top 100 cashing, and first prize being the guaranteed minimum of $45,000. 'Pauly007' led the way to the final table by amassing nearly $700,000 n chips, nearly twice that of his nearest competitor. The table also featured three other players who had final-tabled this event in recent weeks: 'TheWacoKidd,' 'josh prager' and 'THE__D__RY,' who turned the trick for the second straight week.
THE__D__RY was the first one sent to the rail, however, his pocket tens unable to overtake 'haman14's kings, and TheWacoKidd bowed out next, his A-K suited no match for 'romangra's pocket aces. Two short stacks clashed soon after, with 'liz90's A-K holding up over 'SMACKAHO22x's A-9 and ending his run at eight place, and then haman14's own run ended, as he finished in seventh when his A-7 proved no match for 'simmo97's A-Q.
A huge pot resulted when simmo97 and liz90 got all the chips in pre-flop, and simmo97 turned over A-J to dominate liz90's A-T. A jack flopped, an ace turned; liz90 was dead to the river and out in sixth place. With the nearly-$700,000 pot, simmo97 jumped to the lead.
After romangra doubled through Pauly007 to shuffle the middle of the standings, romangra picked off the lowest remaining stack, 'BAN,' in a K-Q vs. K-J clash when the board came 7-6-2-K-8. Then, Pauly007 exited in fourth, when his attempt to steal with K-9 ran into simmo97's A-K, with an ace on the flop all but deciding that hand. And almost immediately after, josh prager was knocked out in third place after he pushed all in holding 8-7 after an 8-3-5 flop. romangra made the call with A-2, for only an overcard and a gutshot straight draw, but was rescued when an ace arrived on the turn to decide the hand.
simmo97 and romangra started heads-up play almost tied, and the lead changed hands twice quickly, the second seeing simmo97 doubling through to pull well ahead. simmo97 closed the deal when he induced romangra to bluff all-in after a hand with a J-2-3 flop; romangra showed A-6, but trailed simmo97's pocket nines, and when another nine arrived on the turn, simmo97 could claim victory.
Ultimate Bet $200,000 Guaranteed - Final standings:
1st ($45,000): simmo97
2nd ($26,500): romangra
3rd ($18,000): josh prager
4th ($13,100): Pauly007
5th ($10,500): BAN
6th ($8,500): liz90
7th ($6,500): haman14
8th ($4,500): SMACKAHO22x
9th ($3,400): TheWacoKidd
10th ($2,000): THE__D__RY
Party Poker $200,000 Guaranteed
Party Poker's Sunday $200,000 Guarantee enjoyed a nice jump in attendance on Sunday evening, as 1,047 players turned out. The prize pool climbed to $209,400, with 150 players cashing and a listed first-place prize of $43,974.
'Slaan_PS' held the early final-table lead at $1.4 million, with 'canadawest' at $1.2 million, and the other eight players well back. canadawest struck first, however, taking the lead after sending 'Dorkas' to the rail in tenth, after making two pairs, tens over sixes, but after Slaan_PS semi-bluffed canadawest off a nice pot on a scary board, he eliminated 'kostos2000,' his 6-5 making a straight on the turn and cracking kostos2000's pocket aces. A short-stacked 'real_deal111' fell next, his Q-8 falling to Slaan_PS's A-5 when the flop came 2-3-4 to make Slaan_PS's straight.
'lottoking' exited in seventh, his A-Q making two pairs but falling to 'Pointer2's rivered flush, with lottoking all-in before the flop, and sixth place went to 'NETPOKERnu' when his Q-T, fell to 'Sinnemann's A-J when the board offered 3-4-8-4-8. 'Slushy888,' victimized by two tough beats, finally bowed out in fifth when his pocket sevens ran into Slaan_PS's pocket aces. The four players remaining tried but failed to negotiate a deal, but when Pointer2 rivered a ten to pair one of his hole cards and send Sinnemann to the rail in fourth, the three survivors quickly agreed to a chip-count deal for the remaining prize money.
Party Poker $200,000 Guaranteed - Final standings:
* 1st ($39,829.91): Slaan_PS
* 2nd ($26,294.60): Pointer2
* 3rd ($18,159.01): canadawest
4th ($12,040.50): Sinnemann
5th ($9,946.50): Slushy888
6th ($7,852.50): NETPOKERnu
7th ($5,967.90): lottoking
8th ($3,978.60): real_deal111
9th ($3,036.30): kostos2000
10th ($2,094): Dorkas
--- three-way deal to split remaining prize money