Online Poker Weekend: Two Winners in Overlay-Laden UBOC Main Event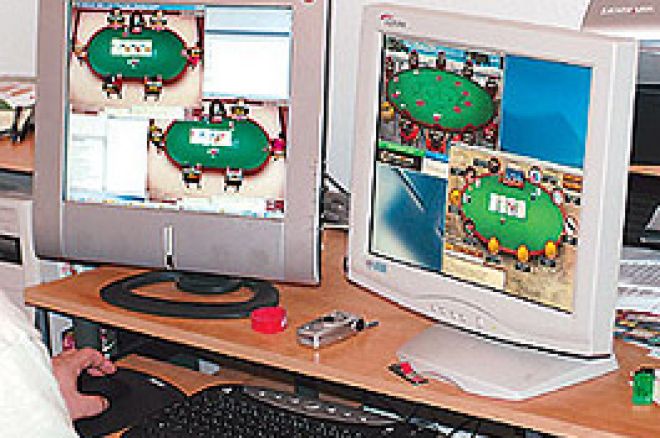 An even-money chop between the last two players at the Ultimate Bet Online Championship's Main Event and a four-way deal for the big bucks at Poker Stars spread the wealth at the night's two biggest events. UBOC's successful run concluded with several big online names running deep, even if one of the biggest turned out to be, well, not quite as advertised.
Ultimate Bet Online Championship Event #10 (Main Event) $1,000,000 Guaranteed
The Ultimate Bet Online Championship (UBOC) wrapped up its ten-day run on Sunday with the million-dollar Main Event, complete with a final table simulcast featuring commentary from Nick Geber and Phil Hellmuth, whose pointed commentary and invitations to several of the players to call in to the simulcast after their eliminations added to the fun atmosphere of the event. And UBOC #10 was a bonus bonanza for its attendees; 1,400 players each paid the $500+30 entry fee to join, meaning that a $300,000 overlay was at hand, one of the largest overlays ever in online poker history. 140 players received at least a $1,000 payday, and first prize was scheduled to be a whopping $211,500.
'Zmona' held the lead as the final table began with just over $800,000 in chips, not far ahead of 'A_thekevlar_2,' who continued his recent great run in major UB events. The first final-table knockout went to 'RMB31,' whose kings held up over 'ThrillsnKills's A-Q. Then A_thekevlar2 eliminated a short-stacked 'E Tyme,' who Hellmuth initially reported as being former WSOP Main Event champ Dan Harrington (it wasn't), when E Tyme's A-T couldn't catch up to A_thekevlar_2's A-K.
After 'Fred420' made a huge double-through against A_thekevlar_2 to surge to the lead, he increased it by kayoing 'toetagU,' when Fred420, holding K-Q, called toetagU's all-in push behind A-J. A king flopped, no other helpers arrived, and toetagU was out in seventh. 'Maria Nuccia' then eliminated RMB31, Maria Nuccia's kings staying ahead of RMB31's suited A-J. Soon after, a huge three-way pot saw 'Breitling996' bow out in sixth, his Q-9 suited getting two callers, with A_thekevlar_2 flopping a set of queens and holding on for a large pot. Early leader Zmona departed in fifth when his A-6 couldn't overcome Maria Nuccia's pocket eights, and then Fred420 delivered a two-out bad beat, catching a nine on the turn to make a set, to send A_thekevlar_2 and his top pair of queens to the rail in fourth.
After a long stretch of three-way play, 'PMJackson21's climb back to contention ended when his deuces ran into Fred420's A-J. The chips went in pre-flop, and the board arrived T-9-A-6-5. Fred420 held a dominant lead when heads-up play started, but Maria Nuccia doubled through on a key hand to bring the match close to even. With assistance from the commentators, the two players agreed on an even split for the remaining prize money, and played on for the title and bragging rights. After taking control by doubling through for almost all of the chips in play, Maria Nuccia claimed the title on a hand where he held A-7 to Fred420's A-3. A flopped seven sealed the hand and the nominal UBOC #10 Main Event 'title' for Maria Nuccia.
UBOC Main Event - Final standings:
* 1st ($168,450): Maria Nuccia
* 2nd ($168,450): Fred420
3rd ($87,500): PMJackson21
4th ($65,000): A_thekevlar_2
5th ($52,500): Zmona
6th ($42,000): Breitling996
7th ($32,000): RMB31
8th ($22,500): toetagU
9th ($17,000): E Tyme
10th ($10,000): ThrillsnKills
* two-way deal to split remaining prize money
Poker Stars Sunday Million
Poker Stars enjoyed another wonderful turnout. 6,680 players combined to form a $1,336,000 prize pool, with $187,040.00 the listed winner's share. 975 players cashed. At over $14 million in chips, 'mrrain' held a healthy lead when the final table's nine assembled, although a pressured battle seemed assured --- seven of the nine others had stacks between five and nine million.
The first exit came only five hands in, when the shortest stack, 'Capper77' tried a re-raise steal from the big blind and found no help, his A-6 falling to 'wds2004's A-Q on an 8-Q-T-7-2 board. 'TAA212' departed next, claiming eighth-place money when his K-Q fell to 'gregghmsr's A-J when an ace fell on the river. Seventh place went to 'Nordberg,' who after dropping most of his chips hands earlier, had to commit to a suited A-2 but found no help against 'kiaser's pocket fives.
kiaser himself was the next victim, sent out in sixth place at the hands of mrrain; kiaser pushed with eights, mrrain called with jacks, and a K-Q-6-9-9 board changed nothing. And just nine hands later, a huge pot found 'OddB' on the rail in fifth; the chips went in pre-flop, OddB's eights against wds2004's K-Q, and the board came A-5-5-J-T, completing wds2004's straight.
Down to four, and after battling for a couple of dozen hands, the survivors agreed to a four-way chop based on chip count, playing on for the last $30,000. mrrain and wds2004 were the two leaders at the time, and not long after, wds2004 narrowed the field to three by sending 'gregghmsr' to the rail. On that hand, with the blinds having climbed to $300,000/$600,000, gregghmsr opened by pushing all-in for his last $6 million, and wds2004 made the re-raise to isolate. gregghmsr showed fives, wds2004 A-5, but the board arrived K-Q-Q-8-K, counterfeiting gregghmsr's small pair and making wds2004's ace kicker the winner.
wds2004's lead was shortlived; first mrrain took down a $20 million pot at his expense, and then Tulkaz doubled through him for a huge $23.7 million pot. Two hands after that, wds2004 was in for the last of his remaining $8 million against Tulkaz after an all-spade, 5-Q-7 flop; Tulkaz had 9-7 for middle pair, while wds2004 had A-3. A three on the turn brought extra outs, but a river nine gave Tulkaz two pair and brought the end to wds2004's night.
Heads-up play between mrrain and Tulkaz saw only three big pots. tulkas claimed the first for $15 million, mrrain the second for $29 million and the lead, and the final pot, the biggest of the night, was worth almost $51 million in chips. With blinds of $400,000/$800,000, Tulkaz raised to $1.6 million, mrrain re-raised to $4 million, and Tulkaz called. The flop arrived A-J-9 with two clubs; mrrain bet another $4.8 million, and Tulkaz pushed over the top, all in. mrrain made the call and showed J-9 for two pair, while Tulkaz, with J-3, needed runner-runner help. A five on the turn ended the matter, and a meaningless river ten closed the action. mrrain claimed the final $30,000 in prize winnings and the overall victory.
Poker Stars Sunday Million - Final standings:
** 1st ($135,942): mrrain
** 2nd ($71,477): Tulkaz
** 3rd ($106,541): wds2004
** 4th ($69,606): gregghmsr
5th ($35,804.80): OddB
6th ($28,857.60): kiaser
7th ($22,712): Nordberg
8th ($16,833.60): TAA212
9th ($10,955.20): Capper77
** — four-way deal to split remaining prize money; $30,000 to eventual winner
Full Tilt $350,000 Guaranteed
Another huge turnout marked Full Tilt's Sunday $350,000 Guaranteed. 2,141 players signed up, with the prize pool climbing to $428,200. 306 players cashed, with first prize offering over $78,000.
'blizair' and 'Hummer141' were the early final-table victims, knocked out in ninth and eighth, respectively, as 'BrkBB' and 'doleman19' fought for early control of the table. Soon after, 'MattSuspect's night ended when his nines fell in a three-way pot, as 'dawgnutz' re-raised with pocket queens, and 'scotchnlobster,' one seat later, moved all-in with pocket kings. Another king arrived on the flop, and scotchnlobster's win meant a seventh-place exit for MattSuspect. Down to just a few antes' worth of chips, 'Servaaaaas' finished in sixth on a hand where BrkBB, holding A-7, made trip sevens; Servaaaaas's cards were mucked.
After losing a couple of big pots, doleman19's run ended when his A-K fell to 'dawgnutz,' when both players got the chips in pre-flop and the board arrived 2-T-Q-T-4. A short while later scotchnlobster departed in fourth, when a river ace made BrkBB a pair of aces, overtaking scotchnlobster's flopped pair of kings.
The three surviving players --- dawgnutz, BrkBB and 'GB2005,' battled back and forth for a few dozen hands before GB2005 established control. GB2005 eventually sent BrkBB out in third, correctly catching BrkBB on a bluff when BrkBB jammed all-in with A-5 on a Q-9-J flop. GB2005 had only 9-8 for bottom pair and the gutshot straight draw, but a ten on the turn completed GB2005's straight, and no king for the redraw higher straight for BrkBB would appear.
On the last hand, with blinds of $50,000/$100,000, GB2005 pushed all-in with his huge chip lead, and dawgnutz, with about $700,000 remaining, made the call. GB2005, flipped over K-T of spades, while dawgnutz was in bad shape with an offsuited K-8. A flop of 8s-6s-Qc, put dawgnutz ahead with a pair of eights, but GB2005 had the flush draw and filled it when the deuce of spades arrived on the turn. A meaningless heart ten completed the action, as GB2005 claimed the win and almost eighty thousand in first-place money.
Full Tilt $350,000 Guaranteed - Final standings:
1st ($78,788.80): GB2005
2nd ($48,386.60): dawgnutz
3rd ($31,686.80): BrkBB
4th ($25,263.80): scotchnlobster
5th ($19,269): doleman19
6th ($13,788.04): Servaaaaas
7th ($10,062.70): MattSuspect
8th ($7,921.70): Hummer141
9th ($5,994.80): blizair
Bodog $100,000 Guaranteed
Bodog's weekly $100,000 Guaranteed tournament drew 981 players, with a tiny overlay in place. 81 players cashed. 'CrazyMarco' and 'TwoGunC' led the way to this event's final nine, each arriving with over $500,000 in chips, more than double the stack of any other player, though the final table featured wild action and concluded in barely twenty minutes' time.
'JChasek' went out in ninth in a three-way showdown won by 'schem11,' and then 'Mayja Playa' ran a bluff at the wrong moment, again at schem11's hands, to finish in eighth. CrazyMarco sent 'SmooveSteely' to the rail in seventh when his jacks held up over SmooveSteely's sevens, and 'bonafachi' won a race of short stacks against 'Max Buyin,' K-T triumphing against pocket eights when a ten flopped, to end Max Buyin's night in sixth.
CrazyMarco then opened a huge lead with back-to-back, huge-pot knockouts. First, his pocket sixes held up over schem11's A-Q, all the chips going in before the flop, when the board brought no card higher than a four. And on the next hand, 'halincadenza' got his remaining chips in with A-J, only to see CrazyMarco catch a five on the flop, holding A-5, to end halincadenza's night in fourth. And soon enough only two players would remain, as TwoGunC completed a straight on the river to knockout bonafachi, who made the call with top pair. CrazyMarco wrapped up the win against TwoGunC only two hands later, in grand fashion --- making a flush to crack TwoGunC's aces.
Bodog $100,000 Guaranteed - Final standings:
1st ($25,000): CrazyMarco
2nd ($16,000): TwoGunC
3rd ($9,000): bonafachi
4th ($6,500): halincadenza
5th ($5,400): schem11
6th ($4,400): Max Buyin
7th ($3,400): SmooveSteely
8th ($2,400): Mayja Playa
9th ($1,550): jchasek