Health, Wealth, and Wisdom - Interview With Patrik Antonius, Part One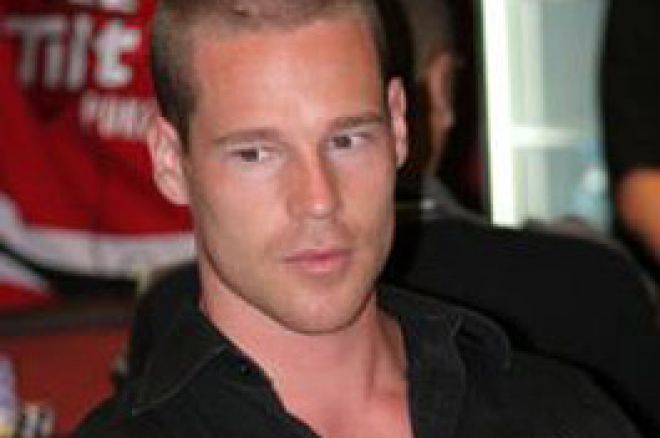 Patrik Antonius is leaving Monte Carlo, and has three hours to pack, work out, and do this interview before he flies to Milan with Phil Ivey. While he makes some calls to the airline to re-schedule flights, I look around and spot his famous laptop which is in standby-mode. He has won millions of dollars on this computer and for a second, I have to urge to ask him if I can have a go at it. Instead, I sit patiently and hear Patrik get redirected from one operator to another. He's annoyed, but keeps his composure, while taking a bunch of vitamins. When he's finally done, he sits down on his hotel bed, relieved that the re-scheduling of flights finally worked out, and tells me we can do the interview while he packs. More than an hour later, he still hasn't packed a thing, and we have to finish: I don't want to be responsible for either Patrik or Phil Ivey missing their helicopter...
PokerNews: Having heard all this; wouldn't you rather have a personal assistant to help you out with the logistics like booking flights etc...?
Antonius: Yes, I definitely need one, for sure. I already have a Finnish lawyer who has been helping me with stuff. I used to have an agent in the States and she has also been helping me but we no longer work together and now I've signed with a personal assistant for poker who will be helping me out with my blog and updating my new website which will be launched soon. My fiancée has also been helping me, but she isn't here, so I guess I just have to do these things myself. Life is not that easy, haha.
I see you take all kinds of vitamins and supplements: the markings of a true athlete?
Well, I used to be, yes. I used to play tennis at a very high level and was about to enter the professional circuit, but I got injured and never recovered.
Do you regret that?
No, it's better to be a professional poker player than a professional tennis player, for sure. The money is better and even though I have to travel a lot now, I know that tennis players travel even more. It's such a tough life and you can easily get burned-out. Besides that, as poker player, I guess I can't really complain.
You mentioned your fiancée. I hear you're expecting a baby pretty soon, right?
Yes, we're gonna have a baby-girl! It's due on the 20th of May, so in less than 2 months I'll be a dad.
How do you think that will affect your life, as a poker player?
It's gonna change a lot, for sure. She will probably calm me down a bit, I think. My life is pretty crazy at the moment, with up-and-down stuff, and maybe it will hold my adrenaline for a little bit.
Is that a bad thing or a good thing?
I think it's a good thing. I can't travel for a little while and after that I'll just take my fiancé and my daughter along when I have to play. I'm just so happy I'm gonna have a child, it's gonna do a lot for our relationship.
I have a three-year old girl myself. One thing I know for a fact is you'll learn to be more patient, regardless of who you are.
I know, it's gonna be strange. We have two dogs now too, French Bulldog puppies. You know about puppies, right? You really can't leave them alone for the first two or three weeks, you have to watch them every second. Well, I can burn my nerves pretty easily and one morning I had to go to the bathroom, already in a bad mood, and I stepped in one of dog's shit and I got so mad, but I guess that's just life. We're gonna have a nanny to help us out, cause I'm so busy. So many days I wake up, have my breakfast, play tennis for 90 minutes, then hit the gym for 2 hours, go see a chiropractor or something and before you know it, half the day is already gone. Then I go and play the Big Game in the Bellagio, and all that time I haven't even been home. I don't know when I'll find the time, but I will for sure.
You moved to Vegas, how's that working out for you?
Vegas has been good to me. I don't know, it looks like everything goes right in Vegas. If I travel abroad, I always end up having bad days online and lose a lot of money. I lost $400K last night alone, so I'm not happy about that. In Vegas, I don't seem to have that problem. If I travel, I get out of shape. I eat bad, sleep bad. Even here, I find it hard to get food when I'm hungry. I have to order and it takes an hour to get here, stuff like that. I don't know, I just find things so much easier in Vegas. It's ironic, but where I live in Vegas, it's like the countryside, far away from hectic downtown. It has a lot of old people, no pollution, close to mountains, it's very peaceful.
If I don't feel well, if I feel like I'm getting out of shape and can't work out on a disciplined basis, I just want to leave and go back to Vegas where I can do all that. In places like Paris or London, it's just like I can't operate normally at all. Everything is so hard for me. Monte Carlo is one of the nicest places, and still I eat bad here, and don't work out as much as I should. I guess should have my personal trainer here, who'd make sure I'd do things right. My personal trainer in Vegas is really great.
In Vegas you actually play The Big Game. Had you heard about the game, let's say, four years ago?
No, not at all. Even when I had a bankroll of, let's say, $30K, I had absolutely no idea that there was poker on TV and that a WSOP existed. I probably heard about the Big Game two years ago or something. I don't know, everything has been going so fast for me. It's so funny, from the limits I played; I've never had to go down a limit, nor have I ever lost an amount of money that would force me to step down a bit. I've always gone up, step by step, up to the point where I am now, playing the biggest games there are. I never had super bad streaks which would have forced me to step down.
When I heard about the game, I told myself I would need to make 2 million more before I would join, even though I knew I'd be better than a lot of players there. Right now, I can play all 15 games, and I can't really say I prefer any game over another.
And you're a winning player in The Big Game?
Yes. I think the most I was up in the game was 2 million, but now I'm even I think. I should have been losing in the beginning really, cause I didn't know how to play some of the games. But still I played and I guess I got pretty lucky. But now it's just a matter of time before I'll have a million or 2 million dollar day in the Big Game.
The funny thing is that it's all a buzz. It's fine that so many people have their opinions about it, and that there are a lot of rumours going around about the game. Everybody knows about The Big Game now, and they ask me why I play that big, with so many good players. The thing is, there would never be a game if only Phil Ivey, Barry Greenstein, David Benyamine, Chip Reese and I played. There's always one player who loses money to one of us. Then again, there are some players that have won pretty big, who really should have lost because they're such bad players.
Can you name them?
Sure, but you can't publish them, haha.
Check back tomorrow for part two of our interview with Patrik.