WPT Championships Day 4: Hellmuth Slips, as The Lead Changes
Paul McGuire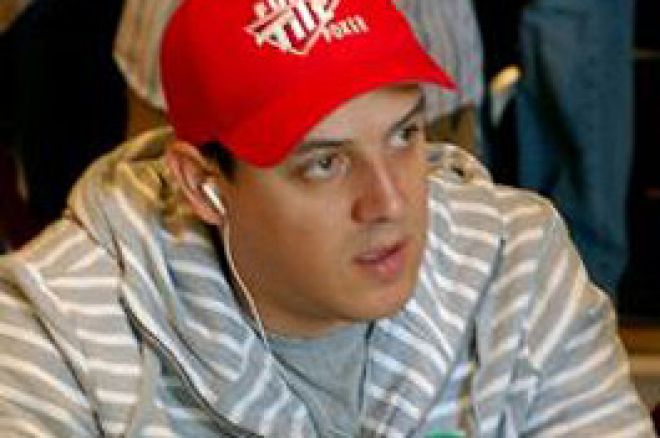 Last Saturday the first of 639 players sat down at the Bellagio Casino in Las Vegas with one thing on their minds… to win the WPT Championship. Four days later, there are 54 players left to chase down that dream. They each sat down in the Fontana Room with hopes of advancing to day 5 en route to winning $4 million and the prestigious WPT Championships.
All eyes in the room were locked on Phil Hellmuth. The Poker Brat showed up on time and ready to defend his chiplead. He started with 1.8M in chips and drew one of the easiest tables in the tournament with several shortstacks sitting to his left. Hellmuth's stack was at least three times larger than the second largest stack at his table.
Hellmuth was aggressive and got involved in too many pots which cost him the chiplead.
"Playing a lot of pots is a tricky thing. Sometimes it could cost you. Sometimes you can reap the benefits," Hellmuth said. "You always have to take a look at the table your at and see what you can and can't do. It's important to make it to the end of the day and not do anything too crazy."
Hellmuth also took two big hits. The first occurred when David Levi doubled up against him and won a pot worth over 2 million. Hellmuth flopped top pair with A-J but he was outkicked by Levi's A-K. Then he lost a pot to one of the best online tournament players in the world, Sorel "imper1um" Mizzi. On a board of
, Mizzi moved all in. Hellmuth thought about calling for a few minutes before he finally did. Mizzi flipped
for a full house. Hellmuth flashed the
and mucked his other card. Hellmuth would eventually finish the day 19th in chips with 738K.
Day 4 went by at lightning speed. Only two and a half levels were played before the final 27 players remained. TD Jack McClelland asked the remaining field if they wanted to play five full levels or stop at 27. A couple of players wanted to end the day, so McClelland suspended play until Thursday at noon.
Day 4 Money Winners:
28 Thomas Schreiber $92,820
29 Lyle Berman $92,820
30 Ian Johns $92,820
31 David Oppenheim $77,350
32 Mark Gregorich $77,350
33 Bill Gazes $77,350
34 Tom Lee $77,350
35 Justin Bonomo $77,350
36 Ted Kearly $77,350
37 Tim McCarthy $77,350
38 Philip Tom $77,350
39 Doron Malinasky $77,350
40 Noah Jefferson $77,350
41 Fred David $61,880
42 Mikael Thuritz $61,880
43 Bill Ferrand $61,880
44 Jared Hamby $61,880
45 Antonio Salorio $61,880
46 Abe Mosseri $61,880
47 Elia Ahmadian $61,880
48 Eric Herschler $61,880
49 Marc Goodwin $61,880
50 Pramesh Bansi $61,880
51 Justin Young $46,410
52 Patrik Antonius $46,410
53 Danny Alaei $46,410
54 Joe Grebanier $46,410
Plenty of noteworthy pros failed to advance to Day 5 such as Patrik Antonius, who finished in 52nd place. His A-J lost to Jim "KrazyKanuck" Worth's pocket Kings.
Justin "ZeeJustin" Bonomo took a hit when Robert Wazelle sucked out on him with Kd-10d versus ZeeJustin's A-10 after they both flopped a 10. He ultimately busted out with Kc-10 against Paul Lee's As-Ks. Lee flopped trip Aces and ZeeJustin's run at the Bellagio was over after he busted out in 35th place.
Paul Lee took the chiplead after he won one of the biggest pots of the tournament off of Loi Phan. Lee raised pre-flop and got two callers. In a three way pot, the flop was
. Lee checked and Roland de Wolfe bet 80K. Loi Phan called as Lee check-raised to 280K. De Wolfe quickly folded. Phan went into the tank for several minutes and even got the clock called on him. Lee mentioned that no matter what, he was going to push all in on the turn. Phan eventually called. The turn was
and Lee moved all in for 59K. Phan called with
while Lee tabled
for top set. The river was the
and Lee won a pot worth close to 2M.
Paul Lee then cracked David Oppenheim's 9-9 after he flopped a set of 3s. He used his big stack to bully the players at his table. When play was suspended Lee had close to 3.6M.
Carlos Mortensen ended the day as one of the chipleaders after he won a decisive pot from Raymond Davis. Mortensen raised from the cutoff and Davis reraised from his blinds to 150K. Mortensen called. The flop was
. Davis fired out 200K but Mortensen pushed all in for over 860K with
. Davis did not have a made hand, but he had plenty of outs and called with
. He had the nut flush draw and a gutshot straight draw. Blanks fell on the turn and river as he doubled up Mortensen. That pot was worth over 2.5M. Mortensen ended the day third in chips with 2.4M.
Although WSOP Main Event champions have won a regular season WPT event in the past (Joe Hachem, Doyle Brunson, Scotty Nguyen, and Carlos Mortensen), not one WSOP champion has won a WPT Championship. With Phil Hellmuth and Carlos Mortensen still alive, one of them has a shot at making history.
"I think they are the two best players who are left. I'd like to see either one of them win," mentioned Doyle Brunson.
As Phil Hellmuth said the other day, "I'm playing for $4 million and to make history."
With 27 players to go, they are by far the best players left in the field but will have to contend with chipleader Paul Lee, Sorel Mizzi (the best online player in the world), Thomas Wahlroos (one of the best young Scandinavian players on the circuit who made one final table on the WPT this year), and Paul Wasicka who's been on a tremendous rush.
End of Day 4 Chipcounts:
Paul Lee 3,601,000
Kirk Morrison 2,980,000
Carlos Mortensen 2,429,000
Sorel Mizzi 2,256,000
Thomas Wahlroos 1,847,000
Jake Minter 1,568,000
Benjamin Johnson 1,280,000
Tim Phan 1,273,000
Scott Fischman 1,268,000
David Levi 1,258,000
Guy Laliberte 1,232,000
Grant Lang 1,201,000
Mike Wattel 1,060,000
Loi Phan 1,007,000
David Baker 983000
Tommy Vu 830000
Can Kim Hua 760000
Richard Anthony 755000
Phil Hellmuth 738000
Adeeb Harb 735000
Paul Wasicka 581000
James "KrazyKanuck" Worth 556000
Roland de Wolfe 460000
Jimmy Tran 458000
Robert Wazelle 284000
Raymond Davis 274000
Tom Pniak 270000
Action will resume at noon on Thursday where they will play down to the final 6 players. You can follow the action by reading our live updates which included chip counts. Also, be sure to check out our photo gallery and extensive video gallery which features interviews with Doyle Brunson and Phil Hellmuth.