WSOP Stories: Who Will Catch Phil First, Doyle or Johnny?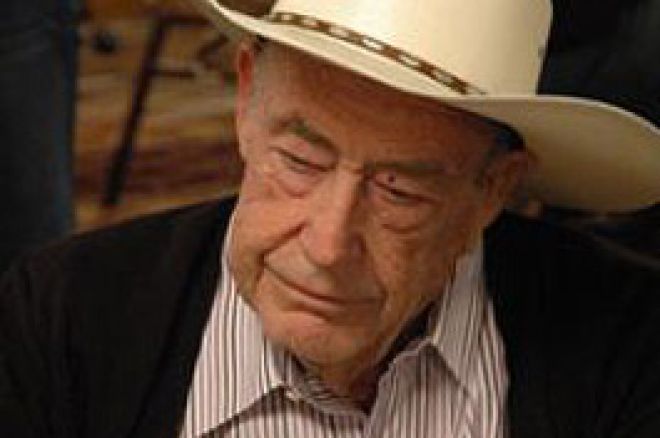 The biggest story of the 2007 World Series of Poker is obviously Phil Hellmuth's record-setting 11th bracelet win. Showing almost no concern for the money he won in the process, Hellmuth beamed as he was presented his bracelet by Harrah's. Attending the bracelet presentation were fellow legends and 10-time WSOP bracelet winners, Johnny Chan and Doyle Brunson.
With Hellmuth's victory, the question now becomes, "Who will be the first to catch and possibly surpass Hellmuth?" Will it be 'Texas Dolly' or the 'Orient Express' at the next WSOP final table, and what are their chances of matching Hellmuth's ground-breaking feat?
Let's start with Brunson. Unless you've been living under a rock in some far-off country where no one plays poker, you have probably heard of the Godfather of the modern game. Having earned over $4.9 million in career tournament winnings and 10 WSOP bracelets in a multitude of events, Brunson can easily make the claim that he is next in line to take down bracelet #11.
Brunson's level of play has been honed by years of play in the cash games. Dominating all types of players in the highest-limit cash action in the world, Brunson continues to remain at the top of his game while influencing two generations of poker players with his "Super System" books. Don't mistake his elderly appearance for weakness, as he's instead one of the toughest players on the planet and is the last person you want to battle heads-up for a WSOP bracelet.
Brunson's competition to catch Hellmuth comes from another of poker's living legends, Johnny Chan. Considered by many to be one of the greatest players of all time and a major threat in every tournament he enters, Chan continues to play a relevant role in today's poker world.
Chan currently edges Doyle Brunson in WSOP career earnings with over $5.9 million. Chan's claim to bracelet #11 (and a tie with Hellmuth) is backed by years of play in all of poker's variations and, of course, his back-to-back WSOP Main Event wins. As with Brunson, Chan also influenced an era of poker players in another way, with his cameo appearance in the movie Rounders.
In the end, no one is going to be able to determine the next player to reach #11 and tie Hellmuth except one of these two gentlemen. Both are aptly qualified and if early results are an indicator, both will be in the hunt to catch up with the 'Poker Brat' throughout the rest of the WSOP. Brunson and Chan both recently ran deep and could break through to #11 in any of the upcoming events they play.