2007 WSOP Updates - Event #4, $1,500 Pot Limit Hold 'Em Day Two – Gavin Smith on the Move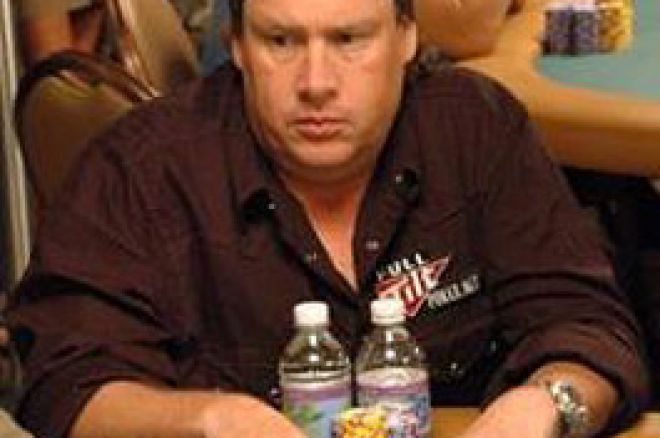 Day Two action in the $1,500 Pot Limit Hold 'Em (Event #4) on Monday brought one form of comfort to the 512 remaining players: each was already in the money and would receive something at end of the day's play. 780 players initially began the chase for the top prize of $252,290. This day's early departees would at least earn $4,371.
Among them: Freddy Deeb. Deeb led much of Sunday before encountering tougher times. Here, Deeb looked to move up or move out early with an
against his opponent's pocket jacks. Although he was able to catch a flush draw, Freddy couldn't complete his hand and left in Monday's early going.
Gavin Smith and Marco Traniello were the early movers during Monday afternoon action. After only two hours of action, 24 of the 51 Day Two starters were out, leaving three tables to determine who would be at the final table. Other notables on the climb included William Hill (who flirted with the top of the leader board on Day One), Jon Friedberg and Eric 'Rizen' Lynch, who moved into the lead about three hours into Monday's action.
In another hour nine more players were gone, including pros Cody Slaubaugh and Eugene Todd. After a great run on Day One, Jean-Robert Bellande fell at the hands of William Hill to bring the action down to two dangerous tables — as Traniello, Smith and Friedberg were joined by 2006 Championship Event Final Table participant Nick Binger.
The breakneck pace continued; within forty minutes, three more players were eliminated. Gavin Smith, playing his aggressive style, was responsible for two of those eliminations. As both Harrah's officials and the media attempted to keep up with the flying chips, a much-needed dinner break gave the last 13 players a chance to catch their breath.
The frenzied pace continued after the dinner break, as it only took one hour to determine the final table. William Hill eliminated Nick Binger in eleventh place (worth $10,128) and the final ten players made their way to the final table with one more elimination to go. 25 minutes later, Gavin Smith knocked out John MacCarthy in tenth and the final table was set:
PLAYERS — CHIPS
Gavin Smith — 480,000
William Hill — 332,000
Bruce Van Horn — 315,000
Jeff Langdon — 286,000
Marco Traniello — 277,000
Mike Spegal — 241,000
Jon Friedberg — 204,000
Tom Savitsky — 140,000
Eric 'Rizen' Lynch — 91,000
The nine survivors will return on Tuesday afternoon to determine the champion of the $1500 Pot Limit Hold 'Em event. The table is stocked with pros (Smith, Traniello, Friedberg and Lynch), but the chip stacks are relatively even, so it's anyone's bracelet to take. Be sure to check the Event #4 'Live Reporting' section here at PokerNews Tuesday afternoon as the battle culminates in Event #4 at the 2007 World Series of Poker.