WSOP Updates – Event #41, $1,000 Seniors NLHE — Bennett Takes Bracelet and Title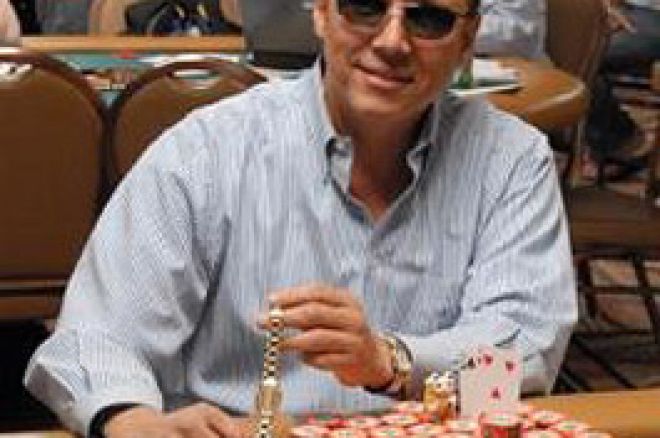 Ernest Bennett claimed the bracelet and first place prize of $348,423 after defeating seven finalists and negotiating a heads-up chop in the finals of Event #41, $1000 Seniors No Limit Hold 'Em.
Bennett started the day as chip leader and maintained his dominance for most of the day, with big-stack bullying evident from the outset. After a flop of
, Thomas Catanzaro bet and Ed Smith came over the top with his entire stack of more than 500,000, persuading the short-stacked Catanzaro to fold.
Also short-stacked, Charles Anderson then moved all in on pocket queens against Tony Korfman's
. Anderson's hand held up through the
and the
turn, but Korfman spiked the
on the river to take the pot and send Anderson home in ninth with $20,209.
Ray Abels went out next when he went put his A-Q up against Bennett's pocket sevens. Abels flopped a gutshot draw but couldn't connect with that or his overcards, leaving him out with eighth-place money of $26,546. Bennett's stack surged to 1,180,000 with the hand.
Rod Clarida was next to face elimination, finding hinself in a bad spot, all-in pre-flop with A-2 against Korfman's pocket aces. The flop opened up a wheel draw for Clarida, but an ace on the turn was bad news. The
on the river worked, though, and Clarida doubled up to 300,000. Clarida managed to do more than stay alive — a family pot paid off for him later when he flopped trip sevens, pushing his stack to 550,000. His luck held and later in the day he came close to Bennett's lead, holding 1,005,000 to Bennett's 1,100,000.
Jack 'The Staten Island Snake' Deutsch could have used a little more luck. Deutsch departed in seventh when his K-9 didn't find help on the board against Smith's A-9. Deutsch collected $35,965.
While Catanzaro escaped short-stack status with a couple of double-throughs, Leon Lewis's day was ending. After taking a hit from Korfman, Lewis got all in with Bennett holding
to Bennett's
. The
flop gave Bennett the pair and Lewis the gutshot draw, but the
turn and
river wouldn't help, sending Lewis out with $47,953 for sixth place. Catanzaro's momentum didn't hold, though, and he was the next to go when his Q-10 couldn't find help against Korfman's A-K. He left in fifth place with $65,080.
After eliminating Catanzaro, Korfman doubled up through Ed Smith and took the chip lead from Bennett, reaching 1,800,000. Smith delivered turnabout in the next hand, though, doubling through Korfman when both players paired a jack on the flop. Then Smith moved all in on
from the small blind; Bennett called with
, and Smith looked to the board for help. The
flop opened up the straight draw for Smith and the flush draw for Bennett. The
turn paired Bennett and the
on the river made his flush, sending Smith out. He cashed $95,907 for fourth place.
Korfman dodged elimination when he went all in with K-10 against Bennett's A-8. The
board favored Bennett until the
river made a wheel on the board for an unlikely chop that extended Korfman's run. This was bad news for Clarida, who took the hit in the next hand when his Q-J went up against Bennett's K-J and the board didn't improve his hand. Third place paid $142,147 for Clarida.
Bennett and Korfman were set for heads-up play, but struck an undisclosed deal instead, officially awarding the runner-up prize of $217,503 to Korfman and naming Bennett the event champion. Bennett officially took home the bracelet, the announced first-place prize money of $348,423, and a Corum watch.
Final Standings and Payouts (official):
1. Ernest Bennett $348,423
2. Tony Korfman $217,503
3. Rod Clarida $142,147
4. Ed Smith $95,907
5. Thomas Catanzaro $65,080
6. Leon Lewis $47,953
7. Jack Deutsch $35,965
8. Ray Abels $26,546
9. Charles Anderson $20,209