WSOP Updates – Event #42, $1,500 PLO H/L — David Bach, Chad Brown Atop Final Table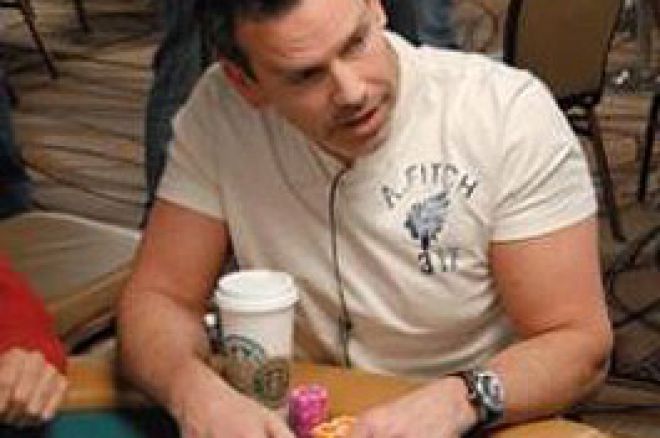 98 players returned for Day Two of #42, $1,500 Pot Limit Omaha High/Low Split, at the Rio on Tuesday, and the size of the field required on-the-fly adjustments to the tournament schedule, adding a third day to this, the largest live PLO tournament in poker history. 687 players started Day One, and only nine would move on to today's final table. David 'Devilfish' Ulliott, Mike Sexton and Chau Giang were among the notable players who fell during Tuesday's play.
Over 20 players were eliminated in the first two hours, including Brett 'Gank' Jungblut, Tom Chambers and Aaron Kanter. Play slowed slightly once play reached the money bubble, but hand-for-hand play lasted all of one hand when Marcel Luske, PLO bracelet winner Alan Smurfit and Chris Moore were all eliminated at the same time. Smurfit and Moore were eliminated when their opponent rivered a wheel to scoop, and Luske ran Q-Q-2-7 into A-A-3-7. The aces held up for the high and the A-3 played for the low to send Luske out just shy of the money.
The knockouts picked up again after the bubble burst, with nine players falling in the first three minutes after making the money, including Jeff Madsen, David 'Devilfish' Ulliott and Chau Giang. Peter Levine got into a set-over-set battle with David Bach on a flop of
when he flopped bottom set with
while Bach flopped top set with
. Levine did not improve and he was busted in 38th place. Play continued until 32 players remained heading into the dinner break.
A three-way hand shortly after the dinner break showed why action players love Omaha, and why it's tough on a dealer. A.J. Kelsall raised pot pre-flop, and after Robert Oxenberg called, Chad Brown re-raised pot from the small blind. Both players called, leaving Oxenberg all-in. When the hands were revealed, Brown had
, Kelsall had
and Oxenberg was holding
to match Brown's hand except for the flush possibilities. When the board revealed
, Kelsall took the high with aces and eights, and all three players split the low half of the pot. Kelsall was the only one to actually show profit on the hand.
By the time players condensed to three tables, Tony G, Bill Chen, Phillip Marmorstein and Doug Larson had all been eliminated. This is what the tables looked like as play neared the final table.
Table 41:
1. Thomas Hant
2. Wayne McGregor
3. Tobi Clark
4. Michael Watson
5. Lukasz Dumanski
6. Dustin Cole
7. Mark Wilds
8. Orlando Romero
9. A.J. Kelsall
Table 42:
1. Ron Faltinsky
2. Robert Oxenberg
3. OPEN
4. James Tolley
5. Imre Leibold
6. George Danzer
7. Jean-Phillipe Piquette
8. Sigi Stockinger
9. Chad Brown
Table 47:
1. David Bach
2. Joel Fuji
3. Alan Aberg
4. Mike Sexton
5. Dario Alioto
6. Gene Timberlake
7. Senovio Ramirez III
8. Lex Nerenberg
9. Terry Farmer
Terry Farmer, Joel Fuji, Lex Nerenberg, Ron Faltinsky, Wayne McGregor, Robert Oxenberg, Imre Leibold and Sigi Stockinger departed in the next hour. Stockinger went out after he flopped a 6-high straight on a board of
, only to find himself far behind George Danzer's flopped 7-high straight, plus A-3 for a better low. Stockinger and all the players eliminated in spots 27 through 19 collected $6,236 for their efforts.
After the consolidation to two tables, Day One chip leader Dario Alioto remained in the hunt, along with Chad Brown, who was at or near the top of the leader board for the entire event. Mike Sexton was looking for his third WSOP bracelet, joining this event after busting out of the $50,000 HORSE tournament. Sexton's tournament would end shortly after the consolidation to two tables, when his opponent turned a wheel with
to crack Sexton's
. Sexton collected $7,174.
Tobi Clark followed soon after when she was scooped by Alioto, and was followed herself by Senovio Ramirez III, Orlando Romero and Jean-Philippe Piquette. A.J. Kelsall was eliminated in 11th when Chad Brown's better flush redraw connected on a board where both players had already turned a Broadway straight. And in the wrap to the night's action, Michael Watson was eliminated in tenth place when his low was counterfeited on the river and Mark Wilds and James Tolley split a three-way pot.
Watkins' elimination created a final table that will look like this, with seating assignments and chip counts:
Seat 1: Mark Wilds 96,000
Seat 2: Dario Alioto 61,000
Seat 3: George Danzer 116,000
Seat 4: Thomas Hant 114,000
Seat 5: Chad Brown 390,000
Seat 6: David Bach 502,000
Seat 7: Lukasz Dumanski 358,000
Seat 8: James Tolley 282,000
Seat 9: Gene Timberlake 143,000
Play resumes at 3pm PDT on Wednesday. Join PokerNews.com's 'Live Reporting' of Event #42, $1,500 Pot Limit Omaha, for the latest updates.