Sexton's Corner –Vol 2 - Poker's Amazing Trifecta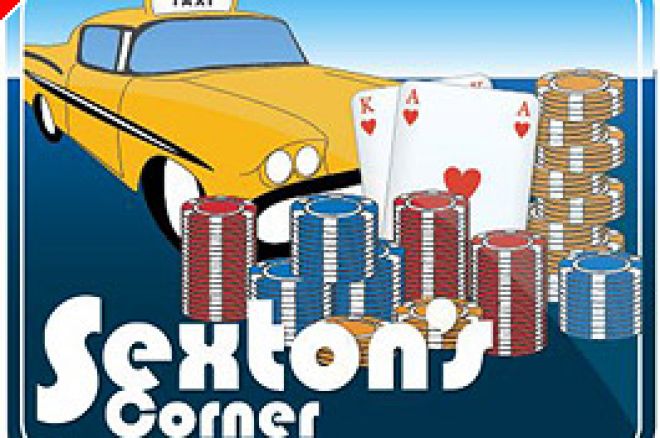 Hats off to the players, staff members, ESPN, and all the other media members who helped make the 2007 WSOP the best one ever! I had the good fortune of working as a reporter for the first time for PokerNews.com. I was able to write up key hands throughout the 55 events, help with chip counts, do a few Final Tables myself, and do color background stories on many of the players that participated. I was blown away by the hard work and professionalism of the whole team!
From the inside, I would like to give you a few observations about Jerry Yang, our 2007 WSOP Main Event Champion. I first really took notice of him while I was cruising the last two tables left in the Main Event. At the time, my assignment was to find background stories on player's remaining, through their family and friends. I had just left the ESPN feature table to look at the 2nd outer table. I stopped and noticed a big all-in hand happening before the flop. I could tell the short player standing up in the white hat was looking at what appeared to be his parents at the rail. This was it for him........he was all in for 2.7 Million. I looked at my seating chart, and it showed the player to be Jerry Yang. I moved next to his parents, which I'll tell you about later, but for my money, what I witnessed was the key to Jerry going all the way. Let's call it "Poker's Amazing Trifecta"!
1.) Jerry Yang was all in with pocket 8s against a tough Russian, named Alex Kravchenko, who had
. Of course Alex is the player who already won a gold bracelet in an earlier event. Either Jerry doubles up here on the short stack or he is eliminated with two tables left, and wouldn't even be at the Final Table. Jerry nervously glanced at his parents, and held a picture of his kids close: The flop was
....then the turn brought the
, with the river a
. (You can look this up on PokerNews.com on day 6 of the Main Event - page 9.) Jerry jumped for joy, with his fist high, smiling at his parents, where his Mom said "Hallelujah!" This was the beginning of his amazing trifecta with pocket eights.
2.) Amazingly, part two of this story unfolds at the Final Table, where there are four players left. Again, it is an all-in hand between Jerry Yang and Alex Kravchenko. Jerry has pocket eights again, but Alex has
this time. Low and behold, the flop is
! This time Jerry flopped a set of eights, with the turn the
, and river
.
3.) To complete this magical trifecta saga, guess what Jerry had on the last hand? POCKET 8s!!! His opponent, Tuam Lam, went all-in with
. Yes, Jerry had about a 4 to 1 chip lead here, but if he loses this pot.......it's going to be a new ball game. What better spot could Jerry find himself in.......his new favorite hand - pocket 8's! All along, Jerry had exhibited a great deal of faith that he was on a mission, and he calls his opponent's last 27 Million. The flop was:
...the turn is the
....and that magic
hits the river, giving Jerry a nine high straight and the World Title!
Pocket 8s was the Amazing Trifecta
Jerry did it three different ways: First, he dodged all the bullets; Second, he flopped a set; third he caught runner - runner to win with a nine high straight!!! Wow! It truly seemed like this victory was his destiny, and just meant to be.
On the live pay-per-view telecast on Cox Cable, Phil Gordon criticized Jerry Yang's play several times in the middle of the telecast, portraying him as a player ready to give his chips away and blow the tournament. At the end of the tournament, to Phil's credit, he gave tribute to Jerry for his aggressive play throughout the event, and watching the celebration of Jerry, family , and friends unfold......Phil got choked up with a tear or two. His deep sense of appreciation of the meaning of this prestigious title, combined with the modest and humble demeanor this champion came across with on television, was simply over-whelming. This will make a great TV show for the poker world on ESPN.
I believe we are lucky to find another great Ambassador for the game. Jerry has six children, and his wonderful parents, who are so supportive, amazingly have 32 grandchildren! Let's all congratulate our new 2007 WSOP Champion Jerry Yang.
The Cab is Parked,
Tom Sexton