Sexton's Corner, Volume 1 - The Cab is Parked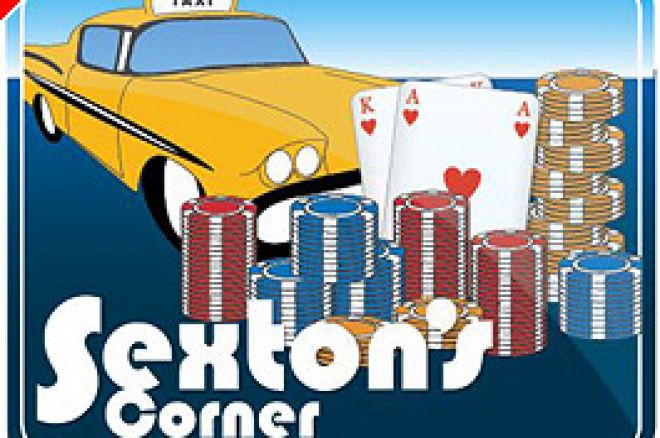 This is my first article for PokerNews.com, so I would like to introduce myself to the readers. My name is Tom Sexton, and most people in the poker world have heard of my brother, Mike Sexton. Take it from me, Mike is the greatest brother in the world, and is probably as much responsible as any single individual for the poker boom or renaissance we've all enjoyed these past few years. I'm so proud of Mike for all of his accomplishments and contributions to the growth of poker. When you talk about class in the poker world, Mike has set the bar as our Poker Ambassador beyond belief.
I have a lot of stories I'll be sharing with you in my column you're going to enjoy, including the day my brother called me and said "Park The Cab!" About four years ago, I was driving a cab in Las Vegas, and had just dropped off a fare at the airport. As I was leaving the airport, my cell phone rang and Mike said, "Where are you right now?" I explained I was in my cab on duty and just dropped my passenger off at the airport... Mike said next... "I can't believe it - Party Poker just sent me the first 15 million dollars... so Tom, PARK THE CAB, you're never going to have to drive a cab again!"
Believe me, when you drive a cab, you can only dream about getting a phone call like that, but it never happens. For me it did happen, and I remember, I almost got a speeding ticket driving to base! Driving a cab is a real dose of reality, where you'll experience people at their best and worst. It is flat out a pretty dangerous job, but occasionally, there are things comical that happen that are simply off the chart!
Going back about 12 years ago, I was driving a cab in Lake Tahoe, and loaded a sweet grandmother about 75 years old at the Hyatt Hotel in North Lake Tahoe, who needed to get to the Reno airport to catch the last flight going to Chicago. There was a snow storm, and the drive is pretty treacherous over Mt. Rose, where your cab is sliding back and forth going over this huge mountain. Most people will tell a cab driver to slow down, as they hope to get to their destination in one piece. Not this sweet grandmother... instead she said, "Can you step on the mettle and get there any faster? I can't miss this last flight going to Chicago, as my grandkids have a four-hour commute to pick me up, and I have no way to get a hold of them."
I assured her we would get there on time, and things looked good as we circled around the airport entrance headed for American Airlines. About 500 yards away, I couldn't believe it... I got a flat tire! She got out of the cab with me and said, "Oh no, don't tell me we got a flat tire - I'm going to miss my flight." I offered to quickly change the tire, and that is when she said, "Look, I only weigh 92 lbs. and only have this one little bag." She pulled out a fifty-dollar bill, snapped it twice, and said "I'll give you a fifty-dollar tip if you give me a piggyback ride right now to American Airlines!"
I said, "Are you serious?"
And she said "Yes, we've got to go now!!"
Fifty-dollar tips are hard to come by driving a cab, so I said, "Hop on." If you can, envision a grandmother riding piggyback on a cab driver's back trying to catch a flight, while the driver's tongue is hanging out, not in the shape he used to be in, while people driving by had their heads turned in amazing disbelief. It was a sight to behold and one of those classic comical moments in my career driving a cab. She was so happy she made it, though, as she gave me a big hug, and had quite a story to tell her grandkids how she caught that last flight to Chicago!
Anyway, Mike, I'll always be grateful for your phone call to park the cab. You're the best!
The Cab is Parked,
Tom Sexton
Tom Sexton is a featured columnist for PokerNews.com. Tom attended the University of Oklahoma on a full gymnastic scholarship, where he was captain of the team four straight years, becoming the first NCAA All-American and Big Eight Champion in OU's gymnastics history in 1968. The Sexton family is well established in poker and includes Tom's brother Mike, the World Poker Tour commentator and poker's "First Ambassador", as voted by his peers. Tom welcomes your thoughts and comments about any of his articles. His e-mail is [email protected].