WSOP Stories: The Pros on the Rail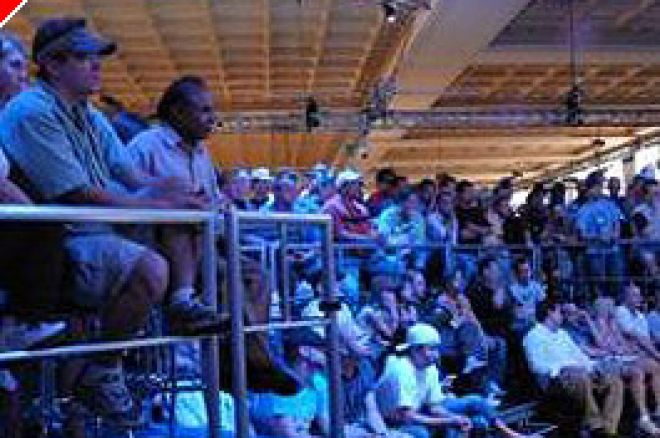 As the players' friends and family watched a long WSOP Day Six of play, finally resulting in the 2007 Championship final table, they rubbed shoulders with a couple of poker's well known names.
Lee Watkinson had some Full Tilt peers sweating him, most notably Full Tilt pro and WSOP bracelet winner Perry Friedman. Friedman claims to be one of the most successful sweaters in the business, having sweated friend and colleague Chris Ferguson to at least four of his WSOP bracelets. His job, he says, is to insure that a powerful winning force surrounds the player in the field. On this day, Friedman was joined by Ferguson himself, insuring that Watkinson had maximum support from the rail. As Watkinson successfully navigated his way to Tuesday's final table, it would be hard to argue the power of professional sweaters.
Across the street at the Bellagio, a WPT final table was also in play – and also had its fair share pros on the rail. When the table got down to Mike Matusow, Danny Wong, Shane "Shaniac" Schleger, and Kevin Saul it almost became the battle of professional railbirds. Pros in the audience outnumbered the pros at the table and included Phil Hellmuth, Gavin Griffin, Steve Wong, Chau Giang, Marcel Luske, Mark Gregorich, David Chui, Evelyn Ng, Greg Mueller, and Kirk Morrison.
After a grueling seven-week WSOP schedule, you'd think that the pros would be in hibernation, resting up for their next poker foray. But they, of all players, know just how important support from the rail can be and they were out in force, supporting their own.