Joseph Mouawad Captures EPT London Title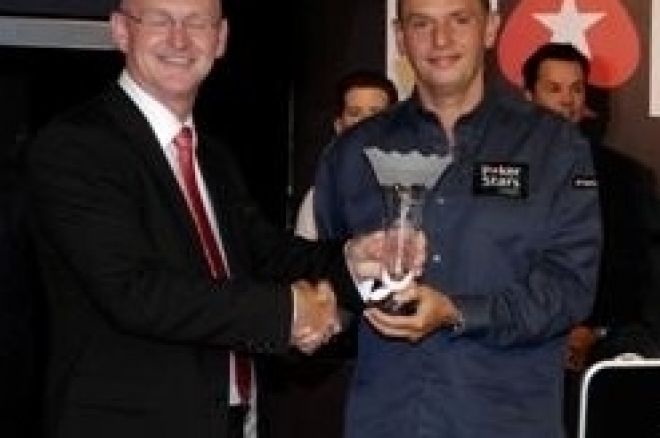 Joseph Mouawad made it through a quick final table to become the first player from Lebanon to win a PokerStars European Poker Tour title when he captured the EPT London title today. Mouawad qualified online on Stars and won the event in his first major final table ever. He claimed £611,520 for first place, but he had to come from behind at the final table to do it. Florian Langmann of Germany started the day with the chip lead, and survived all the way to the heads-up match before falling to Mouawad.
The chip stacks looked like this when play began:
Florian Langmann (Germany) — 927,000
Joseph Mouawad (Lebanon) — 780,000
Marcel Baran (Germany) — 583,000
Josh Egan (New Zealand) — 477,000
Anthony Lellouche (France) — 466,000
Paul Mendes (UK) 282,000
Ian Cox (UK) — 234,000
Fredrik Haugen (Sweden) — 190,000
After a few rounds of blind stealing and players jockeying for position, Ian Cox moved all in from the button with
and was called by Langmann with
. When the board came
, Cox went to the rail in eighth place for £57,075. A bit later, Paul Mendes picked a bad time to make a stand, running
into Anthony Lellouche's
. An ace in the door meant Mendes joined his countryman Cox on the rail, with Mendes exiting in seventh place (£77,459).
Lellouche didn't hold onto Mendes' chips for very long, putting them all in the middle on a steal attempt after Marcel Baran opened for a raise. Baran called with pocket sevens, and Lellouche was caught with his hand in the cookie jar and tabled
. Lellouche never got close to his flush, and he was eliminated in sixth place two hands later. He earned £97,843 for his tournament.
When Florian Langmann moved all in pre-flop, Fredrik Haugen quickly called with
. Langmann showed
, but came from behind to bust Haugen when the board came down
. Haugen, the 2006 Caribbean Poker Classic champion, picked up £124,342 for his fifth-place finish. Shortly after, Josh Egan pushed all in pre-flop with
, and Joseph Mouawad called quickly with
. Mouawad's aces held up, and Egan was eliminated in fourth place (£152,880).
It only took a few hands of three-way action for Langmann to bust Baran in third. Langmann led out pre-flop with
, and Baran went all in over the top with
. Langmann called the small raise, and the board of
gave him the pot. Baran picked up £203,840 for his efforts. Mouawad took a small chip lead into heads-up play, with the chip stacks as follows:
Joseph Moauwad — 2,162,000
Florian Langmann — 1,880,000
Heads-up play lasted less than an hour before all the chips finally went into the middle, as Mouawad steadily built his advantage. On the last hand, Langmann raised pre-flop, and Mouawad called to see a flop of
. Langmann led out and Mouawad shoved all in. Langmann called after a moment's thought and tabled
. Mouawad's
was ahead, and the
on the turn sealed Mouawad's win. The
river was irrelevant as Langmann was eliminated in second place for L346,528. Mouawad, the 47-year-old PokerStars qualifier and new EPT London champion, said of his victory, "I feel very much magnificent."
Here are the final-table finishes and payouts for the PokerStars EPT London Main Event:
1. (£611,520) - Joseph Mouawad
2. (£346,528) - Florian Langmann
3. (£203,840) - Marcel Baran
4. (£152,880) - Josh Egan
5. (£124,342) - Fredrik Haugen
6. (£97,843) - Anthony Lellouche
7. (£77,459) - Paul Mendes
8. (£57,075) - Ian Cox